SOM wins National Building Museum's 2021 Honor Award
May 11, 2021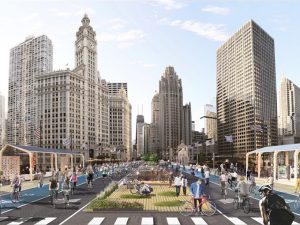 The National Building Museum[2] (NBM) will be presenting its 2021 Honor Award to Skidmore, Owings & Merrill[3] (SOM). The annual Honor Award recognizes organizations that have made significant contributions to the nation's built heritage.
SOM is transforming the award into a Climate Change Call to Action—a challenge to the building industry to recognize the urgency of the climate crisis and undertake a transformational shift in how people design, build, and do business, the firm said in a press release. They will kick off with a series of climate-related panel discussion events co-hosted by NBM and SOM, and will culminate with a virtual gala on June 17.
"At the onset of a decade that may very well determine the future of our planet, SOM is dedicated to leading the building industry's response to the climate crisis through action and advocacy," said Chris Cooper, design partner. "SOM's planned programs, which bring together leaders from a variety of fields, will make the case for bold and immediate action to protect the Earth's resources and support the transition to a zero-carbon economy."
The June 17 celebration will center around SOM's Call to Climate Action and feature a roster of community and industry luminaries as well as a variety of interactive experiences. It will be hosted by Tony Kornheiser of ESPN's "Pardon the Interruption."
The four panel discussion events[4] leading up to the celebration will be held weekly beginning May 19. Among the topics to be addressed are the role of technology in decarbonization, the disproportionate effect of climate change on vulnerable communities, and the potential for an all-electric future. These events will be hosted by SOM's Yasemin Kologlu, Dawveed Scully, Marla Gayle, and Kristopher Takács, respectively.
Click here[5] for more information about the award celebration.
Endnotes:
[Image]: https://www.constructionspecifier.com/wp-content/uploads/2021/05/bike_superhighway_680x510.jpg
National Building Museum: https://www.nbm.org/
Skidmore, Owings & Merrill: https://www.som.com/
panel discussion events: https://www.nbm.org/national-building-museum-to-award-2021-honor-award-to-skidmore-owings-merrill/
here: https://nbmvirtual.org/
Source URL: https://www.constructionspecifier.com/som-wins-national-building-museums-2021-honor-award/
---