Specifying revolving doors
November 13, 2018
by Glen Tracy
Revolving doors are enjoying resurgence across many project types due to their ability to prevent unwanted air infiltration and enhance the aesthetic appeal of an entrance. However, specifiers will find detailing for revolving doors challenging because of the availability of a wide range of door types with different capabilities.
Rarely does one type of door fit a specific kind of building. There are also online specification services providing "master" revolving door specs bundling numerous types of doors into a single, lengthy document. All possible options are included, and the architect or specifier has to know what to keep and what to delete. This process creates the potential for errors. Additionally, there can be multiple people involved in creating specifications versus drawings, making it easier for a specification and a drawing to get out of sync. For example, a specification may indicate a three-wing door or metal-framed door, while the drawing shows four wings and all-glass construction.
Inconsistent, erroneous revolving door specs and misaligned drawings can waste time and, potentially, money. When estimators have questions, they submit requests for information (RFIs) to architects that are sometimes answered in several days or more, potentially delaying the bid process. On the receiving end of an erroneous spec, estimators are forced to provide alternates for different door options because they are not sure what the architect is specifically looking for. These factors can delay projects and, in the worst case, lead to installation of the wrong type of revolving door, causing a host of issues for the end user and pedestrians.
At the end of the day, there should be a clear understanding among all parties as to the type of revolving door to be installed to achieve an "apples to apples" bidding process. Therefore, the author has put together eight steps to walk readers through the selection of the revolving door and create a clear specification and drawing package estimators will appreciate and respond to quickly.
Step 1: Determine how many and who will use the door
One of the biggest issues seen in the specification of revolving doors is a failure to understand the capacity and character of expected traffic, leading to the selection of a revolving door model not suitable to the needs of the business.
Obviously, the traffic expected in a small office building will be different from an airport terminal. Designers must consider who and how many are expected to enter and exit the facility. Will rush hours be a concern, or will traffic be dispersed throughout the day? Will the doors have to accommodate individuals with luggage or shopping carts? Will hospital gurneys be used?
Manufacturers publish capacity, or throughput, numbers for each revolving door model. However, these numbers should only be a starting point. If a door will accommodate families, children, the elderly, or the disabled—any user who is not accustomed to entering through a revolving door and/or may need extra time—it will perform at the lower end of the published capacity range. Applications where residents or employees come and go through the revolving door on a regular basis receive optimum or maximum capacity.
The Cliff Lodge and Spa at Snowbird Ski and Summer Resort in Salt Lake City, Utah, is an example of appropriate consideration of traffic type and volume when selecting a revolving door for the building's entrance. First, architects determined the maximum level of traffic the door would need to handle. They did this by identifying the number of people who would be at the resort if all of the rooms were booked. Second, the architects took into consideration the type of traffic entering the door. Guests usually come to the resort to stay for a week or more. The door had to be capable of handling carts with household goods, luggage, skis, and snowboards.
By taking the time to understand the capacity and expected traffic at a building's entrance, specifiers and architects will be better equipped to select the appropriate door for their clients.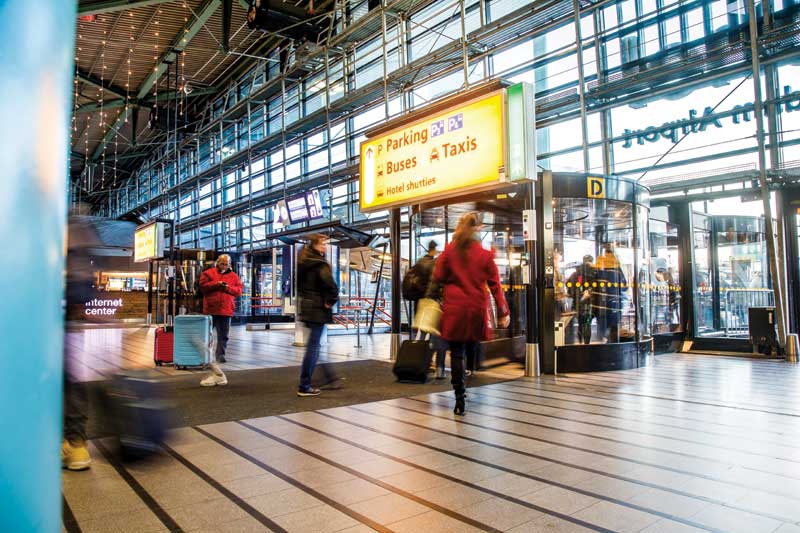 Step 2: Select the appropriate door operation
Revolving doors are available in either manual or automatic operation. A manual revolving door is offered with smaller diameters and is ideal for applications where the user's hands are relatively empty—retail shops, office buildings, restaurants, condominiums, and public buildings. Automatic doors are available in diameters up to 6 m (20 ft) and can accommodate luggage, wheelchairs, and gurneys. They are suitable for applications such as hotels, casinos, hospitals, and grocery stores.
Once the specifier or architect has selected the appropriate operation for the application, there are a few additional considerations for writing the spec.
For manual revolving doors, one can choose between metal-framed construction and all-glass construction (a popular choice). In either case, it is critical to specify either a mechanical or electro-mechanical speed control system. A mechanical speed control is sturdy and prevents hazardous rotation speeds, but limits the size of the door because people have to push the full weight of the doors. For every 152 mm (6 in.) of added diameter, a revolving door wing becomes about 45 kg (100 lb) heavier.
A modern, electro-mechanical speed control stops excessive rotation speed, but also makes it possible to have several other features for adding value to the entry. For example, one can include power assist—for providing an added boost to door rotation once a user pushes on the door wing—and automatic door wing positioning where the wings come to rest at the end posts when rotation is completed. Doors with the power assist feature can also be taller and wider than purely mechanical doors because the technology reduces user exertion.
For automatic doors, specifiers should consistently select safety and motion sensors as well as other features required by the American National Standards Institute (ANSI) 156.27, Power and Manual Operated Revolving Pedestrian Doors. A failure to include these safety features in the specification can leave an estimator confused: did they really want a manual door instead?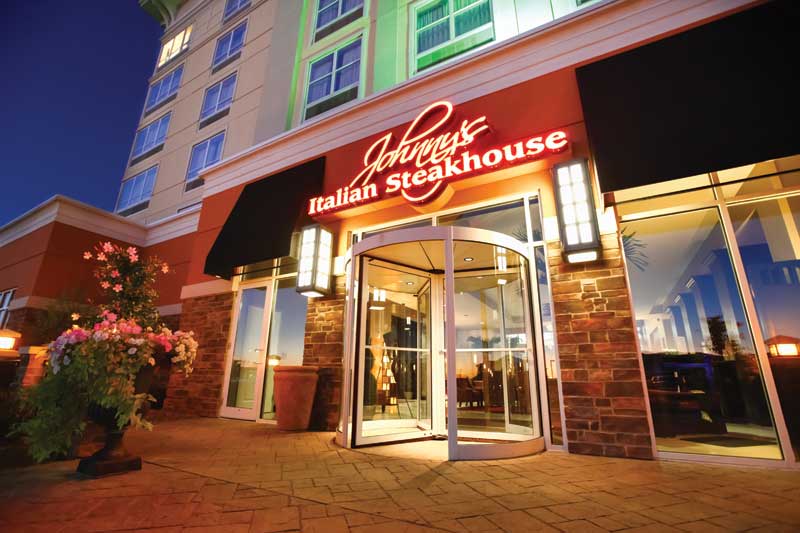 Step 3: Consider security
The news is filled with reports of protests and shootings. Due to these events, building owners are seeking ways to increase the security of their facilities. Security features are in high demand to meet current living conditions and corporate physical security policies.
When it comes to revolving doors, there are two ways to achieve additional security: one can start with public use door (e.g. manual revolving door) and restrict access some of the time, or select a security revolving door intended for employees or trained users and control tailgating and piggybacking at all times.1
With a dedicated power source, most manual revolving doors can be equipped for physical security. For example, they can be integrated with an access control system to allow for after-hours entry to only authorized users. Manual doors can also be locked at the push of a remotely mounted button, or automatically by the access control system at a certain time of day.
Architects must closely communicate with their clients to understand their stance on security and the features that work best for public use versus employee-only use.
Security revolving doors are metal-framed (stile and rail) and typically no more than 2 m (7 ft) in diameter to house detection technology inside the canopy, restrict traffic, and provide optimal security performance. When selecting a security revolving door, Step 4 can be skipped.
Step 4: Consider the compartment size and number of door wings
Manual revolving doors are available in three- or four-wing configurations, but a key concept is they are intended to accommodate one person per compartment, no matter the diameter of the door. Therefore, a three-wing door provides a larger compartment than a four-wing door, and this equates to more comfort for the user. For smaller-sized manual doors, especially three-wing doors with smaller throat openings, the selected diameter must be compatible with the International Building Code (IBC) Section 1010, "Doors, Gates and Turnstiles," and the National Fire Protection Association (NFPA) 101, Life Safety Code, Section 7.2, "Means of Egress Components." An aggregate egress width of 914 mm (36 in.) is required when revolving doors are in the collapsed position for emergency egress.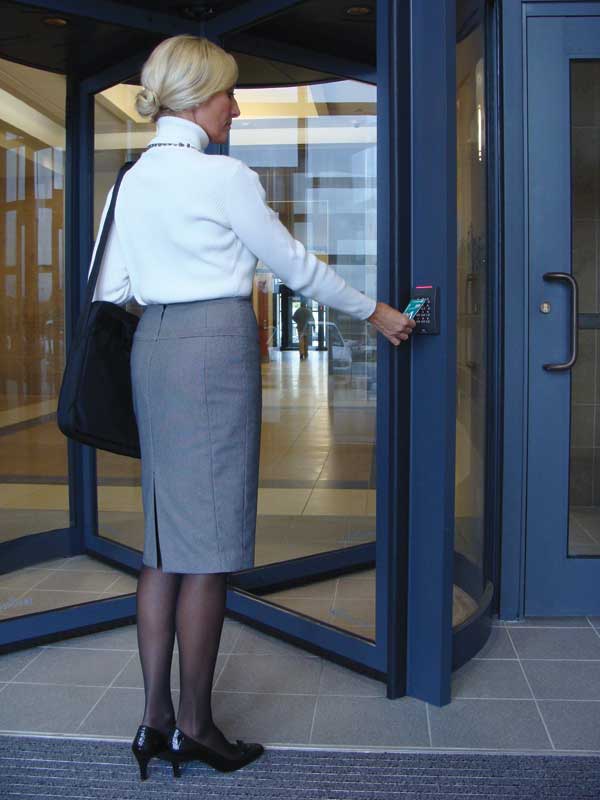 Automatic doors tend to be larger in size than manual doors and therefore can accommodate multiple people in each compartment. As an automatic door increases in diameter, so does the door's ability to accommodate wheelchairs, gurneys, and luggage. Consider the application when selecting the number of door wings. Comparing two doors with the same diameter, a two-wing door will better accommodate large gurneys while a four-wing door may not be able to. In these situations, it is recommended to seek the door manufacturer's advice.
Step 5: Provide consistent door drawings
Steps 1 to 4 can help determine the make and model of revolving door and obtain baseline drawings from the manufacturer for the project. Both the architect and specifier should ensure the drawing matches the decisions made in Steps 1, 2, and 3. Any inconsistency will confuse estimators, resulting in an RFI or the generation of numerous alternates.
In the author's experience, one of the most common inconsistencies between specifications and drawings involves the number of door wings and construction materials. For example, the author received a specification for a three-wing door with "stile and rail" construction, or a fully framed door. The drawing showed a four-wing, all-glass door with no frame. The difference in the price and installation of these two doors is significant. The estimator must guess which door type is desired and prepare a base bid with one or more alternates.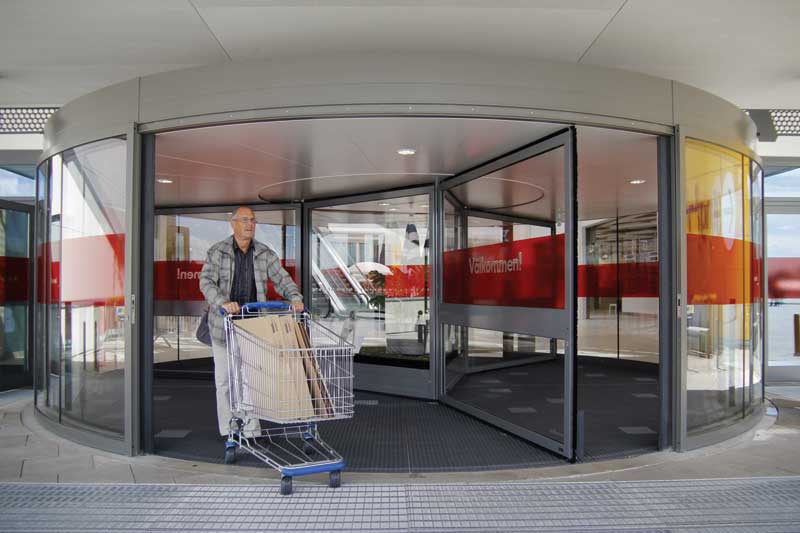 Step 6: Writing the spec
As an architect or specifier navigates a master revolving door spec, it is critical they use consistency when selecting the finish and glass types. It is common to see multiple finishes or glass types called out in a single spec. This leads to confusion. If Steps 1 to 4 have been followed, the task should be easier.
It is advisable to delete everything conflicting with a project's design needs from the master spec. Where the team is undecided, it is recommended to take steps to resolve the conflicts before the spec goes to bid, even if it means stating an alternate or other means by which the selection will be made later.
Another tip is to be specific. When calling out glass types, does "clear glass" mean regular clear glass or clear, low-iron glass? Is the anodized aluminum finish clear, black, or dark bronze? Is the stainless steel finish brushed or mirror polished? If instructional text exists from the manufacturer, it is advisable to read it and select the appropriate options as indicated, and remove options that are not to be used.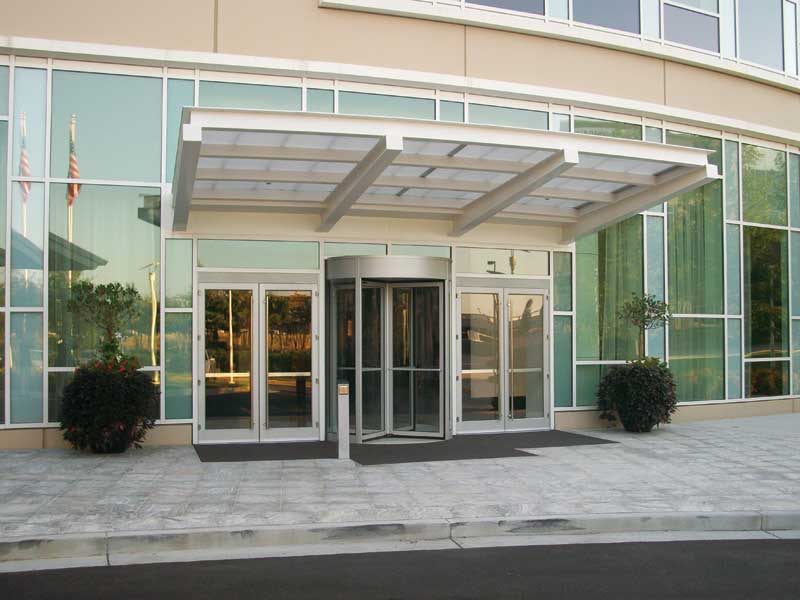 Step 7: Connecting the door to the building envelope
A revolving door can be connected to its surroundings in myriad ways. Architects and specifiers must weigh the pros and cons of each connection type and consider how each affects their client's day-to-day operations.
Connections really matter. For example, consider the impact of an interior-mounted door. The revolving door is completely inside the building. While no awning or protective overhang is required, a retail or hospitality client would lose precious interior space that could possibly be used to generate revenue, or the door may start to encroach on a nearby elevator lobby, stairs, or escalators.
The opposite effect is experienced with an exterior-mounted revolving door. Interior space is freed-up, but a protective building overhang is required to protect the door from the weathering effects of rain and snow.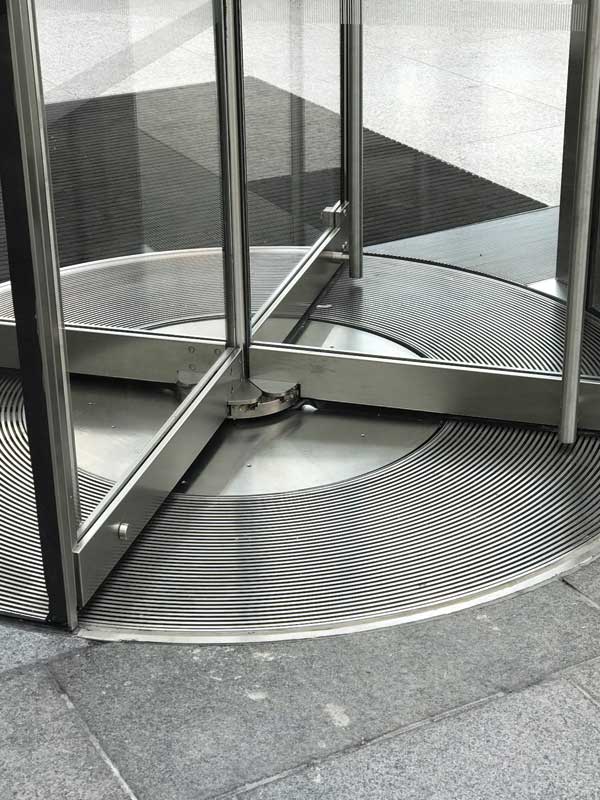 Step 8: Indicate the desired flooring
Flooring is an important aspect to consider when specifying a revolving door. Either the flooring selection can blend in with the existing surround or it can stand out, as a circular footprint using a complementary floor finish, to indicate to the user where to step inside. Flooring can prevent stumbling or falling on rainy days, or it could collect dirt and debris from shoes, helping to maintain a clean entryway. The possibilities are virtually endless.
In the author's experience, one of the most popular flooring materials today are stainless steel floor grills. Grills trap leaves, dirt, and water and tend to be more aesthetically pleasing than other floor types with the same capabilities such as entry mats. Grills may also contribute to Leadership in Energy and Environmental Design (LEED) certification.
Door manufacturers do not typically supply flooring themselves, but this does not mean the selection should not be included in the "Related" section of the spec, as the flooring can have an impact on the installation of the door.
Additionally, the specification must be consistent when calling out a flooring type. For instance, the author has seen specifications about extending the adjacent flooring into the revolving door in one section, while another section says a floor grill must be provided. This leads to confusion (i.e. do they want a floor grill, or did they forget to edit it out?).
Conclusion
Following these eight steps will make a cohesive revolving door specification and drawing package that is clear and easy to bid. Core needs will be addressed. Misunderstandings and wasted time and money can be eliminated. If unsure about the door type to specify, it is recommended to discuss the project's needs with the door manufacturer.
Checklist for syncing up drawings an specifications
Use this checklist to clarify key decisions about the type of revolving door needed (make and model) for the project. This will help harmonize the drawing and specification.
How many and what type of people need to use the door (per direction, per minute)?
Is it a manual or automatic revolving door?
a. If manual revolving door:
i. Construction: metal-framed (stile and rail) or all-glass?
ii. What type of canopy? If:
1) Framed metal: specify canopy height.
2) Glass: specify a floor-mounted speed control or drive mechanism.
iii. How many door wings? Three or four?
iv. What is the diameter?
v. Horizontal or vertical push bars?
vi. What are the security/locking needs?
1) If manual, slide-bolt locks on floor or ceiling (latter is not recommended if door is taller than someone can reach)?
2) If electronic, enable wing locking via access control integration or remote push button?
b. If automatic revolving door:
i. Is the door a security revolving door to control access? If:
1) Yes, choose a model type below and specify diameter as offered from manufacturer and then continue to Step 3:
a. four-wing, simultaneous bi-directional throughput model;
b. three-wing, sequential bi-directional throughput model; or
c. three-wing, one-way traffic model.
2) No, go to "b.ii."
ii. How many door wings? Two, three, or four?
iii. What is the diameter?
iv. What is the canopy height?
v. What is the door wing height or height under the interior ceiling?
vi. What are the security/locking needs? Specify manual slide-bolt locks on floor or ceiling to be used to lock door wings if power fails.
What is the metal finish (where applicable): anodized aluminum, stainless steel, or bronze?
What is the glass type: clear, tinted, low-iron, laminated, or vandal- or bullet-resistant?
How is it attached to the building: midpost, throat opening, or keyhole (extra storefront structure to create a "hallway" to the throat opening)?
What type of flooring?
What is the roof covering: will the door's roof be visible from above? Specify covering as plywood, metal, water/weather-resistant cover, etc.
Glen Tracy is national sales manager, architectural revolving doors, for Boon Edam. Tracy grew up in the revolving door business with his father, Richard Tracy, who manufactured revolving door systems in Chicago for more than 30 years. He has been employed at Boon Edam for more than 18 years and has held various leadership roles. A resident of Salt Lake City, Utah, Tracy has a long history of working closely with architects, glazing contractors, consultants, and key customers across several verticals since 1986. He can be reached at Glen.Tracy@boonedam.com[8].
Endnotes:
[Image]: https://www.constructionspecifier.com/wp-content/uploads/2018/11/Step-1-Photo_2_The-Cliff-at-Snowbird.jpg
[Image]: https://www.constructionspecifier.com/wp-content/uploads/2018/11/Step-1-Photo_1_Airport.jpg
[Image]: https://www.constructionspecifier.com/wp-content/uploads/2018/11/Step-2-Photo_Manual-Doors-for-Restaurants.jpg
[Image]: https://www.constructionspecifier.com/wp-content/uploads/2018/11/Bonus-Step_Security-Features.jpg
[Image]: https://www.constructionspecifier.com/wp-content/uploads/2018/11/Step-3-Photo_Shopping-Carts.jpg
[Image]: https://www.constructionspecifier.com/wp-content/uploads/2018/11/Step-4-Photo_Protective-Awning.jpg
[Image]: https://www.constructionspecifier.com/wp-content/uploads/2018/11/Step-6-Photo_Floor-Grill.jpg

Glen.Tracy@boonedam.com

: mailto:Glen.Tracy@boonedam.com
Source URL: https://www.constructionspecifier.com/specifying-revolving-doors/
---