Specifying the right privacy and shading
September 28, 2016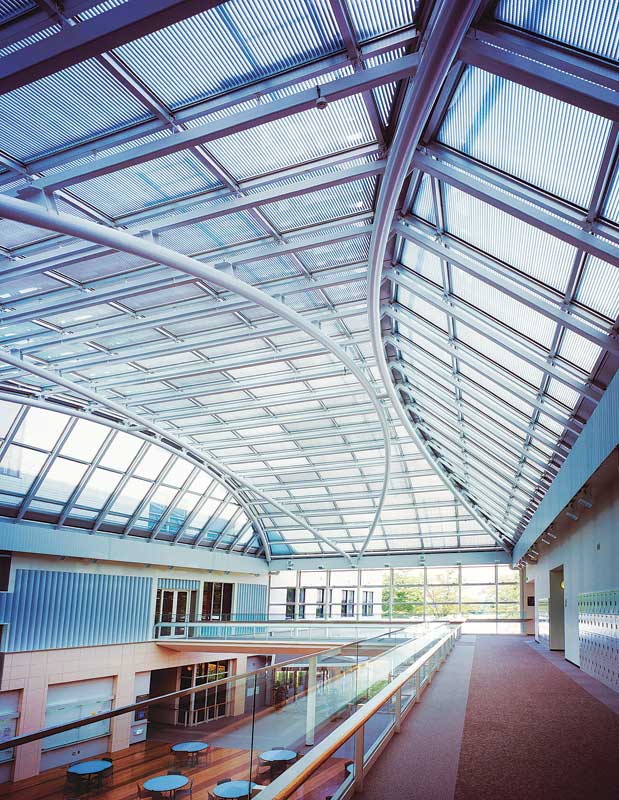 by Jean-François Couturier and Viviane Chan
When specifying glazing solutions for vision, sound, light, and heat control, design actions often come down to a choice between integrated louvers and integrated blinds. Knowing the difference between the two—and which option may be more suitable for an application—
is critical.
Integrated louvers are insulating glass units (IGUs) incorporating cord-free, extruded aluminum louvers within glass that can be customized to virtually any shape for interior and exterior glazing in vertical and sloped applications. Their use commonly eliminates strings and cords, ensures alignment, requires no maintenance, and provides options for daylighting or privacy. When installed in exterior applications, integrated louvers can significantly reduce energy consumption in support of Leadership in Energy and Environmental Design (LEED) requirements.
Integrated blinds address many glazing design requirements for vision, sound, heat, and light control. They are cleaner and more hygienic than traditional Venetian blinds that are separate from glass. However, they can easily be misaligned, leaving visual gaps—even when fully closed, the spacing between slats does not offer complete privacy and light blockage. While they are not known for long-term durability, integrated blinds are the more cost-effective integrated alternative, lending themselves well to residential and educational designs.
Specifying the best solution by building type
The intended purpose and function of a building will dictate whether the best privacy and daylighting solution to be specified is integrated louvers or blinds.
Healthcare facilities
Both integrated solutions make sense for healthcare construction where privacy, safety, and hygiene are key considerations. They are equally hygienic and hermetically sealed within glazing. They both can be made with fire-rated glazing and adaptable anti-ligature operators to protect patients and staff.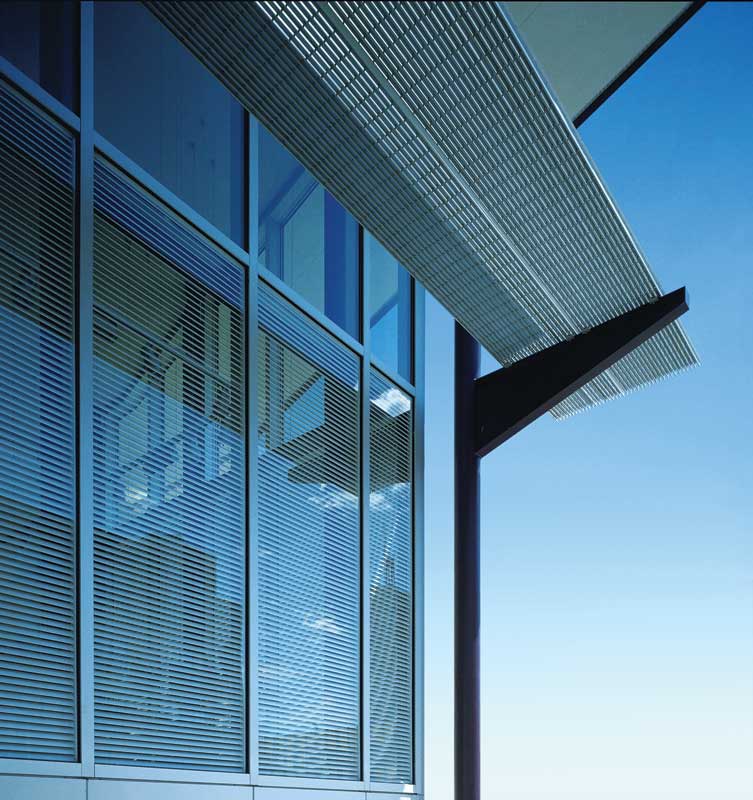 However, integrated louvers can provide superior levels of vision, sound, heat, and light control. For example, they can ensure complete adjustable privacy and visibility levels, whereas integrated blinds may have visibility gaps. Integrated louvers offer better sound control, as the louvers-within-glass product assembly delivers sound-wave barriers on par with concrete masonry unit (CMU) walls. This can be important in a setting where tranquility helps facilitate the recovery process. Increased noise levels have a wide range of effects on patients. In addition to the obvious difficulty in sleeping, patients exposed to higher levels of noise consistently show higher levels of stress, increased heart and respiratory rates, higher blood pressure, and, in the cases of infants, decreased levels of oxygen saturation. (See M. Slevin et al's 2000 article, "Altering the NICU and Measuring Infants' Responses" in Acta Paediatrica [89(5)].) These can all decrease the body's ability to recover and heal, and lead to longer hospital stays, along with higher rates of re-hospitalization. (For more information, see V. Blomkvist et al's 2005 article, "Acoustics and Psychosocial Environment in Coronary Intensive Care" in Occupational and Environmental Medicine [62 (1–8)].) In addition, integrated louvers support Health Insurance Portability and Accountability Act (HIPAA) requirements for doctor-patient privacy.
Correctional facilities
Keeping the staff safe is the priority for any correctional facility. Interior windows and doors are required to monitor activities in inmate areas, gathering spaces, meetings rooms, and clinics. Visibility is important, but these windowed-portals must have shatter- and bullet-resistant glass. Additionally, any privacy solutions must be adjustable—permitting both open views and fully blocked visibility—and strong enough to withstand violent impacts.
Both integrated solutions can offer the required levels of safety while providing adjustable visibility for staff monitoring. They can provide cordless operation (i.e. eliminating the cords or strings posing a strangulation or self-harm hazard), and anti-ligature control knobs without corners or edges. Further, use of high-impact glazing or polycarbonates eliminate the risk of dangerous glass shards. However, integrated louvers have an edge in correctional facilities as the extruded aluminum louvers provide the highest levels of sound thinning and ensure fully blocked visibility when required.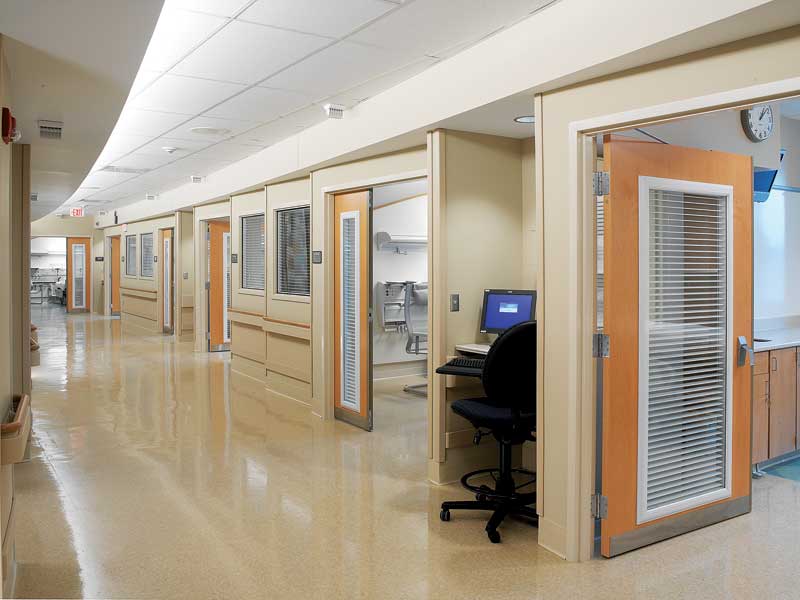 Educational facilities
Studies suggest effective use of daylight improves student performance and accelerates learning. For example, research by the Heschong Mahone Group, found students in classrooms with more natural light scored up to 25 percent higher on standardized testing than students in classrooms with lower-levels of daylight. (For example, see Heschong Mahone Group's 1999 report, "Daylighting 
in Schools: An Investigation into the Relationship Between Daylight and Human Performance.") Further, the effective use of daylight in educational environments has been shown to increase student and teacher attendance, boost achievement rates, reduce fatigue, and improve student health.
For exterior applications, integrated louvers have the advantage over blinds, providing the highest levels of daylight control for optimal thermal efficiencies and LEED contributions. Integrated louvers are more adept at reducing cooling costs in warm weather and heating costs in the cold.
For interior applications, integrated blinds typically gain the advantage in K–12 schools as they are less costly, making them a more palatable option for stringent public educational budgets. Like integrated louvers, they provide adjustable vision and light control required for classrooms, study halls, libraries, and labs.
Residences
For residential construction, both integrated solutions provide shading and privacy control for sunrooms, atriums, windows, and doors. However, the integrated blinds are typically the preferred solution to specify as they are capable of not only tilting, but also lifting—
a characteristic often used in residential applications. Further, they are more suitable for these types of budgets and aesthetics.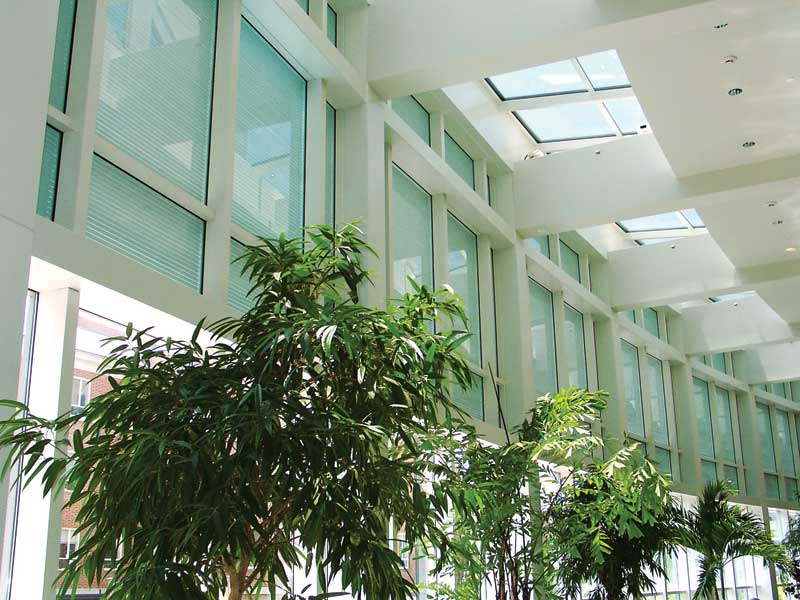 Commercial buildings
Modern office space must provide more than a place to work. A contemporary workspace should consider a healthy environment that translates into higher productivity and lower operating costs. For workplaces, lighting is a critical element for staff. Natural lighting is proven to have positive impacts on moods, productivity, and well-being. Thus, commercial architecture needs to maximize natural lighting while mitigating the impacts of heat and glare.
In this case, integrated louvers deliver significant advantages. They provide the highest levels of daylight and shading control, thereby ensuring optimal thermal efficiencies by reducing heating, cooling, and lighting costs. Their construction ensures superior sound-dampening capabilities for more tranquil working environments. In addition, integrated louvers typically ensure better long-term return on investment (ROI) and come with superior product warranties, which are important considerations for commercial budgets.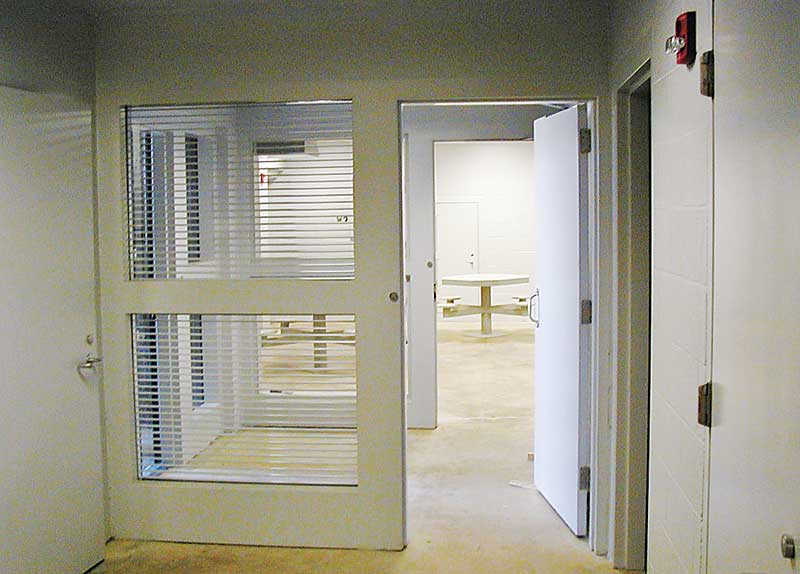 Art galleries and museums
Museums and art galleries, along with other buildings designed to showcase house and protect items of value, require discerning architectural design. Daylight enhances and adds beauty to exhibits and interiors, but it can also usher in damaging ultraviolet (UV) rays, unwanted heat, and glare. Using ample glazing is an essential part of creating beautiful art-oriented and cultural spaces, but this also necessitates effective sunlight management.
Integrated louvers once again provide an advantage over blinds, as they help ensure optimal daylight management. They provide the maximum levels of daylight, heat, and light control that galleries and museums need to protect exhibits from damaging UV rays. Louvers also permit the flexibility of design required to suit even the most unique architectural requirements. To filter light in the most efficient manner, they can be specified into sloped, vertical, flat, and overhead glazing. Their alignment is not affected by glass inclination—whether in vertical or sloped glazing. However, if integrated blinds are not installed perfectly vertical, they will sag and not stay aligned.
Detailed specification considerations
Once integrated solution has been chosen for the building design, the next step is to specify the detailed product requirements.
Regulatory requirements
Based on the application, integrated solutions need to comply with certain safety and quality assurance standards, including:

American National Standards Institute (ANSI) Z97.1, Safety Performance Specifications and Methods of Test for Safety Glazing Material Used in Buildings;

ASTM C50, Standard Specification for Elastomeric Cellular Preformed Gasket and Sealing Material;

ASTM C920, Standard Specification for Elastomeric Joint Sealants;

ASTM C1036, Standard Specification for Flat Glass;

ASTM C1048, Standard Specification for Heat-treated Flat Glass-Kind HS, Kind FT, Coated and Uncoated Glass;

ASTM C1115, Standard Specification for Dense Elastomeric Silicone Rubber Gaskets and Accessories;

ASTM E2190, Standard Specification for Insulating Glass Unit Performance and Evaluation;

Consumer Product Safety Commission (CPSC) 16 CFR 1201, Safety Standard for Architectural Glazing Materials;

Glass Association of North America (GANA) Engineering Standards Manual and Glazing Manual;

National Fire Protection Association (NFPA) 80, Standard for Fire Doors and Other Opening Protectives;

Underwriters Laboratories (UL) 9, Standard for Fire Tests of Window Assemblies;

UL 10B, Standard for Fire Tests of Door Assemblies;

UL 10C, Standard for Positive Pressure Fire Tests of Door Assemblies; and

Insulating Glass Manufacturers Association (IGMA) TB-3001, Sloped Glazing Guidelines.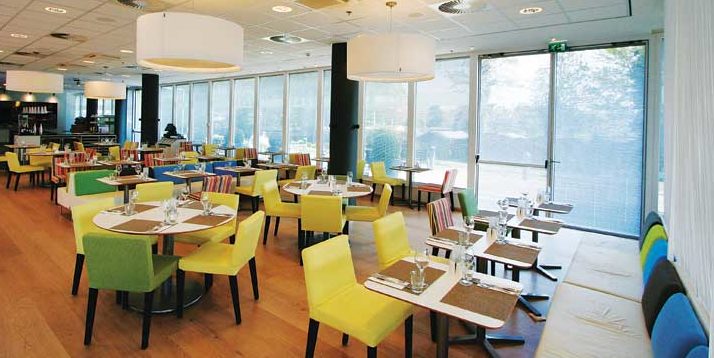 Warranties
Warranties for integrated solutions need to consider both interior and exterior applications. These should include specific coverage against material-obstruction of vision as a result of dust or film formation on the internal glass surface caused by failure of the hermetic seal other than through glass breakage. Additionally, warranties should cover any internal parts for malfunction, mechanism failure, or premature wear.
Glazing
Both integrated louvers and blinds can vary depending on the building type, orientation, application, and daylighting requirements, including:

fire-rated glass specifications need to consider composition, UL listing, fire rating, and thickness;

clear and tinted tempered glass specifications need to include ASTM and ANSI standards, type and class of glass (tinted heat-absorbing and light-reducing), quality of glazing, and tempered values;

plastic glazing specifications (e.g. for X-ray rooms) need to consider the type of polycarbonate required (polycarbonates should only be used in interior locations), type (e.g. plastic compound, UV-stabilized, non-yellowing, abrasion, resistant-coated), and color (e.g. clear, translucent, grey tint, bronze tint etc.);

lead glass specifications need to consider the lead equivalency required—lead glass is not available tempered, therefore in high-impact areas (e.g. doors and sidelites), laminated lead glass will satisfy safety-glazing requirements; and

glass-clad polycarbonate glazing specifications may need to consider the level of attack-resistance required in applications like correctional facilities or mental health institutions—glazing thicknesses start at 177 mm (7⁄16 in.) thick and increase according to level of attack. Other safety/protection standards may also need to be considered for such glazing.
For integrated louvers in exterior applications, additional glazing considerations include glass deflection, application type such as sloped or vertical, design loads, and climate according to the project location. Specifications for argon gas for improved thermal performance may also be considered.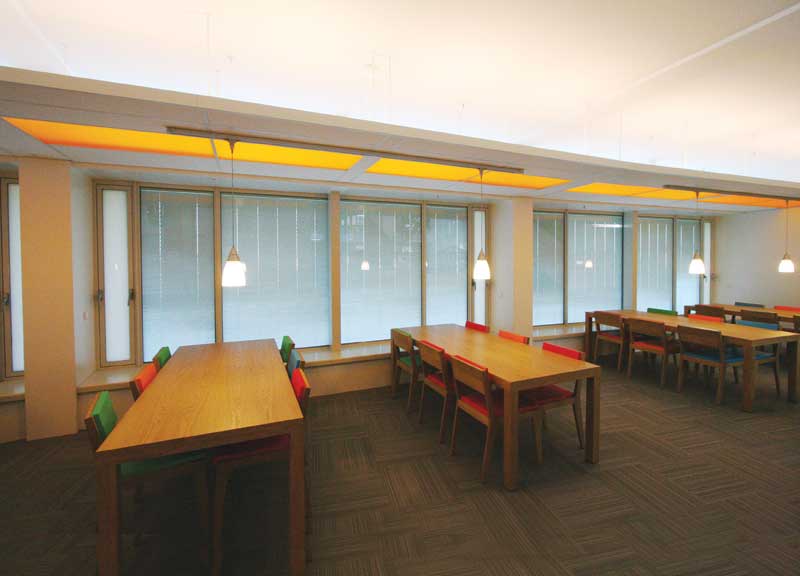 Louvers, blinds, frames, and operators
Louvers specifications need to consider the type, size, and color. They can be installed either horizontally or vertically. If upright, peripheral vision may be affected. Made of rigid, extruded aluminum, louvers are typically available in various blade types (e.g. 6, 9, or 12 mm [1⁄4, 3⁄8, or 1⁄2 in.]) to span different lengths. As well, designers will need to select operators, which can include thumbwheels, crank handles, aluminum knobs, anti-ligature knobs, electrical controls, and computerized-sensor controls. If motorized controls are specified, additional considerations include motor voltage, motor type, and hardware as determined by the manufacturer based on glass opening sizes and number of glass panels per motor.
Blinds specifications need to consider functions such as 'tilt-only' or 'tilt-and-raise.' Designers also need to consider operators, which can typically include top and bottom frontal knobs, wands, anti-ligature knobs, cords, internal or external motors, and removable key operators.
For both integrated louvers and blinds, operator selection must consider frame and glass stop clearances, adjacent walls preventing proper use of the operators, location height of the operator for user reach, and ease of operation.
Specifications for glass frame trim kits should consider application (e.g. doors, windows, sliding doors, and side lites), sizing, material, and colors. It should not be assumed all integrated louvers or blinds are easily installed in frames and stops furnished by other trades. One must verify with the manufacturers for glass pocket depths, as well as clearance and bite requirements.
Accessories
A specification writer must consider various available additions, including:

setting blocks (neoprene, ethylene propylene diene monomer [EPDM], or silicone);

spacers (neoprene, EPDM or silicone);

glazing gaskets (neoprene, EPDM, silicone, or thermoplastic polyolefin [TPO] rubber, molded or extruded to fit glazing channel retaining slot);

glazing tapes and sealants (type, grade, component); and

sealant backing (type, size and density required to control glazing sealant depth, and produce optimal glazing sealant performance to be compatible with glass-unit edge seals).
Conclusion
Integrated louvers competently address all glazing requirements for maximum levels of vision, sound, heat, and light control. This tends to make them ideal for application in hospitals, museums, office buildings, and institutions. They typically feature double-glazing with up to a 63-mm (2 1⁄2-in.) air space that has a sound transmission class (STC) rating on par with drywall and CMU walls.
In exterior applications, the integrated louvers offer complete daylight control and optimal thermal efficiencies. The devices are typically the costlier integrated option at the outset, but tend to be more cost-effective in the long-term as they reduce the need for cleaning, maintenance, and replacement costs.
Jean-François Couturier, Eng., MBA, is president and CEO of Unicel Architectural, which focuses on building envelope solutions that help control sunlight, heat, sound, and visibility. His articles have been published in industry magazines such as Healthcare Building Ideas and Architectural Products magazines. Couturier is the co-author of an industry newsletter called Reflections. He can be reached at via e-mail at unicel@unicelarchitectural.com[1].
Viviane Chan is the head of business development for Unicel. A long-time building industry professional, Chan has worked with architectural firms around the world to deliver on quality vision and daylight control solutions for leading design projects, particularly in the healthcare sector. She created an accredited American Institute of Architects (AIA) course on daylighting design techniques, and is a frequent contributor to architectural and building products magazines such as USGlass and Architectural Products. Chan can be reached via e-mail at vchan@unicelarchitectural.com[2].
Endnotes:
unicel@unicelarchitectural.com: mailto:unicel@unicelarchitectural.com
vchan@unicelarchitectural.com: mailto:vchan@unicelarchitectural.com
Source URL: https://www.constructionspecifier.com/specifying-the-right-privacy-and-shading/
---