Specifying the right resinous flooring system
May 7, 2021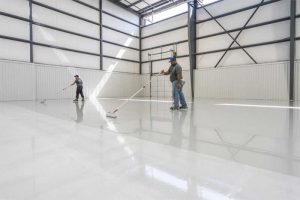 by Mark Thomas
Selection of flooring materials often starts with the preferred visual appeal based on the needs of the architect, interior designer, or owner. What materials would best meet the aesthetic needs: The warmth of hardwoods, the durability and decorative options of tile, or the economy and cleanliness of vinyl? Materials such as tile and sheet goods are typical options, but for many projects, high-performance coatings are a capable and often-desired alternative.
Few materials meet the combined benefits of coatings. The varied chemistries tailored within a complete system provide a seamless, easy-to-clean surface that withstands heavy traffic, impacts, and chemicals, all while offering anything from a utilitarian, industrial look to something fitting for a commercial setting.
However, selecting the right coatings and specifying the appropriate system can be more difficult than picking out a type of tile or vinyl. Some knowledge on the types of flooring, the common coating chemistries, as well as the appropriate performance characteristics of these systems can go a long way in helping construction professionals specify an enduring, aesthetically pleasing floor.
Flooring options
Before selecting a flooring system, it is important to first identify its performance requirements. Will it be exposed to foot traffic, wheeled carts, or something more abusive like a forklift? Will heavy items likely be dropped on it, or will there be aggressive cleaning techniques involving hot water spray, cleaning agents, or scrubbing? If the floor will be frequently wet or damp, what kind of skid-resistance is desired? Chemicals, fuels, lubricants, and other fluids often leak onto commercial floors: Is this exposure likely in the environment and how often will this happen?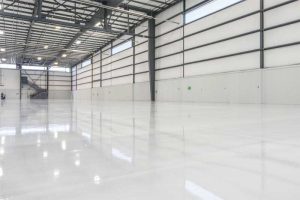 Once the exposure conditions and performance needs are identified, one of the following three basic types of high-performance flooring systems can be considered.
Thin-film flooring system
The most basic type of floor coating system is a thin-film floor, typically comprising two to three coats that will generally be between 380-1015 μm (15 to 40 mils) in total dry film thickness (DFT). This type of floor is available in a variety of colors, helping to achieve the desired aesthetic and visual requirements, while being easy to clean, especially because it is applied without the seams or grout lines found in vinyl or tile floors.
Thin-film systems can also be customized for additional skid and/or chemical resistance. Skid resistance can be tailored with the inclusion of aggregates or anti-slip particles for better traction, while chemical-resistant topcoat options make these systems a good choice for environments that will be exposed to cleaning chemicals or fuels on a regular basis. Material costs are lower for this type of floor and easy roller application also helps reduce labor costs.
The primary deficiency of a thin-film system is its resistance to point-load impacts, such as a dropped tool or other heavy item. The thinness and lack of aggregate reinforcement make a thin-film floor susceptible to impacts that not only damage the coating system, but also transfers the energy to the concrete substrate. This damage is repairable but might lead to ongoing maintenance and a visual 'patch work,' if they occur frequently.
Thin-film floor coating systems are often installed in commercial areas, such as offices, pedestrian corridors, vehicle bays, aircraft hangars, and production facilities.
Broadcast/laminate flooring system
If the performance requirements necessitate something more robust than a thin-film system, the next option would be a broadcast/laminate floor. These floors are usually installed at a nominal 3175 μm (125 mils) DFT and filled with aggregate. The aggregate in these systems not only helps achieve the higher thickness, but also reinforces the coating to make it more resistant to physical damage, such as abrasion and impact.
The popularity of this floor type has made installers adept at its installation. First, a coating layer is laid out by notched-squeegee after which an aggregate, or sometimes decorative flake or quartz, is broadcast into the liquid coating "to refusal," meaning the coating cannot accept any more aggregate. After cure, loose aggregate is removed and the process is repeated providing what is referred to as a "double broadcast." Next, these floor systems generally receive a grout-coat to help secure the uppermost aggregate. A finish coat is then often applied (depending on the needed service requirements) and can offer additional chemical resistance, color stability, or even abrasion resistance.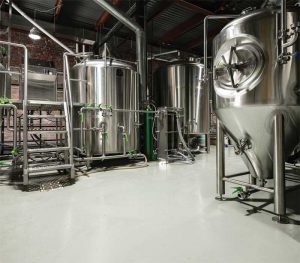 Over time, flooring contractors have modified the double-broadcast floor installation by replacing the first broadcast with a loose "slurry" comprising the coating liquids and a reduced aggregate load. By substituting the first broadcast with the slurry technique, productivity is increased, and installation times are shortened. A second broadcast is still applied for additional thickness, followed by applicable grout- and top-coats.
Broadcast/laminate flooring systems are commonly installed where long service life is required, such as institutional facilities like healthcare, education, or correction, as well as commercial projects and even manufacturing environments. Aesthetic options range from solid colors to decorative quartz and flake.
Mortar flooring systems
These heavy-duty systems are most often used where extreme durability is needed. A mixture of aggregates and coating liquids, these systems are typically trowel applied at a thickness of 6350 μm (250 mils) DFT and then topcoated to seal the mortar and provide additional durability.
Mortar floors are more costly due to the increased material use, and slower technique of trowel application, relegating them to areas of high abuse. Exceptional resistance to impacts, abrasion, and heavy traffic make mortar floors good choices in manufacturing and processing facilities. Mortar flooring systems are generally installed as a solid color, but decorative quartz is sometimes employed for enhanced visual appeal.
Getting the chemistry right
Once the type of system is determined, the next step is to identify the actual coating products. This is best done by categorizing them into the basic chemistry groups most often used in floor coatings, such as epoxies, polyurethanes, and other specialty products.
Epoxy
Epoxies are the workhorses of the coating world. They are known for good adhesion, compressive strength, chemical resistance, and overall durability, all at a moderate cost. Epoxy floor coatings can be solvent- or water-based, but are most commonly offered as solvent-free, 100 percent solids formulations.
Epoxies will yellow with age and can be degraded by ultraviolet (UV) light, so aesthetic considerations should be made based on desired appearance. Often, epoxy systems are topcoated with more color stable coating types, such as aliphatic polyurethanes.
The two most commonly encountered flooring epoxies are polyamine and novolac. Polyamine epoxies are by far the most used and offer all the performance characteristics associated with epoxies including moderate to good chemical resistance. For more extreme chemical exposure, a novolac epoxy may be required. Novolacs have a tighter cross-linked film, which improves chemical resistance. However, they tend to be more expensive and can be susceptible to greater yellowing, so are only used as exposure conditions dictate.
Polyurethane
If epoxies are the workhorses of the coating world then polyurethanes or, more specifically, aliphatic polyurethanes, are the show horses. Aliphatic polyurethanes have excellent color stability and resistance to UV light, and tend to showcase good chemical and abrasion resistance. However, they are typically applied as a thin topcoat of 50-127μm (2 to 5 mils) DFT.
Aromatic polyurethanes are a more industrial variant of the chemistry type. Surrendering the color stability of their aliphatic cousins, aromatic urethanes gain chemical resistance and improved durability. There is a common floor product that combines the characteristics of aromatic polyurethane with the toughness of concrete. Called "urethane-modified concrete," these products were originally developed and marketed to industrial and processing facilities where a durable floor topping with exceptional resistance to severe freeze-thaw cycling was needed. However, over time, flooring contractors began substituting 100 percent solids epoxies with these products in more commercial and architectural applications because of their fast cure, great adhesion, and tolerance to moisture vapor transmission (MVT). As with epoxies, aromatic polyurethanes are topcoated to improve the system's appearance.
Specialty products
The coating industry is full of products that do not fall neatly into the epoxy or polyurethane categories.
Methyl methacrylate (MMA) is a fast curing chemistry that is tolerant to cold temperatures during application and cure. For this reason, it is often used where installation must be completed as soon as possible or if the space is unconditioned, even exterior. This cure speed comes with a very high odor, and can only be installed by a specially trained crew. Due to this, coating manufacturers have introduced alternatives to MMA, which includes polyaspartics that combine the speed and color stability of MMA without the offensive odor.
Vinyl esters are an option when specifiers need industrial coatings resistant to chemicals, particularly acids, and are sometimes used within a flooring system. Varieties include thin-film, mortars, and even mat reinforcements. This specialty niche system is relegated to industrial areas exposed to the splash and spillage of chemicals and acids.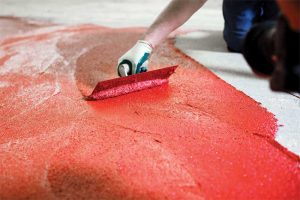 Planning out the specifications
Presuming the specific floor coating products have been identified and developed into the type of floor system needed for the project, it is time to identify critical components of the specification that will help ensure correct installation and avoidance of potential problems.
Substrate preparation
Compared to steel, which is a fairly consistent and predictable substrate, concrete can be very tricky to coat. Its variability from project to project can produce unexpected situations affecting a coating system's bond. For the specifier, there are critical elements of substrate evaluation and surface preparation that, when properly addressed, can help reduce the potential for future coating problems.
Moisture in concrete slabs can lead to issues for all types of floor toppings, which includes coatings. The industry standard of waiting 28 days for new concrete to fully cure before coating is based on the time it generally takes for any free water that has not hydrolyzed with the cement particles to evaporate and escape the concrete.
Unfortunately waiting for new concrete to fully cure does not eliminate moisture-related issues. In fact, old, existing on-grade slabs also pose a challenge because of potentially high MVT conditions. Unless the project is located in the driest of climates, moisture will be present at some level in the soil on which the concrete slab is resting. Today, it is common practice to install a vapor barrier prior to concrete placement to prevent moisture from transmitting from the soil through the slab, but this is rarely the case with older slabs. Additionally, it is difficult to determine the presence or absence of a vapor barrier under an existing slab. Therefore, testing the slab prior to coating application is a key to avoiding future problems.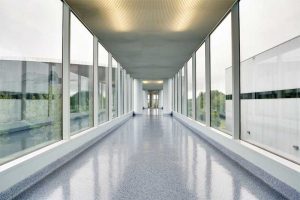 Testing for moisture
The most basic test is ASTM D4263-05, Standard Test Method for Indicating Moisture in Concrete by the Plastic Sheet Method. Called the Plastic Sheet Method, it involves taping a 457 x 457-mm (18 x-18 in.) square plastic sheet to the concrete floor and waiting at least 24 hours before removing it. (A heat source, such as an incandescent lamp, is sometimes placed close to the plastic sheet to help promote moisture migration). Once the plastic sheet is removed, the concrete is inspected for darkening or other signs of moisture. Although this test has existed for decades and is still used, most flooring manufacturers do not favor its use due to several flaws. First, it does not quantify the amount of moisture; it simply indicates whether or not moisture is present. Second, it only detects moisture in the upper portion of the slab, not in the middle or lower areas where moisture is more apt to reside.
The Calcium Chloride Test, per ASTM F1869-11, Standard Test Method for Measuring Moisture Vapor Emission Rate of Concrete Subfloor Using Anhydrous Calcium Chloride, is a better test because it provides a quantifiable result. For this test, a calcium chloride disk is placed under a sealed plastic sheet and left to collect moisture vapor. After 24 hours, the disk is retrieved and weighed, and compared to the disk's pretest weight. This weight difference indicates how much moisture vapor has emerged from the slab in 24 hours.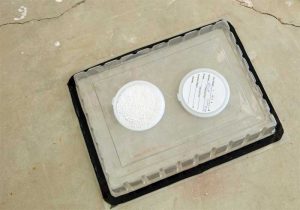 A more recent test providing the most complete data is ASTM F2170-11, Standard Test Method for Determining Relative Humidity in Concrete Floor Slabs Using in situ Probes. This method requires holes to be drilled into the concrete and a humidity probe inserted at 40 percent of its total depth. The quantitative result and the measurement within the middle of the slab make this test a more accurate and reliable way to measure MVT.
It is important to note results from all three tests are limited to a particular time period and may not reflect seasonal or unusual environmental conditions. Additionally, it is recommended to conduct concrete moisture tests after the building's HVAC system has operated for at least 48 hours.
Floor coatings will have varying tolerance to moisture vapor levels, and this should be reflected on the product data sheet. As a general rule, moisture vapor transmission rates should not exceed 1.3 kg (3 lb)/24 hrs or 75 to 80 percent relative humidity (RH) for most conventional floor primers. However, there are specialty primers and floor toppings designed specifically for higher MVT rates, up to 9 kg (20 lb)/24 hrs, and up to 99 percent RH.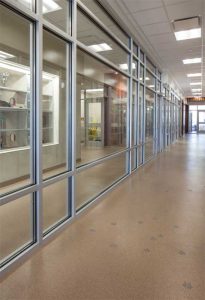 Surface preparation
The degree of surface preparation will depend on the thickness of the flooring system. A thinner system requires less preparation than a thick, mortar one. In all cases, specifications should include clear language addressing the removal of "laitance, curing compounds, hardeners, sealers, and other contaminants," and should reference NACE No. 6/Society for Protective Coatings (SSPC)-SP 13-2018, Surface Preparation of Concrete, which outlines minimum acceptance criteria of the concrete substrate and relevant test methods.
The floor coating industry relies on the International Concrete Repair Institute (ICRI) visual reference standards for degrees of surface preparation from lightest (CSP 1) to heaviest (CSP 10). Thin-film systems generally require an ICRI-CSP 1 to 3, which can be achieved through light shot blast or diamond grinding. (Acid etching is discouraged as it is difficult to assure sufficient profile and full neutralization of acid). Broadcast/laminate and mortar systems accommodate a more aggressive anchor profile, usually listed as minimum of ICRI-CSP 3 or greater and achieved by shot blast, diamond grinding, or scabbling.
Relevant tests for floor coatings
Determining what products to select can be challenging, especially since many floor coatings products look similar on published literature and documents. Specifiers should consider the following performance tests prior to product selection:
abrasion, per ASTM D4060, Standard Test Method for Abrasion Resistance of Organic Coatings by Taber Abraser;
compressive strength, per ASTM C579, Standard Test Methods for Compressive Strength of Chemical-resistant Mortars, Grouts, Monolithic Surfacings, and Polymer Concretes;
impact, per ASTM D2794, Standard Test Method for Resistance of Organic Coatings to the Effects of Rapid Deformation; or MIL-D-3134, Military Specification for Deck Covering Materials;
slip resistance, per ASTM D2047, Standard Test Method
for Static Coefficient of Friction of Polish-coated Flooring Surfaces as Measured by the James Machine; and
cleaning agent resistance, per ASTM D1308, Standard Test Method for Effect of Household Chemicals on Clear and Pigmented Coating Systems.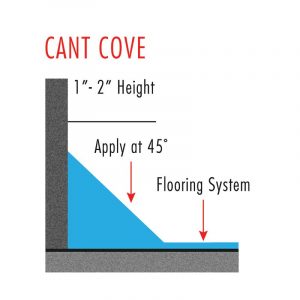 There are many more tests that may be relevant depending on the actual exposure conditions expected on the project. These could include specific physical attributes such as chemical resistance, UV resistance, and ability to withstand severe free-thaw cycles. A careful review of the project with the coating supplier will identify these parameters to ensure the right product is selected for long-term durability and performance.
Floor to wall transitions
A major benefit of fluid-applied floor coatings over other materials is the ability to tie directly, and seamlessly, into the wall coating system by the creation of a cove base. This continuous transition is durable, hygienic, and creates a "bathtub" effect suitable for wet conditions or frequent cleaning. Often, the same floor coating materials used for a broadcast/laminate or mortar system can be used to build the cove base, or the coating manufacturer may offer a specialized material designed with enough viscosity, or bulk, to properly build the base.
The two most common cove bases are rolled-radius and cant cove (Figure 1). A rolled-radius cove is usually 100 mm (4 in.) high and resembles the plastic, rubber, or wood bases commonly used to trim a room, whereas a cant cove is installed at a 45-degree angle from floor to wall for easier cleaning by eliminating hard right angles. To tie seamlessly into the wall, the cove is either installed before the wall coating, in which case the wall coating is carried down to the cove/wall junction or after the wall system is applied.
Conclusion
The ability to tailor a floor coating system—whether for physical wear, mechanical abuse, or chemical contact—makes high-performance coatings a viable choice for a variety of facility floors. By keying in on the expected physical exposure conditions and aesthetic requirements, thickness and coating types can be determined and specified as a complete system based on their relevant performance data.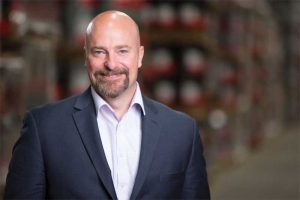 [10]Mark Thomas is a vice-president for Tnemec Company, where he is responsible for marketing the company's various coating products and brands. Since joining the company in 1996, he has worked extensively on new product technologies with research and development, technical service, and sales department personnel. He is a NACE CIP Level 2 Coating Inspector. Thomas holds a bachelor's degree in journalism and a master's degree in integrated marketing communications, both from The University of Kansas.
Endnotes:
[Image]: https://www.constructionspecifier.com/wp-content/uploads/2021/05/Million-Air-34.jpg
[Image]: https://www.constructionspecifier.com/wp-content/uploads/2021/05/Million-Air-30_CMYK.jpg
[Image]: https://www.constructionspecifier.com/wp-content/uploads/2021/05/20180522-Tnemec-LawrenceBeer-33.jpg
[Image]: https://www.constructionspecifier.com/wp-content/uploads/2021/05/QI8A1600_Retouched_Ck_091614.jpg
[Image]: https://www.constructionspecifier.com/wp-content/uploads/2021/05/IMG_0788_Retouched_AM_CMYK_Flat_091614.jpg
[Image]: https://www.constructionspecifier.com/wp-content/uploads/2021/05/16_05_7221_Edit_1.jpg
[Image]: https://www.constructionspecifier.com/wp-content/uploads/2021/05/CCtest-stock-1.jpg
[Image]: https://www.constructionspecifier.com/wp-content/uploads/2021/05/HS-07.jpg
[Image]: https://www.constructionspecifier.com/wp-content/uploads/2021/05/Cant-Cove.jpg
[Image]: https://www.constructionspecifier.com/wp-content/uploads/2021/05/Headshot-Thomas.jpg
Source URL: https://www.constructionspecifier.com/specifying-the-right-resinous-flooring-system/
---