Specifying weather-resistant barriers for multifamily construction projects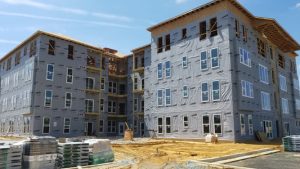 by Bijan Mansouri
The highest performing wall assemblies are the ones designed to realistically manage moisture and dry out, and not those with the unachievable goal of completely locking out water. The good news is there are a growing number of methods for moisture management driven by advances in material technology, evolving building codes, and a growing awareness among end-users for mold prevention, indoor air quality (IAQ), and energy efficiency. This article focuses on weather-resistant barriers (WRBs), also referred to as building wrap or housewrap.
Evaluating WRBs
Plastic building wraps made of polyethylene (PE) or polypropylene fabric have been a popular method for protecting against moisture intrusion since the 1970s because of their durability and ease of installation. Since building assemblies have gotten tighter, building wraps have taken on a new function—helping to remove trapped water from the building enclosure. Their unique functionality enables them to both block moisture from the outside, while also allowing walls to 'breathe' to prevent vapor buildup.
The International Code Council-Evaluation Service (ICC-ES) evaluates housewrap products on the following key performance characteristics.
Water holdout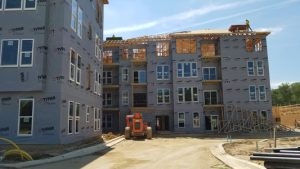 As its most basic function, a building wrap must hold out liquid water. A building wrap should be able to pass both 'water ponding' tests, which measure a house wrap's resistance to a pond of 25-mm (1-in.) water over two hours, and a more stringent hydrostatic pressure test where the wrap is subjected to a pressurized column of water for five hours.
Air resistance
According to the Air Barrier Association of America (ABAA), an air barrier is a system of assemblies within the building enclosure—designed, installed, and integrated in a manner to stop the uncontrolled flow of air into and out of the enclosure. Since an air barrier isolates the indoor environment, it plays a major role in the overall energy efficiency, comfort, and IAQ of a building.
Durability
ICC-ES looks at tear resistance and tensile strength as the best measure of a building wrap's durability, since it must be able to withstand the handling and application process without losing any of its water resistance. Ultraviolet (UV) and low temperature resistance are also important measures of durability because prolonged exposure to the elements can compromise the integrity of the product or cause it to crack.
Vapor permeability
According to renowned building scientist Joseph Lstiburek, builders should aim for the 'sweet spot' of 10 to 20 perms for the building wrap to achieve the desired balance of moisture protection and breathability. Too high, he writes, and the moisture driven out of the back side of the cladding into the air space will blow through the layer, through the permeable sheathing and into the wall cavity. Too low, and the outward drying potential of the cavity is compromised.
All information listed in this section was submitted by Berry Plastics - Typar.
Kenilworth Media Inc. cannot assume responsibility for errors of relevance,
fact or omission. The publisher does not endorse any products featured in this article.