Specifying weather-resistant barriers for multifamily construction projects
August 6, 2019
Specifying weather-resistant barriers for multifamily construction projects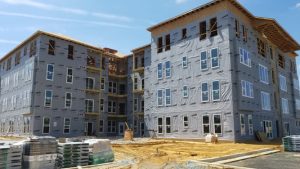 [1]by Bijan Mansouri
The highest performing wall assemblies are the ones designed to realistically manage moisture and dry out, and not those with the unachievable goal of completely locking out water. The good news is there are a growing number of methods for moisture management driven by advances in material technology, evolving building codes, and a growing awareness among end-users for mold prevention, indoor air quality (IAQ), and energy efficiency. This article focuses on weather-resistant barriers (WRBs), also referred to as building wrap or housewrap.
Evaluating WRBs
Plastic building wraps made of polyethylene (PE) or polypropylene fabric have been a popular method for protecting against moisture intrusion since the 1970s because of their durability and ease of installation. Since building assemblies have gotten tighter, building wraps have taken on a new function—helping to remove trapped water from the building enclosure. Their unique functionality enables them to both block moisture from the outside, while also allowing walls to 'breathe' to prevent vapor buildup.
The International Code Council-Evaluation Service (ICC-ES) evaluates housewrap products on the following key performance characteristics.
Water holdout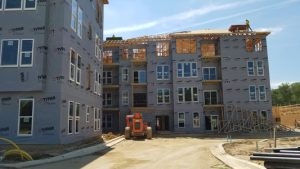 [2]As its most basic function, a building wrap must hold out liquid water. A building wrap should be able to pass both 'water ponding' tests, which measure a house wrap's resistance to a pond of 25-mm (1-in.) water over two hours, and a more stringent hydrostatic pressure test where the wrap is subjected to a pressurized column of water for five hours.
Air resistance
According to the Air Barrier Association of America (ABAA), an air barrier is a system of assemblies within the building enclosure—designed, installed, and integrated in a manner to stop the uncontrolled flow of air into and out of the enclosure. Since an air barrier isolates the indoor environment, it plays a major role in the overall energy efficiency, comfort, and IAQ of a building.
Durability
ICC-ES looks at tear resistance and tensile strength as the best measure of a building wrap's durability, since it must be able to withstand the handling and application process without losing any of its water resistance. Ultraviolet (UV) and low temperature resistance are also important measures of durability because prolonged exposure to the elements can compromise the integrity of the product or cause it to crack.
Vapor permeability
According to renowned building scientist Joseph Lstiburek[3], builders should aim for the 'sweet spot' of 10 to 20 perms for the building wrap to achieve the desired balance of moisture protection and breathability. Too high, he writes, and the moisture driven out of the back side of the cladding into the air space will blow through the layer, through the permeable sheathing and into the wall cavity. Too low, and the outward drying potential of the cavity is compromised.
Drainage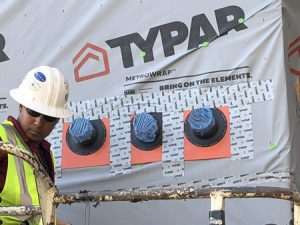 [4]Drainage is widely accepted as one of the most effective measures for reducing moisture damage due to rain penetration. Drainage is a critical component in allowing a building wrap to do its job, particularly in keeping walls dry.
Flammability
When designing wall assemblies, considerations should also be taken to ensure the wall system meets all applicable fire codes. The International Building Code (IBC), generally, requires the National Fire Protection Association (NFPA) 285, Standard Fire Test Method for Evaluation of Fire Propagation Characteristics of Exterior Wall Assemblies Containing Combustible Components, testing for exterior wall assemblies with combustible materials on buildings more than 12 m (40 ft) tall.
Installation
No matter how many performance benefits it offers, a building wrap must be properly installed to do its job. Housewrap should be installed from the foundation upward, making sure to overlap joints with the higher course overlapping the lower. Best practices mandate that all horizontal seams overlap a minimum of 152 mm (6 in.), and vertical seams at least 152 to 305 mm (6 to 12 in.).
 Weather barrier system protects Monarch at Waugh Chapel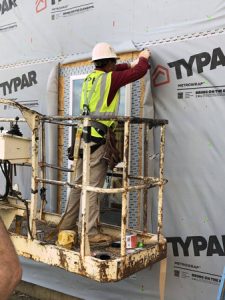 [5]When construction began in August 2017 on the new 246-unit Monarch at Waugh Chapel[6] multifamily development in Gambrills, Maryland, protecting the building from the elements was a primary concern.
Subcontractor RPM Construction[7], having experience with Typar[8]® weather-protection products, recommended installing the commercial-grade Typar® MetroWrap[9]™ on the project. After communicating the product's benefits to the general contractor Bozzuto Construction[10], and ultimately the architect, the RPM crew installed 175 rolls (16,258 m2 [175,000 sf]) of Typar MetroWrap, 1000 flashing panels, 600 rolls of 102-mm (4-in.) straight butyl flashing, 140 rolls of 229-mm (9-in.) flexible flashing, and 525 rolls of construction tape.
Ben Gilstein, assistant project manager for Bozzuto Construction, headquartered in Greenbelt, Maryland, said this project was the first time he had worked with Typar and he came away impressed with the product's performance and ease of installation.
"From early on in my construction career, the first thing I learned is that preventing water intrusion is probably the most important thing when it comes to preserving the lifespan of a building. If you have water getting into the building and causing mold and other damage, it can decrease the building's value so drastically and quickly," Gilstein said.
Typar technical service and support also played a big role in the project's success, Gilstein said. The knowledge and expertise the Typar team brought to the jobsite made the project run smoothly.
In terms of installation, Rick Murphy, owner of RPM Construction, said his team likes working with Typar MetroWrap because it holds tighter during construction, requires fewer fasten points to the wall than other commercial building wraps, and stays in place once it is installed. Since it is available in large rolls, the installation crew was able to cover more square footage per pass without having to get out of the lift bucket.
"There is a very distinct sound that every builder has heard when they pull up to a jobsite and the building wrap is flapping in the wind because the fasteners did not hold it," Murphy said. "Since Typar has that co-extrusion in the backing, it has a little bit of 'tooth' to it. When they go to bring it across the building, it does not slide down like other wraps. We do not have as many wrinkles in the finished product."
The product's color was also a boon for the project team, Murphy noted, because it produced less glare from the sun than a white building wrap. Once installed, the Typar material boosts building energy efficiency by providing the right mix of air and water holdout, resists surfactant damage, and supports healthy indoor air by preventing mold growth within the wall cavity.
Conclusion
Changing building codes and greater adoption of certain cladding materials have caused specifiers to take a closer look at how moisture is managed in the wall assembly. Advances in building wrap products have added a powerful tool to help achieve these goals.
Bijan Mansouri is the technical manager at Typar Construction Products. He has been with Berry Plastics for 25 years, working in different technical capacities. Mansouri is responsible for building code requirements, design and development of new construction products, and education on proper practice and installation of building envelope. He received his bachelor's and master's degrees in mechanical/aerospace engineering, and is a member of the Air Barrier Association of America (ABAA) and ASTM. He can be reached at bijanmansouri@berryglobal.com[11].
Endnotes:
[Image]: https://www.constructionspecifier.com/wp-content/uploads/2019/08/Opener.jpg
[Image]: https://www.constructionspecifier.com/wp-content/uploads/2019/08/2.jpg
Joseph Lstiburek: https://www.buildingscience.com/documents/building-science-insights/bsi-061-inward-drive-outward-drying
[Image]: https://www.constructionspecifier.com/wp-content/uploads/2019/08/3.jpg
[Image]: https://www.constructionspecifier.com/wp-content/uploads/2019/08/4.jpg
Monarch at Waugh Chapel: https://www.bozzuto.com/portfolio/monarch-at-waugh-chapel/
RPM Construction: http://www.rpmframing.com/
Typar: https://typartough.com/?utm_medium=display&utm_source=CSI&utm_campaign=Direct&utm_content=Brand+Feature+Buzzuto
Typar® MetroWrap: https://typartough.com/?utm_medium=display&utm_source=CSI&utm_campaign=Direct&utm_content=Brand+Feature+MW+Buzzuto/#metrowrap
Bozzuto Construction: https://www.bozzuto.com/
bijanmansouri@berryglobal.com: mailto:bijanmansouri@berryglobal.com
Source URL: https://www.constructionspecifier.com/specifying-weather-resistant-barriers-for-multifamily-construction-projects/
---