Specifying windows for behavioral healthcare projects
February 1, 2013

by Lisa May
Whether replacing a dated, inefficient hospital or renovating an historic mental health institution, window selection is an important consideration in creating a modern, healing environment.
Behavioral healthcare facilities must minimize risks to patient safety, while maintaining a therapeutic environment. Windows provide daylighting and views to outside, helping create a more homelike and caring atmosphere for patients, while also contributing to staff health and well-being.
The American Institute of Architects' (AIA's) 2006 Guidelines for Design and Construction of Healthcare Facilities notes:
The built environment, no matter how well-constructed, cannot be relied on as an absolute preventive measure. Staff awareness of their environment, and the behavior risks and needs of the patients served in the environment are absolute necessities[.]
To ensure safety, behavioral healthcare facilities must meet comprehensive accreditation standards. A facility's risk assessment depends on the patient population being served. Patient supervision and policies governing staff intercession, as well as control of patient access to various types of objects, are often site-specific variables. Risk also varies for areas within the building—seclusion rooms, bedrooms, and comfort spaces usually warrant consideration as higher-risk areas.
Selecting windows in patient-accessible areas calls for careful consideration. For behavioral healthcare applications, window products' evaluation may include resistance to, or restriction of:
escape attempts;
patient access to unauthorized areas;
attack to window components using blunt or sharp objects;
tampering with, or disabling, locking devices;
glazing infill exposure to flame or heat;
chemical or bodily fluid resistance;
laceration or self-harm by cutting;
pica behavior (i.e. ingestion of components, materials, or coatings);
abrasion, prying, or cutting of frame materials, glazing, or hardware;
weaponization of parts that could be removed from window assemblies; and
ligature, either intentional or accidental.
Due to site-specific variables, an adequate assessment can only be made through early consultation with the facilities management staff, security personnel, and treatment professionals.
Human impact testing
If a patient runs into the window, or if he or she strikes or throws an object against it, energy must be transferred sequentially through hardware, window frames, anchorage, and substrates. A human impact may impart as much as 2.7 kJ (2000 lb) of energy, based on the shoulder impact of a 90.7-kg (200-lb) person moving at 7.62 m (25 ft) per second.
This can require 12.7-mm (1⁄2-in.) thick polycarbonate or 11-mm (7⁄16-in.) tempered laminated glass for interior glazing. Standard windows fitted with safety glass or polycarbonate are seldom considered sufficient because interior glazing infill deflects on impact and may disengage from the standard window's frame.
For a body hitting the window system, impact energy (W) can be calculated as:
W = ½ mv2
Where:
v = velocity at impact; and
m = mass of impact object
Using potential energy to calculate the energy imparted by a pendulum drop test, it can be calculated as:
W = wh
Where:
w = weight of impact object; and
h = vertical height the weight drops (not pendulum length).
When using either of these calculation methods, air resistance is considered negligible and units must be kept consistent.
The need to validate the human impact aspect of the total window system's security in the laboratory led to American Architectural Manufacturers Association (AAMA) 501.8, Standard Test Method for Determination of Resistance to Human Impact of Window Systems Intended for Use in Psychiatric Applications. It involves using a weighted impact device to apply a force simulating a patient running full-speed into a window. The test window complies when the window frame, glazing, hardware, and locking devices do not 'fail,' as defined by the performance requirements therein:
9.1. At the conclusion of testing the window system shall be deemed to pass the test if the following conditions are met:
The impact test load has not breeched or penetrated through the innermost glazing layer.
The innermost glazing remains held in place within the perimeter of the window frame.
Partial disengagement is allowed if meeting the requirements below:
There is no damage to locking devices which would allow the window system to be opened in a manner not intended by the manufacturer.

The window system does not disengage from any anchors securing the system within the opening.

The window anchorage does not disengage from the substrate into which it was anchored during testing.

The window hinges do not disengage to allow access to the exterior of the window system.

No pieces may fall off the interior of the window such that they are accessible to the occupant(s).

Frame joinery may be damaged, but must remain intact.

No openings outside of the interior glazing infill greater than 5.0 cm (2 in.) diameter sphere created which would allow egress or the passage of large objects, or allow access to the between-glass space.

No de-lamination or separation of material greater than 322 mm2 (0.5 si) from the interior surface, immediately following the impact.
In certain occupancies, no delamination or discharge of material from the interior surface may be allowed. When this is deemed necessary, the specifier should so note in bid and contract documentation.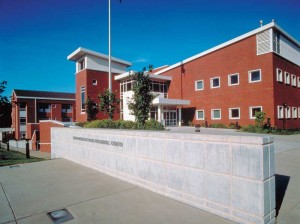 As with selection criteria, additional site-specific pass/fail criteria may apply to drop-tested psychiatric windows. Depending on the furnishings and equipment accessible to the patients, simulation of physical attack with objects may be advisable. Exterior laminated glass should be used at windows at grade, courtyards, or porches with supervised patient access. Codes and standards vary widely by jurisdiction, so there should be consultation with onsite medical and security staff to determine appropriate resistance and necessary security.
It can be challenging to select products and materials that help create a pleasing environment, while enhancing the treatment process and maximizing safety. There are two 2012 resources offering guidance for material selection for inpatient behavioral units:
"The Design Guide for the Built Environment of Behavioral Health Facilities," distributed by the National Association of Psychiatric Health Systems (NAPHS); and
the eighth edition of "The New York State Office of Mental Health's Patient Safety Standards, Materials, and Systems Guidelines," researched and maintained by Lomonaco and Pitts P.C. (doing business as Architecture Plus of Troy, New York).
These documents help examine the environmental aspects that can have a significant impact on patient safety and healing. The products they recommend have been evaluated to help lower patient risk.
Daylighting: enhance healing environments
AIA's Guidelines for Design and Construction of Healthcare Facilities notes, "the environment should be characterized by a feeling of openness with emphasis on natural light." In many new buildings, the design team attempts to maintain high visible light transmittance (VLT or VT) to 'connect' the occupants to the outside, provide views, and exploit natural daylighting. It is not only the amount of natural light that is important to building occupants, but also its quality, spectral composition, contrast, variability, and directionality.
Specifying tall windows helps maximize light penetration. Clerestories can be used to increase the effective height of transom lites without increasing window-to-wall ratio (WWR). Even relatively low WWR provides more than ample natural daylighting, when properly oriented and directed.
Within the programmatic limitations of a healthcare occupancy, natural daylighting is most energy-efficient if artificial lighting is automatically controlled. Photosensitive controllers and occupancy sensors can be used to dim or extinguish indoor lights when unnecessary. Artificial lighting accounts for about 40 percent of the energy used in a typical commercial building and generates at least three Watts of heat for each Watt of visible light.
Designers are encouraged to consider the concept of effective aperture (EA), the product of VT and WWR. This can be useful when assessing the relationship between visible light and window size. One should start with an EA of about 0.3 on the north and south elevation, minimizing glazing on the east and west elevations whenever possible. (WWR and EA are described in the article, "Finding the Model Citizen," by Steve Fronek, PE, LEED GA, which appeared in the October 2012 issue of <i>The Construction Specifier</i>. (Visit www.constructionspecifier.com[4] and select "Archives."). Essentially, EA is the light-admitting potential of a glazing system, and determined by multiplying the WWR by the VLT. Lawrence Berkeley National Laboratory's (LBNL's) "Windows and Daylighting" online resource (windows.lbl.gov) offers additional information on this topic: "Window size and glazing selection can trade off with each other. Use the effective aperture approach when making these decisions: Larger window area requires lower visible transmittance; smaller window [area] requires high visible transmittance. … A good target value for effective aperture is between 0.20 and 0.30.")
Unless 'downward' view is important, vision glass should be eliminated below sill height to reduce solar heat gain that carries no useful daylight. Generally, the window area should be no different in naturally lit buildings than other conventionally lit ones.
In addition to sunlight and views of nature, high-performance window systems can assist with energy efficiency. Thermally broken frames with triple glazing, along with a broad selection of exterior glass options, provide enhanced energy performance and condensation resistance.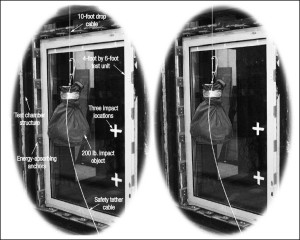 Integral between-glass blinds reduce solar heat gain, offer privacy control without the potential dangers of exposed cords, and minimize the need for maintenance. The tilting of the slats can be keyed for staff operation or to allow patient control with a low-profile ligature-resistant control knob. Raise-lower controls for between-glass blinds are usually limited to custodial access. Controlling raise-lower access allows for uniform blind placement vertically and a resulting consistent exterior appearance.
Many areas in hospitals are required to maintain high relative humidity (RH), as well as prescribed positive or negative internal pressure, for therapeutic reasons or contagion control. Condensation occurs on any interior surface falling below the dewpoint temperature (Tdp) of interior ambient air. Tdp is dependent on temperature and RH, as warm air can hold more moisture than cold air. Condensation can be unsightly, unsanitary, and damaging to adjacent building materials over long periods. For these reasons, condensation should be assessed for both frame and glass in applications where high humidity is maintained.
Finite element computer models and the condensation resistance factor (CRF) test results using AAMA 1503, Voluntary Test Method for Thermal Transmittance and Condensation Resistance of Windows, Doors, and Glazed Wall Sections, can be useful in comparing products or as a basis for performance specifications. The design professional should exercise caution when using these tools to predict or prevent condensation on installed products. Field condensation on interior surfaces is affected by many variables, including:
component thermal performance;
thermal mass of surrounding materials;
interior trim coverage;
air flow conditions;
weather; and
mechanical system design.
CRF applies only to pre-defined configurations under controlled and steady-state laboratory conditions; it assumes some condensation is acceptable under the severest of winter conditions.
Air infiltration through windows and walls is also important to total building energy performance. It not only takes 'sensible' energy to heat or cool infiltrating air, but also may require 'latent' energy to remove undesirable humidity. Air infiltration performance is usually considered separately from other thermal performance characteristics.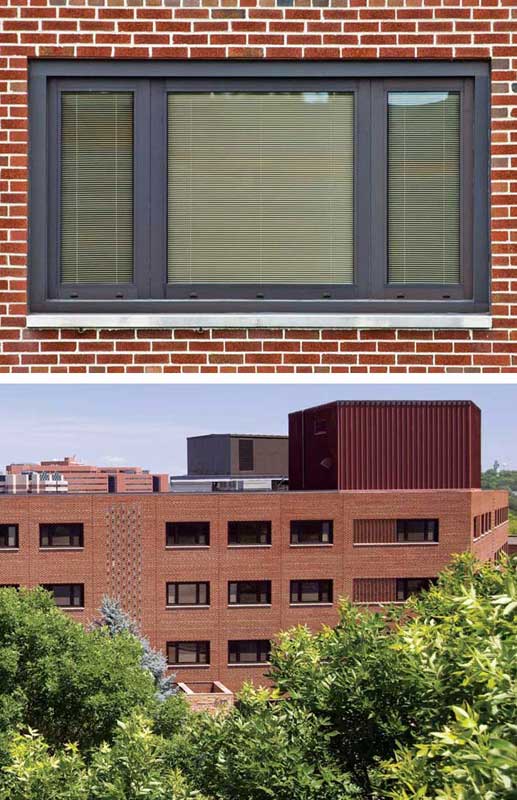 Facilitate ventilation and emergency egress
Although usually not required by code, some healthcare systems and government agencies, including the U.S. Department of Veterans Affairs (VA), recommend considering operable windows for their facilities. In the rare case of a fire, facilities with operable windows have the option of venting smoke and aiding egress.
Operable windows provide a backup for smoke evacuation in case of an engineered smoke control system failure, and may alleviate the need for dangerous firefighter glass breakage to conduct emergency evacuation from the exterior. With operable units, custodians may quickly vent foul smells or noxious fumes. During normal operating conditions, concealed hinges and tamper-resistant locks prevent patients from compromising security by opening the window.
In hurricane-prone regions, wind-borne debris protection is also essential. Ensuring hospital windows stay intact during such an event keeps the building serviceable and protects occupants. These regions require large-missile-tested products at lower floors of healthcare facilities. In the event of an emergency, the laminated or polycarbonate security glazing will be practically impossible to break out—operable windows may be the preferred choice for firefighter access. Outside of hurricane-prone regions, healthcare facility managers are advised to consider their location's likelihood of tornadoes or other natural disasters, as evacuation may be impossible.
Some healthcare facility professionals are surprised to learn about half of the states are susceptible to seismic activity. Large hospitals are "essential facilities," classified as Occupancy Category IV by the American Society of Civil Engineers and Structural Institute/Structural Engineering Institute (ASCE/SEI) 7-10, Seismic Loads Significant Changes. Guided by this standard, the 2012 International Building Code (IBC) includes detailed provisions to help hospitals not just withstand an earthquake, but also continue functioning during and after a seismic event.
To properly engineer windows and curtain walls to withstand earthquakes, parameters specific to the building and site must be considered. Glazing assemblies must elastically accommodate lateral seismic drift without glass breakage or losing weather resistance. Under inelastic movements, safety of occupants and passersby is critical. Additionally, inertial forces must be safely transferred to the building structure.
Early design coordination with adjacent wall system movement and anchorage provisions is essential for maintaining overall envelope integrity. The California Office of Statewide Health Planning and Development (OSHPD) helps ensure healthcare services remain available during and after major seismic events. Through strict adherence to OSHPD administrative and technical requirements, project approvals are obtained in a timely manner.
Adapt for reuse
Renovations offer a healthcare facility manager a chance to enhance safety with improvements to the structure. For renovations or expansions, matching an existing structure's window sightlines and symmetry can be challenging. Working closely with a glazing contractor and window manufacturer, healthcare facilities can achieve the desired aesthetic without compromising performance and safety. For major renovation projects, installation of in-situ samples is highly recommended.
The need for easy customization and durability has made aluminum an important material choice for historically influenced window replacement work. Applied muntin grids can help achieve a classic, multi-pane appearance. Factory-applied anodize and baked-on fluropolymer paint finishes offer long-lasting options to match existing color schemes, without affecting indoor air quality (IAQ) by introducing volatile organic compounds (VOCs). Aging facilities may be returned to their original colors or updated after years of chalking, peeling, or expensive repainting.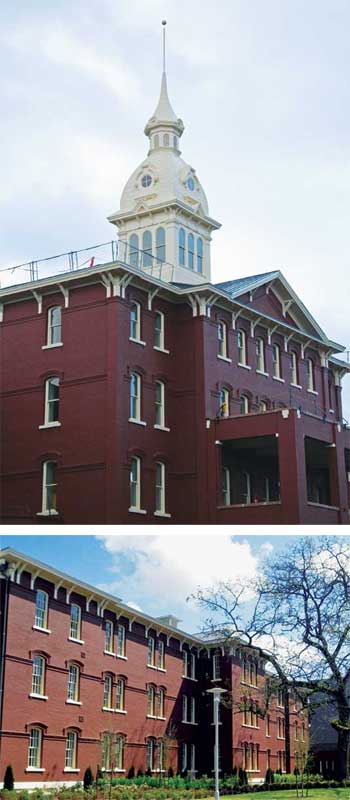 In cases when existing windows are weather-tight, and operation for ventilation is not required, the addition of high-quality, custodian-operable, interior-accessory windows can be a viable option, facilitating behavioral occupancy of structures originally intended for another use. With appropriate caution to avoid between-glass condensation and thermal stress breakage of existing glass, these economical add-on units improve control of sound, energy, air, and light, while leaving existing windows undisturbed.
The University of Minnesota's Medical Center Fairview Behavioral Health Services recently renovated its facility for patient safety and energy efficiency. Privacy, security, and aesthetics were key considerations in selecting the window system. The new windows were configured with three lites per bay to echo the facility's previous aesthetic. The specified windows are security-glazed with laminated glass for impact resistance, and a low-e coating for energy efficiency and condensation resistance. Even during Minneapolis' freezing winter months, the windows help keep patients comfortable in their rooms.
Connect to the environment
Daylight and outside views, thermal performance, and recycled composition of windows' materials can aid buildings' certification efforts under such programs as Leadership in Energy and Environmental Design (LEED) for Healthcare. Since its inception in 2000, U.S. Green Building Council's (USGBC's) voluntary, consensus-based LEED rating system has emerged as the leading sustainable building 'scorecard.'
Environmentally responsible design and operation is a top-of-mind issue for anyone in architecture, construction, and real estate. Buildings represent about one-third of the energy consumption in the United States, along with the corresponding amount of greenhouse gas (GHG) emissions.
LEED for Healthcare has increased the amount of potential points awarded to projects in several areas affected by windows and curtain wall assemblies.
Energy and Atmosphere
Energy and Atmosphere (EA) Credit 1, Optimize Energy Performance, allows two points (instead of only one in the 'normal' LEED) under its Option 3, "Prescriptive Compliance Path."
Materials and Resources
Under Materials and Resources (MR) Credit 3.1–3.4, Sustainably Sourced Materials and Products, LEED for Healthcare awards up to four points for using materials that reduce environmental burdens in construction of buildings. For a total of eight points, this combined category includes LEED-NC Version 2.2 credits:
Materials Reuse;
Recycled Content;
Regional Materials;
Rapidly Renewable Materials; and
Certified Wood Credits.
Further, MR Credit 6, Resource Use: Design for Flexibility, offers one point for projects considering potential changes in space utilization.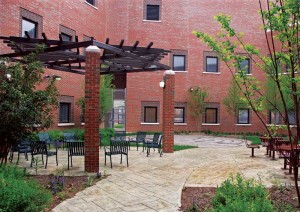 Indoor Environmental Quality
As befitting the therapeutic environment, indoor noise levels must be held to reasonable levels in healthcare applications. Recognizing this, LEED for Healthcare awards up to two points under Indoor Environmental Quality (EQ) Credit 2, Acoustic Environment: Exterior Noise, Acoustical Finishes, and Room Noise Levels. Obtaining these points requires rigorous determination of exterior noise levels and an acoustic design of the total building envelope. It involves measurement of 'as-built' sound pressure levels.
LEED for Healthcare provides for a thermal comfort survey of building occupants, coupled with a corrective action plan, as an alternative to American Society of Heating, Refrigerating, and Air-conditioning Engineers (ASHRAE) 55-2004, Thermal Environmental Conditions for Human Occupancy. This may earn the project one point toward certification under EQ Credit 7, Thermal Comfort. When coupled with low air infiltration rates, the use of high-performance glass and thermal barrier aluminum frames in window systems can greatly contribute to occupant comfort in keeping interior surface temperatures close to interior air temperatures.
The aforementioned importance of access to daylight for patients, staff, and visitors in healthcare facilities is acknowledged throughout the design community. Incorporation of natural daylighting strategies without placing undue loads on mechanical systems requires an integrated design approach.
LEED for Healthcare awards a maximum of four points from the six available in EQ Credit 8, Views and Daylight, outside of Innovation in Design (ID) points for exemplary performance. Separate requirements are given for diagnostic and treatment areas versus in-patient units.
Techniques and strategies include increased window head and ceiling heights, glazed partitions, and courtyards and atria.
A question of economics?
In 2011, an "Economics, Efficiency, Energy & Environment" survey was conducted by the Corporate Reality, Design, and Management Institute (CRDMI) in partnership with the Healthcare Council of the International Facilities Management Association (IFMA). Many of the 1251 respondents—architects, designers, engineers, hospital facilities managers, healthcare engineers, project managers, and contractors—underestimated the impact design and operations could have on a hospital's financial health. The survey summary notes:
Given a 4% total margin, saving $1 in energy equals $25 in revenue, and for the average-sized hospital in the U.S. that translates to an additional $7.2 million in revenue.
Less than 15 percent of the survey respondents said they select products or equipment based on durability and expected lifecycle. By keeping any claims and representations focused on tested, third-party validated, performance parameters, as well as sound engineering judgment, manufacturers can present a more credible case for their products' support of sustainable design initiatives.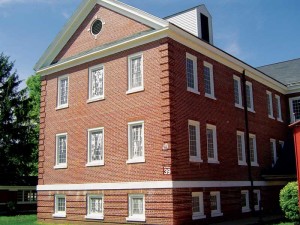 A new hospital in Washington, D.C., Saint Elizabeths provides intensive, in-patient care for individuals with serious and persistent mental illness. (Under the aforementioned survey, only three percent of respondents from D.C. indicated sustainability features took precedence in the final selection of their last building project. Half of these participants also said LEED certification or the U.S. Environmental Protection Agency's [EPA's] Energy Star for Buildings program would be the most important next step in pursuing sustainability goals.)
Established in 1852, Saint Elizabeths was the first large-scale, federally run hospital for people with mental illness. Its design incorporates numerous sustainable design elements emphasizing daylighting and external views. Patient safety and security remained a top priority. Windows were furnished with interior polycarbonate glazing for human impact resistance. The move into a new facility completes a transition from the historic, psychiatric institution into a modern, healing environment.
Conclusion
Whether building a new hospital, renovating existing spaces, or leveraging adaptive reuse of areas originally intended for another occupancy, window selection in areas accessible to psychiatric patients can be very challenging. Windows without jail-like bars or heavy security screens help create a more home-like and caring atmosphere with unrestricted views to the outside. At the same time, patient safety must remain the primary consideration.
Through development programs with state agencies and their architectural consulting partners, leading window manufacturers have designed psychiatric-grade fenestration systems answering this need.
Lisa May is an architectural services and healthcare market manager with Wausau Window and Wall Systems, providing technical assistance, sustainable design input, thermal modeling, detailing, and specification review to design professionals nationwide. She successfully completed Six Sigma training and the U.S. Green Building Council's (USGBC's) Leadership in Energy and Environmental Design (LEED) Green Associate accreditation. May instructs others in American Institute of Architects/Construction Specifications Institute (AIA/CSI)-approved continuing education programs addressing thermal and acoustical performance, and window and curtain wall selection. She can be contacted via e-mail at lmay@wausauwindow.com. 
Endnotes:
[Image]: http://www.constructionspecifier.com/wp-content/uploads/2013/02/health_Wausau_WI_VA_1394_PhilWeston.jpg
[Image]: http://www.constructionspecifier.com/wp-content/uploads/2013/02/health_Wausau_WI_VA_1524_PhilWeston.jpg
[Image]: http://www.constructionspecifier.com/wp-content/uploads/2013/02/health_Wausau_MO_Psych806_08.jpg
www.constructionspecifier.com: http://www.constructionspecifier.com
[Image]: http://www.constructionspecifier.com/wp-content/uploads/2013/02/health_ImpactTest_LabelsNoLabels.jpg
[Image]: http://www.constructionspecifier.com/wp-content/uploads/2013/02/health_Wausau_MN_UMMC_Fairview_SW_pic1-2.jpg
[Image]: http://www.constructionspecifier.com/wp-content/uploads/2013/02/health_OSH_Wall-cupola.jpg
[Image]: http://www.constructionspecifier.com/wp-content/uploads/2013/02/health_Wausau_DC_StElizabeths240_MarilynOtt-Close.jpg
[Image]: http://www.constructionspecifier.com/wp-content/uploads/2013/02/health_Wausau_MI_BattleCreekVA_39.jpg
Source URL: https://www.constructionspecifier.com/specifying-windows-for-behavioral-healthcare-projects/
---