Specifying zinc façades
August 28, 2019
by Gary McKee, CSI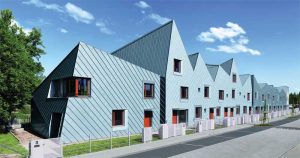 Used in Europe since the 1800s, zinc exterior wall cladding has gained popularity in the united states during the last few decades. As a proven and dependable material, architectural rolled zinc products complement both contemporary and traditional designs. As buildings weather and age, their zinc façades develop a recognizable patina that are unique to the projects' sites.
Longevity and sustainability are two of the key values zinc offers. These wall cladding products are capable of maintaining their self-healing, low-maintenance, and corrosion-resistant performance with a potential lifespan of more than 100 years. At the end of the zinc products' lifespan, the material remains 100 percent recyclable without the loss of existing properties.
Understanding the advantages of these zinc façade cladding products will help in specifying the right system to meet the aesthetic and performance expectations in commercial applications.
Common descriptions of zinc wall products
When specified for façade cladding, architectural rolled zinc products are most commonly described in terms of panels, tiles, and standing seams. Dimensions, system orientation, shapes, sizes, and perforations can be further defined and customized to meet a project's unique goals.
Typical zinc façade cladding product examples include the following.
Flat-lock tiles
These tiles can be installed horizontally, vertically, or diagonally with overlapping seams for a running bond or complex designs on flat or curved surfaces. Usual dimensions show face heights of 203 to 406 mm (8 to 16 in.) or larger, with lengths spanning up to 3 m (10 ft). Larger sizes require a heavier gauge. Tile shapes can vary from rectangular and square to diamond.
Standing-seam panels
These can be oriented horizontally, vertically, and diagonally to produce the desired linear look. Standard seam heights are 25 and 38 mm (1 and 1.5 in.). Lengths vary up to 4 m (13 ft) with typical widths ranging from 305 to 425 mm (12 to 17 in.).
Horizontal panels
These panels allow for an emphasis on the reveal with face heights up to 254 mm (10 in.) and lengths up to 3 m. Joint widths from zero to 25 mm are possible. A hairline joint minimizes shadow lines for a flush look. Panels and joints can be configured to create vertical joints or can be staggered with backer plates.
Vertical reveal panels
These are similar to those offered for horizontal installations and feature face widths up to 330 mm (13 in.). Vertical and horizontal panels can be combined to form innovative façade designs.
Corrugated profiles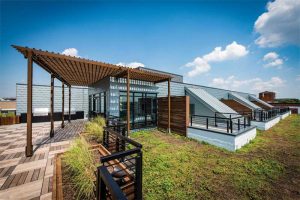 These are available as sinusoidal profiles or as trapezoidal, 'box' profiles to clad large areas with ease using either exposed or concealed fasteners. Panels can be installed horizontally, vertically, or diagonally. Common sinusoidal profiles have heights of 13 and 22 mm (500 and 900 mils). The typical sine frequency is 68 mm (2.7 in.). Trapezoidal profiles for wall applications often present a strong shadow effect with depths up to 51 mm (2 in.).
Perforated panels
These panels provide the benefits of zinc, combined with advantages of daylighting and passive solar shading, as well as low-maintenance punched openings that naturally patina.
Cassette panels
These are often a part of an engineered curtain wall system. They allow for larger format panels through the use of reinforcements behind them and incorporated into the frames. For these large panels, 16 gauge is typically recommended.
Weathering, coloration, and the patina process
Mill-finish zinc starts with a bright surface similar to raw aluminum. Most architects, however, select zinc for its future patina appearance. Like copper, zinc develops a distinctive patina, or surface crust, that is based on the composition of the alloy and local environmental conditions.
The patination of architectural zinc products forms through a two-step chemical reaction. The zinc combines with water and oxygen to form zinc hydroxide, and then with carbon dioxide (CO2) in free-flowing air, the zinc generates a dense outer layer insoluble to water and a packed inner layer of alkaline zinc carbonate.
A patina's formation is a process of the gradual growing together of zinc carbonate 'freckles' and the rate of its formation is related to the slope of the surface. The patina will form slower on a vertical wall surface than on a slightly pitched roof. The patination speed can vary between six months and five years, or more, depending on climatic conditions. The more exposure to wetting and drying cycles, the quicker the patina will develop. After true patina has fully formed the process will slow down but never stops. Ultimately, the natural patina will form to a soft blue-gray or graphite-gray color, depending on the alloy.
While the basis of the patina is alkaline zinc carbonate, additional substances are incorporated from the local humidity, rainfall, snowfall, and air pollution levels. This is why the color of the patina can vary from one place to another. The natural patina will appear lighter when used in marine locations where the air contains chlorides. When used in environments where sulfur levels are higher, the patina may appear somewhat darker. In marine environments, a blue-gray zinc is frequently selected for aesthetic reasons. The typical deposits of chlorides (salt) in marine environments are not as visible on blue-gray as the darker graphite-gray.
At least one zinc material manufacturer has developed a proprietary 'pre-patina' process to bring out the metal's natural gray color and subtle grain texture. For those seeking alternatives to zinc's natural aesthetic, these products also may be specified with manufacturer-approved architectural coatings.
Material classification and cost-effective consideration
Architectural zinc uses high-grade zinc with trace elements of titanium and copper. This metal alloy is noncombustible and malleable. ASTM B69-16, Standard Specification for Architectural Rolled Zinc, is the current industry specification standard. It details Type 1 and Type 2 architectural rolled zinc, where Type 2 has a higher copper composition and a graphite-gray patina.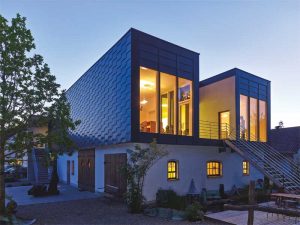 The zinc composition makes the material easy to fabricate. Additionally, both types of architectural rolled zinc are used for walls, roofs, gutter systems, and interior commercial applications.
As a building material, zinc is manufactured in continuous 0.5 or 1-m (1.6 or 3-ft) wide strips. These are shipped as either flat sheets or rolled coils in 24, 22, 20, 18, and 16-guage thicknesses. Tiles and panels can be fabricated as roll-formed or brake-formed engineered wall cladding systems. Generally, thicker material is used for large-format wall panels, and thinner material is used for standing-seam roofs and other products.
The specifier should qualify zinc manufacturers based on material quality, flatness, finish color, texture, selected panel profile, application system, availability, customer service, and technical support. Selected zinc material manufacturers should provide product data, details, and instructions, as well as material samples for submittal. These are accompanied by engineering calculations and shop drawings provided by the subcontractor. The calculations must be prepared and stamped by a professional structural engineer who is licensed and registered in the location as the project.
Shop drawings typically include:
layouts of panels on all wall elevations;
actual dimensions and seams; and
details of panel terminations, edge conditions, joints, corners, panel profiles, supports, attachments, trim, flashings, closures, and special considerations.
To ensure the zinc façade system meets the project's aesthetic and performance requirements, a mockup might be necessary. This is produced using the specified materials and methods, and quality control standards. If needed, a full-size mockup may be installed on location for a final approval.
Benefiting all those who are involved on the project, most zinc material manufacturers offer in-depth information on efficient and cost-effective fabrication and installation. Here are some examples.
roll-forming zinc panels are almost always less expensive than folding—additionally, corrugated, standing seam, and flush-seam panels can also be roll-formed;
if the material temperature is below 10 C (50 F), zinc becomes brittle, and the risk of fracture while folding increases as the temperature decreases;
zinc has a high coefficient of thermal expansion and should have accommodations in the design to allow for movement;
the first consideration at any joint should be how to achieve the detail without solder or sealant, as sealants can limit airflow or trap moisture behind the zinc panels and decrease the panel's lifespan, and soldering at a high heat can burn through zinc;
when detailing a zinc system, it should be noted some details require less labor, and since labor represents two-thirds or more of the contract, expensive time-consuming details should be reviewed to ensure they are necessary to fulfill the architect's vision;
panel sizes should be chosen to optimize the full width of the zinc sheet or coil and to minimize scrap material—similarly, panel lengths should be limited for easier handling, fabricating, and installing, as well as to reduce waste in the shop and the field; and
fewer pieces can save time and labor, however, heavier gauge zinc or smaller panels may be necessary to reduce perceived waviness (oil-canning).
ZINC FAÇADE AT DICKINSON COLLEGE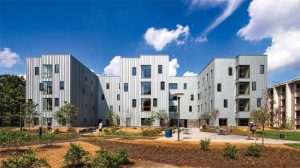 The High Street Residence Hall at Dickinson College in Carlisle, Pennsylvania, showcases modern student living inside, and a zinc façade in durable, distinctive, and sustainable cladding on the outside. As the first residence constructed since 1978 on the historic campus, High Street opened in August 2018, and in January 2019, earned the Leadership in Energy and Environmental Design (LEED) Platinum certification from the
U.S. Green Building Council (USGBC).
The new building takes a prominent place on the main thoroughfare of the city where this private, liberal arts college has welcomed students since 1783. The campus hosts numerous architectural styles, unified by their stone exteriors.
Designed by Deborah Berke Partners and built by Benchmark Construction, the residence also incorporates limestone, as well as other natural materials like mahogany accents and zinc. The combination of materials bridges historic formality and a modern, friendly appearance.
The stone-faced front of the building suits Dickinson's legacy, while the back provides a more contemporary, casual connection to the campus lawn and a nod to the local agricultural vernacular. Here, the zinc material manufacturer provided pre-weathered blue-gray panels to wrap High Street's southern elevation and frame variable-sized window openings.
The e-shaped, 3763-m2 (40,500-sf), four-story building offers 85 private and double room configurations along with study areas, community kitchen, indoor bike storage, and other communal spaces.
The three dominant façade materials provide a changing canvas that evolves in coloration as they age and weather. The sun will bleach the dark-gray limestone ashlar. The mahogany strips will darken to a leaden tone. The zinc blue-gray material will continue to develop its soft gray, natural patina.
"The dynamic aesthetic of [the zinc] façade cladding makes it a perfect choice for a student residence hall on an active campus, and the natural advantages of zinc support the college's exceptional commitment to sustainability," said Chuck Bell, regional sales manager with a manufacturer of architectural zinc products.
Enhancing the building's visual interest, the zinc panels were installed by Novinger's in a randomized pattern.
"The architect determined the pattern and we put it in place," noted Rick Becker, project superintendent with Novinger's. "The windows served as our guide, as everything had to line up to them."
Since zinc was a new material for Novinger's, Becker said they brought in Craig Hardin as a training consultant with experience installing the zinc manufacturer's material and wall cladding.
"He shared his tool list, and worked with us on the right techniques including some scallop details that we wanted to perfect."
To further ensure the correct appearance and proper installation, Novinger's installed a mockup onsite for the project team's review prior to beginning the full project. Once approved, Novinger's went to work with a field team of six to eight people who worked through the changing seasons.
Pre-weathered zinc material was used to fabricate vertically oriented, standing-seam panels.
"All of the panels—1719 m2 (18,500 sf) of them—are hand-formed, hand-seamed, and precision-made with a computerized brake and shear," explained Jim Cashman from Pennsylvania-based building materials supplier. "They are sized in 152, 229, and 295-mm (6, 9, and 12-in.) widths, with a 38-mm (1.5-in) raised seam. We also made lots of custom panels and the coping caps."
Cashman elaborated, "The standing-seam panel sides have a single-lock connection and are connected horizontally with a hook lock, while stainless steel clips hold the panels in place. Behind the panels is…framing system with a mineral wool insulation, which provides the thermal break."
"Zinc is a fairly soft metal that requires careful attention when working with it in cold climates, as with this project," Cashman said. "Fieldwork during the winter requires the zinc to be warmed, so it bends, rather than cracks."
Aside from these cautionary notes, Cashman is quick to praise the zinc material. "It is a nice material. It is an Old World, European material that has been around hundreds of years. I am glad to see it become popular here."
Appealing to campus facility managers, the zinc material maintains its self-healing, low-maintenance, corrosion-resistant performance with a long lifespan.
"LEED Platinum status is a true accomplishment and a unique distinction for the college," said Ken Shultes, associate vice-president for sustainability and facilities planning at Dickinson College. "It is safe to say we have raised the sustainability bar with this new building."
Other attributes contributing to the building's LEED Platinum status include:
energy-efficient exterior walls and roof;
high-efficiency windows;
a connection to Dickinson's central energy plant; and
an upgraded stormwater management system with four rain gardens minimize impacts to the existing community systems.
According to the college, High Street Residence Hall is only one of approximately 50 LEED Platinum-certified projects in Pennsylvania, and the only one directly associated with an institution of higher education. Dickinson also has stated its commitment to carbon-free operations by 2020.
Compatibility, sustainability, and longevity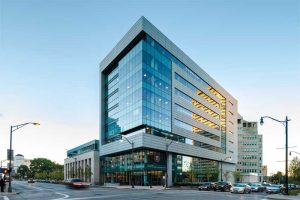 Architectural rolled zinc is affected by its surrounding conditions. This means wall cladding products loosely stacked on pallets or platforms must be protected by a weatherproof, ventilated covering. They cannot be stored in contact with other materials that could cause staining, denting, or other surface damage.
Acidic materials are of key concern. It is therefore recommended to avoid placing zinc in contact with or downstream from acidic woods including oak, red or white cedar, larch, hemlock, or chestnut. Red rosin paper produces an acidic vapor and should never be used as a slip sheet. It is suggested to use PH-neutral sealants.
Glass, aluminum, galvanized, stainless, and painted steel, and most solid, dry building materials do not present any compatibility issues with zinc. Corrosion to zinc is unusual, but can be caused by electrochemical reactions, such as when copper is installed above zinc. Chlorides are also problematic, and may be found as an additive in mortar or concrete as a bonding agent, or to inhibit freezing. Contact with human perspiration should be avoided. Wearing clean gloves when handling and installing the zinc material may be necessary.
Zinc wall systems require minimal maintenance when exposed to normal weather and atmospheric conditions. Clean, clear water, a soft sponge, and a non-acid based cleaner should take care of light dirt, dust, and bird droppings. It is advisable to wash in the same direction as the grain, then rinse thoroughly, and always test a small area first to see if acceptable results are achieved. It is recommended to check with the zinc manufacturer if more aggressive cleaning is needed to remove oily dirt, adhesive residue, or heavy soiling. Pre-weathered zinc material also necessitates special considerations. If this surface is rubbed off or otherwise removed, the bright rolled material will appear. It is important to consult a zinc manufacturer for complete cleaning instructions.
Zinc is a 'sacrificial' material. When it is scratched, scuffed, or fingerprinted, the metal heals itself by re-patinating. With time and exposure to wetting and drying cycles, the former blemish will patinate and blend to match.
Architectural rolled zinc is largely considered a sustainable building material. Based on known ore reserves, the world's zinc supply is estimated at 34 million tons and expected to last approximately 700 years. As a 100 percent, infinitely recyclable material, zinc scrap metal also eliminates waste and promotes re-use.
As the construction industry moves toward more transparency for environmental and wellness issues, specifiers are further evaluating zinc manufacturers according to cradle-to-cradle certifications and environmental product declarations (EPDs). Environmentally responsible zinc partners are generous in sharing their documentation and expertise, supporting the project from schematic design through construction, and backing their material with a warranty.
It is advisable to select a zinc manufacturer who certifies their material to ASTM B69-16, and has experience in similar climates and applications. Designating one zinc manufacturer as the basis of design will further minimize variations in material performance. When properly specified, fabricated, and installed, zinc façade and wall cladding products add elegance to architectural applications and can last generations.
Gary McKee, CSI, lives in northern California and is a regional sales manager for RHEINZINK America, Inc. He combines an understanding of building science with an attention to details and assemblies. He has worked in the gauged metal industry his entire career, including 35 years in roll-formed metals for the architectural roof and façade markets. McKee can be reached via e-mail at gary.mckee@rheinzink.com[6].
Endnotes:
[Image]: https://www.constructionspecifier.com/wp-content/uploads/2019/08/RHEINZINK_Facade-StandingSeam_2296.jpg
[Image]: https://www.constructionspecifier.com/wp-content/uploads/2019/08/RHEINZINK_DC_ReedRow_JohnCole2.jpg
[Image]: https://www.constructionspecifier.com/wp-content/uploads/2019/08/RHEINZINK_Facade-WallTiles_2310.jpg
[Image]: https://www.constructionspecifier.com/wp-content/uploads/2019/08/RHEINZINK_DickinsonCollege_23_ChrisCooper.jpg
[Image]: https://www.constructionspecifier.com/wp-content/uploads/2019/08/RHEINZINK_OH-ColemanCtr_CurtClayton0103.jpg
gary.mckee@rheinzink.com: mailto:gary.mckee@rheinzink.com
Source URL: https://www.constructionspecifier.com/specifying-zinc-facades/
---