State-of-the-art California stadium shines with architectural railing systems
by sadia_badhon | December 3, 2020 9:23 am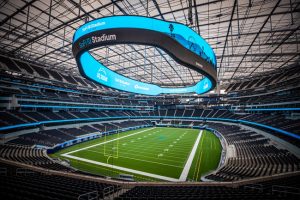 Describing SoFi Stadium[2], a state-of-the-art sports and entertainment facility in Inglewood, California, warrants some superlatives. The largest venue in the National Football League (NFL) and the new home of the Los Angeles Rams and the Los Angeles Chargers football teams spans more than 278,709 m2 (3 million sf) and has a seating capacity of 70,000-plus seats, expandable up to 100,000 for special events. For the facility, 73,000 linear feet of architectural railing was custom designed and engineered to meet the project and design goals.
SoFi Stadium opened in September 2020 and is slated to host a variety of high-profile events, including Super Bowl LVI in 2022, the College Football Championship Game in 2023, and the Opening and Closing Ceremonies of the Olympic Games in 2028. The stadium is the centerpiece of Hollywood Park, a near 121-ha (300-acre) mixed-use development, which will feature retail, commercial office space, a hotel, residential units, and outdoor park spaces.
In total, the architectural railing systems manufacturing team designed, developed, and deployed the equivalent of 23 km (14 mi) of railing, featuring nine different styles in 125 different configurations.
The architectural railings can be found both inside and outside the stadium, from the seating bowl and suites to the concourse and vomitorium areas, as well as the monument stairs and canyons on each side of the facility. Cable, glass, aisle, and cane rail in sleek, sturdy aluminum complement the stadium's contemporary architecture, while drink rails add convenient function to VIP  and standing spectator areas while meeting, the Americans with Disabilities Act (ADA).
A distinguishing aspect of this project is the strategic integration of light-emitting diode (LED) lighted rail. More than 5000 linear feet of multi-line LED aisle rail add safety and ambiance to the massive seating bowl area. This is also combined with 3000 linear feet of LED site rail.
Endnotes:
[Image]: https://www.constructionspecifier.com/wp-content/uploads/2020/12/Opener.jpg
SoFi Stadium: http://www.sofistadium.com/
Source URL: https://www.constructionspecifier.com/state-of-the-art-california-stadium-shines-with-architectural-railing-systems/
---