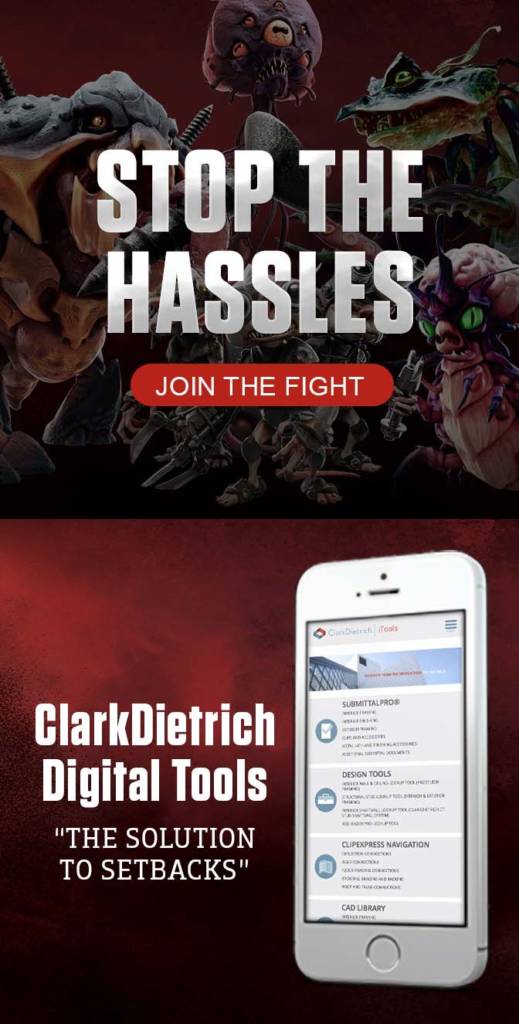 Setbacks, delays, and hurdles. Small obstacles, little screw-ups, and minor annoyances. Every project has them, right? No big deal—you just roll with it and move on. However, ClarkDietrich looks at these meddlesome daily problems from a different perspective.
The company labels these challenges plaguing design/construction professionals as "the Hassles." From tackling tedious searches for product details, to dealing with technical hurdles, to playing catchup on codes and trends, Hassles come at a cost to productivity, budget, and peace of mind.
ClarkDietrich is on a mission to identify and eliminate Hassles so they do not grow into bigger troubles. Beyond its complete portfolio of steel framing product systems, the company has a full array of resources dedicated to preventing problems and promoting progress.
In fact, it delivers immediate answers via iTools, which gives fast access to selection and specification data by smartphone. It offers complimentary architectural specification reviews performed by Construction Documents Technology (CDT) specialists certified by the Construction Specification Institute (CSI). And ClarkDietrich also provides Environmental and Health Product Declarations (EPDs and HPDs) for the company's full portfolio, along with on-call assistance of LEED® Accredited Professionals (APs).
To learn more about these solutions to design and construction challenges, visit stopthehassles.com.
All information listed in this section was submitted by ClarkDietrich.
Kenilworth Media Inc. cannot assume responsibility for errors of relevance,
fact or omission. The publisher does not endorse any products featured in this article.