Steel Joist Institute honors 2017's outstanding designs
September 29, 2017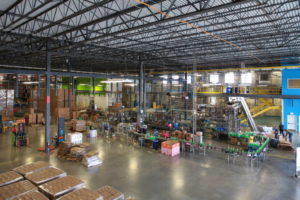 Earlier this summer, the Steel Joist Institute (SJI)[1] announced the winners of its 2017 Design Awards[2]. The projects were judged for flexibility, speed of construction, value, and aesthetics. New buildings and major retrofit or expansion projects constructed within the last three years in the United States, Canada, or Mexico were eligible, provided an active member of SJI manufactured the products.
The Method Home Products Factory project in Chicago won in the industrial category. This project called for the construction of a new manufacturing and warehouse facility with a 557-m2 (6000-sf) office mezzanine, solar thermal hot water, photovoltaic (PV) solar panels, rooftop greenhouse, and daylight-harvesting system. It is only the second manufacturing plant in the country to be certified to Platinum under the Leadership in Energy and Environmental Design (LEED) program.
To achieve maximum economy, the entire roof was designed with steel joists and joist girders. Open-web steel joists allowed natural light in from 40 skylights, and was strong enough to support a 0.8-ha (2-acre) greenhouse on a section of the roof. The project used 362,874 kg (400 tons) of steel joists and joist girders. KJWW Engineering Consultants[3], William McDonough & Partners[4], and Heitman Architects[5] worked on the project.
The parking deck roof at Gerald Ford International Airport (Grand Rapids, Michigan) took the honors in the non-industrial category. The deck was never used in winter. As air travel increased, the airport wanted to cover the top level without entirely closing the sides. For long-term protection, all the steel joists and bridging had to be galvanized. Since they were too long for single-dip galvanizing, each joist was fabricated with a custom-matched bolted splice at the center. Steel joists were used as they are lighter and more economical than wide flange beams. Fishbeck, Thompson, Carr & Huber[6] was the project's structural engineer and architect.
Philip Simmons High School in Charleston, South Carolina, won in the unique category. The project covers 19,881 m2 (214,000 sf) and includes 249,476 kg (275 tons) of joist and joist girders, including 3048-mm (120-in.) deep joist girders, 2540-mm (100-in.) deep double-pitched top chord gable joists, and KCS joists, in addition to sloping parallel chord underslung joists. The use of sloping joists and double-pitched top chord joists allowed the architect to design high and low roofs, which blend with the area's architectural style. The project team includes ADC Engineering[7] and McMillan Pazdan Smith Architecture[8].
Endnotes:
Steel Joist Institute (SJI): https://steeljoist.org/
2017 Design Awards: https://steeljoist.org/design-awards/past-design-award-winners/2017-design-award-winners/
KJWW Engineering Consultants: http://www.imegcorp.com/kjww.html
William McDonough & Partners: http://www.mcdonoughpartners.com/
Heitman Architects: http://www.heitmanarchitects.com/
Fishbeck, Thompson, Carr & Huber: http://www.ftch.com/
ADC Engineering: http://adcengineering.com/
McMillan Pazdan Smith Architecture: http://www.mcmillanpazdansmith.com/
Source URL: https://www.constructionspecifier.com/steel-joist-institute-honors-2017s-outstanding-designs/
---