Stucco myths and facts
by Erik Missio | May 4, 2016 11:35 am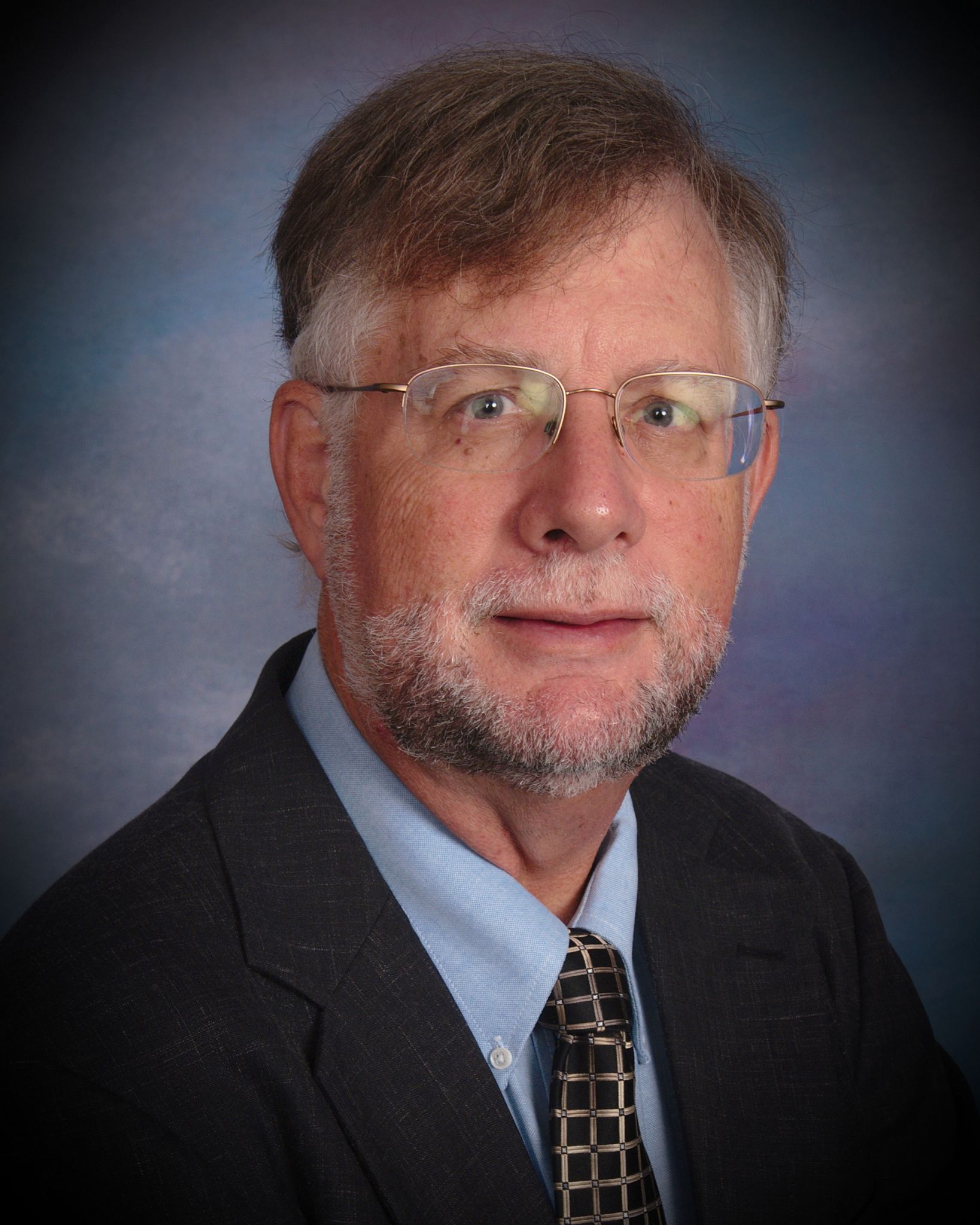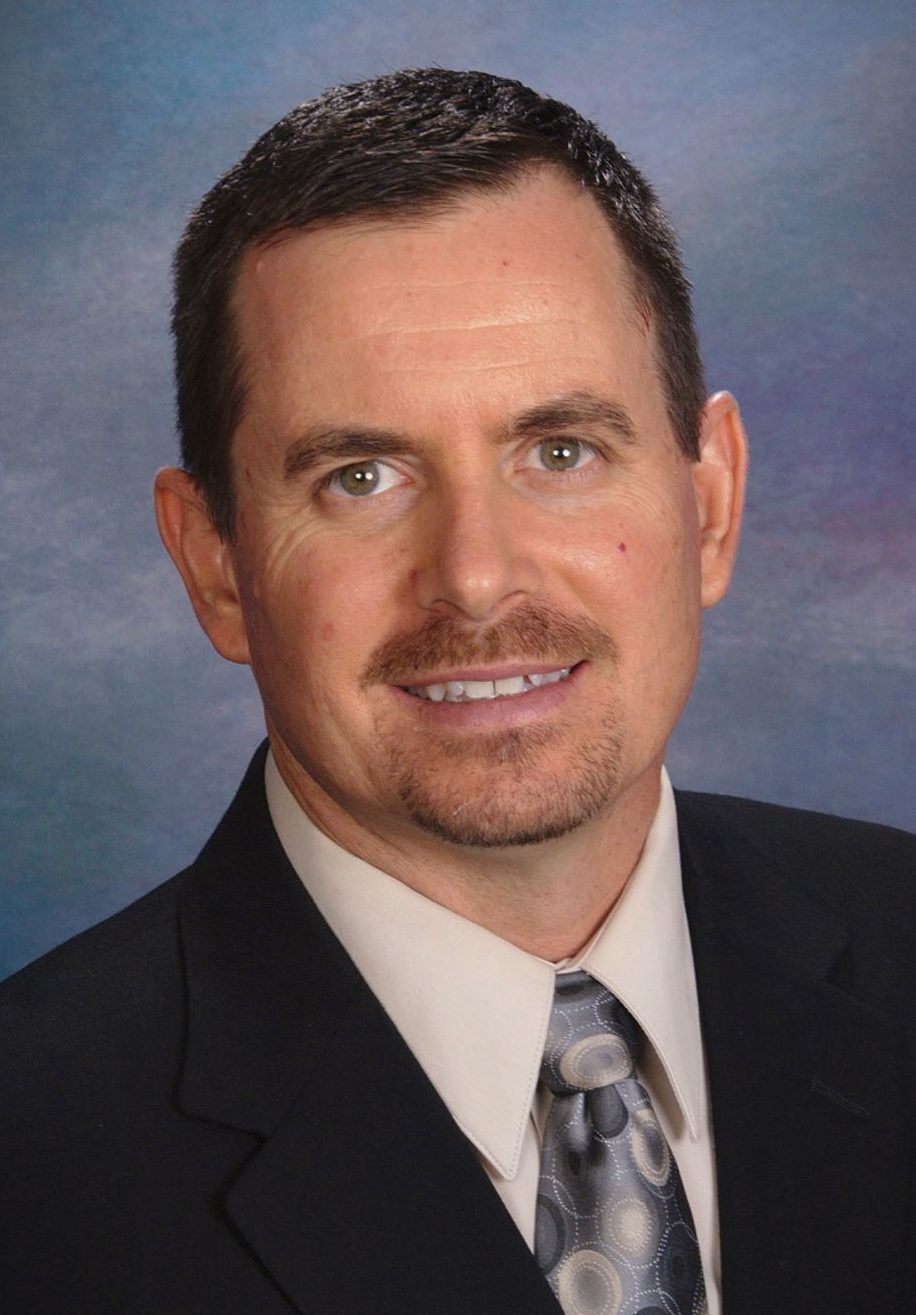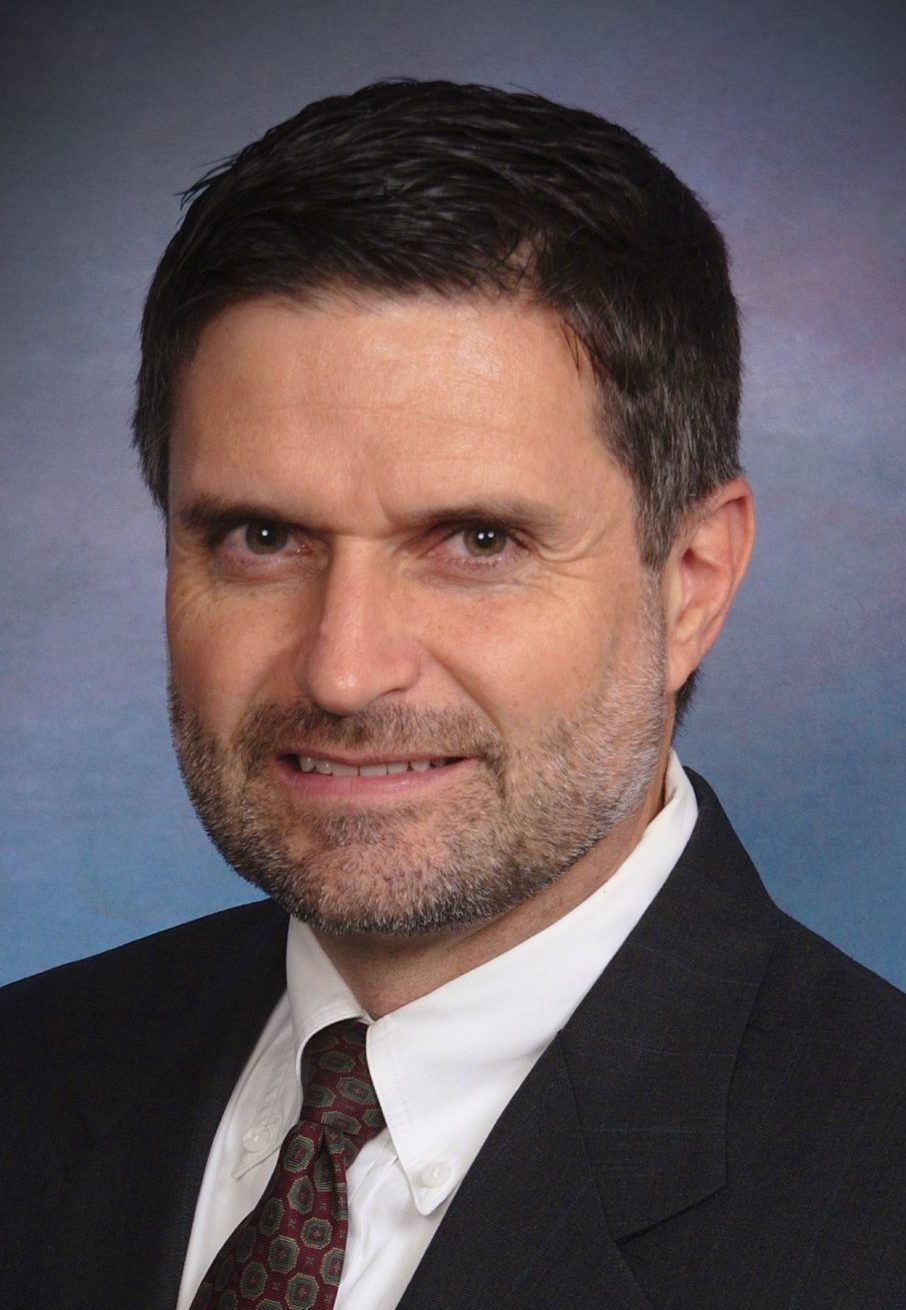 FAILURES
Richard Scott, AIA, NCARB, LEED AP, Charles Allen, AIA, and Steve Gleason, PE
In our work as forensic architects and engineers, we are regularly involved in litigation over stucco failures, including hotels and high-rise condo complexes. (For this article, 'stucco' refers to traditional portland cement plaster direct-applied to a masonry substrate, rather than using lath.)
Myths abound around stucco cracking. In truth, it is not abnormal to have some cracking with stucco, much of which can be relatively harmless. The key is paying attention to the types of cracks, and minimizing any significant issues that might lead to actual failure, including debonding, water intrusion, and mold problems.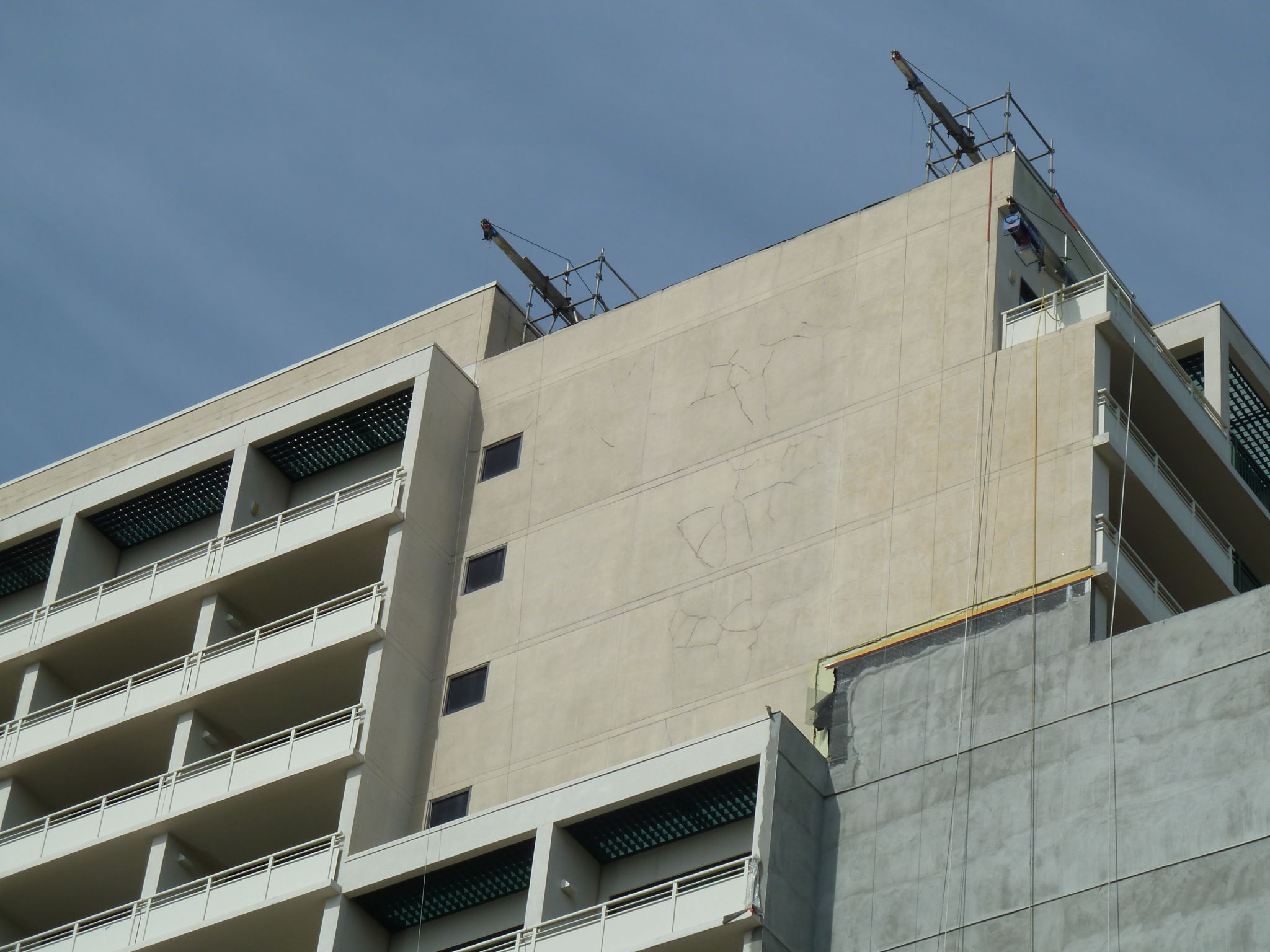 Myth #1: Stucco on lath over CMU/concrete is superior to direct-applied.
Many believe direct-applied stucco is more prone to cracking, and that stucco easily falls off if not adhered to lath. Stucco on lath is often preferred by architects and owners because it can create a drainage plane behind the cladding, which is thought to be needed to remove water.
However, direct-applied to masonry is a better approach if the substrate has been properly prepared. It creates a mass wall, minimizing potential for water intrusion as long as changes in substrate are addressed (unless the masonry itself cracks). A mass wall does not need a drainage plane. We often see major cracking where lath was improperly used in lieu of direct applied stucco.
In his Techniques and Comments newsletter, the late stucco expert John Bucholtz explained it this way:
Occasionally someone will specify that metal lath be applied to block. It's an erroneous specification for new block. Old block—that's a different animal. Inclusion of metal lath will assure no delamination, but it makes up for it by developing plenty of cracks.
Bucholtz said lath may be desirable for old concrete masonry units (CMUs) because blocks may have been painted or are dirty and weathered, limiting good bonding of the stucco.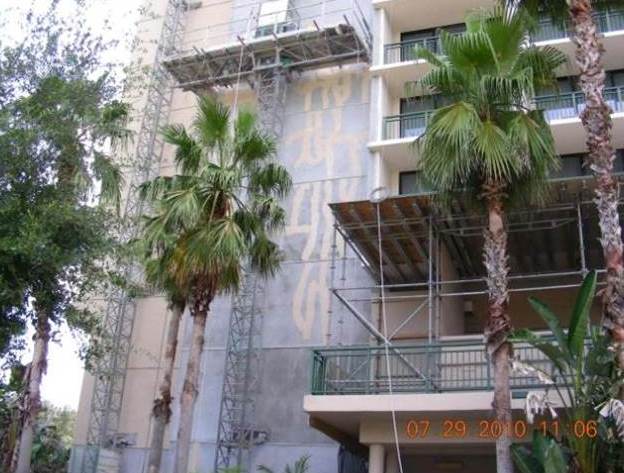 Myth #2: Control joints are required every 13.5 m2 (144 sf).
While this measurement (and other spacing restrictions from ASTM C1063, Standard Specification for Installation of Lathing and Furring to Receive Interior and Exterior Portland Cement-based Plaster) are a requirement for stucco on lath, control joints (CJs) are not generally needed in direct-applied except for where the substrate changes. For example, if changing from CMU to concrete, a CJ should be added. If its presence causes aesthetic concerns, striplath can be considered as an alternate, but may cause cracking if poorly installed. (Different from CJs, stucco expansion joints are required where expansion joints occur in the building envelope substrate or movement is expected.)
Myth #3: Direct-applied stucco is easily packed out to meet a finished plane.
Sometimes high-rises go slightly out of plumb as they are constructed. This creates a change in the substrate vertical plane that contractors often pack out with unreinforced extra lifts of stucco in an attempt to keep the finished stucco surface plumb. This added weight can create too much stress on the stucco bondline, causing the stucco to eventually fall off.
The difference in thickness with adjacent stucco also increases the likelihood of cracks developing. To solve out-of-plane conditions, a series of engineered reinforced mortar lifts may be needed. Where stucco has been erroneously packed out without reinforcing, a fix may include pinning.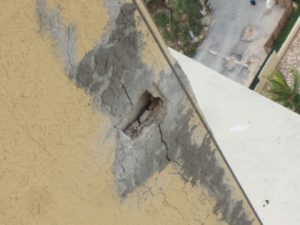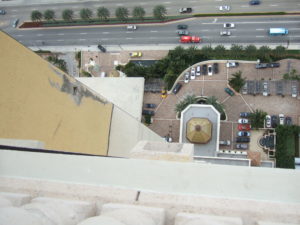 Richard Scott, AIA, NCARB, LEED AP, is a senior forensic architect and VP with Liberty Building Forensics Group (LBFG) in Gainesville, Florida, specializing in building forensics, with a focus on moisture-related and mold problems. He can be e-mailed at r.scott@libertybuilding.com[1].
Charles Allen, AIA, is a forensic architect and associate VP with LBFG in Tampa, specializing in building envelope and architecture forensics and design. He can be reached at c.allen@libertybuilding.com[2].
Steve Gleason, PE, is a senior forensic engineer and VP with LBFG in Atlanta, specializing in building envelope forensics, evaluation, design, project management, and quality assurance services. He can be contacted at s.gleason@libertybuilding.com[3].
Endnotes:
r.scott@libertybuilding.com: mailto:r.scott@libertybuilding.com
c.allen@libertybuilding.com: mailto:c.allen@libertybuilding.com
s.gleason@libertybuilding.com: mailto:s.gleason@libertybuilding.com
Source URL: https://www.constructionspecifier.com/stucco-myths-and-facts/
---