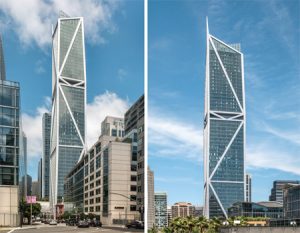 Designed to be the most resilient tall condominium on the West Coast, every inch of 181 Fremont's 40,413 m2 (435,000 sf) was engineered for performance, including its innovative, unitized curtain wall system.
Pre-certified as Leadership in Energy and Environmental Design (LEED) Platinum, 181 Fremont incorporates a floor-to-ceiling façade designed to enhance the energy performance of the 55-floor, mixed-use tower, fully glazed with Solarban® 70XL Glass (now Solarban® 70 Glass) by Vitro Architectural Glass—an advanced, triple-silver-coated, low-emissivity (low-e) glass that blocks 73 percent of the sun's heat energy in a 25-mm (1-in.) insulated glass unit (IGU) while still enabling 64 percent of daylight to pass through.
The tower's location in a high seismic zone required a complex, resilient glazing solution.
"We accommodated large lateral movements to mitigate damage to the frames so the building can be repaired quickly," said Jeffrey Heyman, vice-president of business development for glazing contractor Benson Industries. "This design ensures that, at the most extreme seismic racking, the glass never touches aluminum."
To learn more or request samples of Solarban® 70 Glass, visit vitroglazings.com.
All information listed in this section was submitted by Vitro Architectural Glass.
Kenilworth Media Inc. cannot assume responsibility for errors of relevance,
fact or omission. The publisher does not endorse any products featured in this article.