Texas art center glows in 'ruby' red
by sadia_badhon | April 29, 2019 12:00 am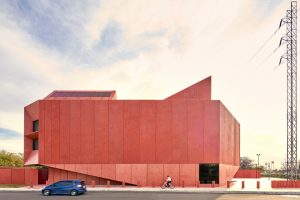 The exterior skin of Ruby City[2], a new contemporary art center in San Antonio, Texas, has a ruby glow. Made from precast concrete fabricated in Mexico City, it has been imbued with a rich red giving the building its signature color.
The building is designed by Adjaye Associates[3] in collaboration with Alamo Architects[4], and aims to provide a space for the city's creative community to experience works by local and internationally acclaimed artists.
The design for the 1300-m2 (14,000-sf) building is inspired, in part, by the Spanish Missions found throughout the Southwest, constructed by the Spanish Empire during the 16th to 19th centuries.
For the first 3 m (10 ft) up, the concrete is a polished finish, ground smoothly to be touched by passersby. Above, the concrete wall is rough, sharp, and encrusted with varying shades of red glass. Two crowning lanterns adorn the top of the structure, creating an animated roofline that, in turn, draws natural light into the gallery spaces. The interior entrance and lobby have also been constructed in the same crimson hue.
Throughout the building, texture and character take on an important role in defining the essence of the space. Conceived as an ambulatory loop, the building will house major works by world-renowned artists. The extensive gallery space, spanning over 929 m2 (10,000 sf), introduces visitors to a selection of more than 900 artworks.
Adjacent to the museum, the accompanying sculpture garden is defined by an oval pathway, of exposed concrete aggregate, circling a wide lawn area that is annexed to its west by a field of red cast-in-place concrete with a rock salt finish. The sculpture garden, adorned with a work by artist Nancy Rubins, uses sourced materials and stands as its own entity celebrating the ubiquity of public sculpture.
The new building is part of a growing campus, which also includes Chris Park, a 0.4-ha (1-acre) public green space, as well as an auxiliary exhibition space that presents curated shows and programming throughout the year.
Endnotes:
[Image]: https://www.constructionspecifier.com/wp-content/uploads/2019/04/Opener-15.jpg
Ruby City: https://www.rubycity.org/
Adjaye Associates: http://www.adjaye.com/
Alamo Architects: https://www.alamoarchitects.com/
Source URL: https://www.constructionspecifier.com/texas-art-center-glows-in-ruby-red/
---