Texas HQ supports creativity and comfort with acoustical ceiling systems
August 13, 2020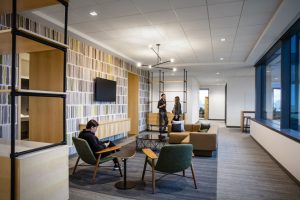 Headquartered in Irving (Texas), oil and gas company Pioneer Natural Resources[2] was ready for a new facility, but not a new hometown. The company decided a custom-designed, newly constructed building would best suit its business needs and forward-thinking corporate culture, while bringing together its North Texas employees in one building. To help achieve the project's goals, the building interior was designed to optimize sound and light reflectance with acoustical ceiling systems.
The interior design facilitates flexible working and meeting styles, employee interaction and engagement, and provides ready access to nature as part of their everyday work environment.
An ideal site was found across the highway from its existing location. Pioneer's 10-story office complex and accompanying seven-story parking garage anchors the first phase of the new 64-ha (158-acre) Hidden Ridge mixed-use development. Demonstrating its collaborative, innovative, and efficient operations, the 102,193-m2 (1.1-million sf) headquarters earned the Leadership in Energy and Environmental Design (LEED) Gold certification.
The white surface of the ceiling panels in Pioneer support natural lighting and energy efficiency by reflecting 85 percent of interior light. Since all the stone wool products utilized in the project have Underwriter Laboratories (UL) Environment's Greenguard Gold Certification for low-emissivity (low-e) products, they also contribute to high indoor environment quality (IEQ) and indoor air quality (IAQ) for healthy interiors.
Acoustic comfort is another key attribute recognized by the LEED rating system as benefiting employees' accuracy, wellness, and job satisfaction. With more than 90 percent of an organization's operating costs linked to employee efficiency, office ceiling systems can have a positive effect on the bottom line. Supporting Pioneer's environmental and economic objectives, acoustic panels with a high noise reduction coefficient (NRC) was used throughout the new offices.
With an NRC of up to 0.95, stone wool ceiling panels delivered high sound-absorbing performance for Pioneer's board room, conference rooms, training center, and cafeteria. Sound-absorbing panels were also installed in the large, open collaboration areas, hallways, and active daycare.
Endnotes:
[Image]: https://www.constructionspecifier.com/wp-content/uploads/2020/08/Opener-11.jpg
Pioneer Natural Resources: https://www.pxd.com
Source URL: https://www.constructionspecifier.com/texas-hq-supports-creativity-and-comfort-with-acoustical-ceiling-systems/
---