The first hallmark of sustainability: Put on a roof that lasts a long time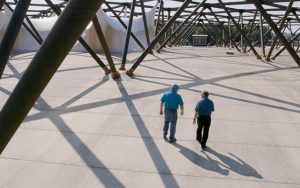 When a hailstorm and a tornado came to town on the same day, the University of Iowa's Carver-Hawkeye Arena was confronted by a powerful competitor that damaged the 25-year-old PVC (vinyl) roof. Benchmark, Inc., was charged with designing and overseeing the installation of a durable, sustainable and long-lasting roof for the arena. Pleased with the success and results of the old roof preceding the extreme weather event, Benchmark selected a new PVC single-ply roofing membrane for the project.
Carver-Hawkeye hosts some of the most intense athletic competitions in the country, seating 15,500 college basketball fans and serving as a venue for concerts, sports camps and commencements. The extent of the storm damage called for an immediate roof replacement within two months to avoid delaying the start of the school's fall basketball season.
To create a distinctive indoor space, the project architect chose an exoskeleton structural system. Copper brown flashing membrane on the truss column bases complemented the roof's unique exposed steel trusses for an especially aesthetic profile. However, all of those structural connections had to be made watertight, and one of the singular strengths of single-ply PVC membranes is formable flashings. The thermoplastic material is heat-weldable and all of the connections can be made watertight.
The roofing industry continues its essential work to maintain the integrity of infrastructure around the country. Whether the roofing system needs to protect a big-box retailer or a building with intricate architectural details, the continuing growth in demand for a high-quality, durable roofing material with a long life cycle is reflected today in more roofing manufacturers offering a PVC option to their customers. Hear a veteran roofing consultant from Benchmark explain why PVC's proven performance gave him confidence in his choice for the challenges of Carver-Hawkeye Arena.
The Vinyl Roofing Division of the Chemical Fabrics and Film Association was created to educate architects, specifiers, building owners, and roofing contractors on the attributes of vinyl as a durable, reflective, heat-weldable material for single-ply roofing systems. Representing all of the leading manufacturers of PVC (vinyl) roofing systems in North America, the Division is committed to making available sound, scientifically backed information on the environmental and functional performance of energy-efficient vinyl roofing membranes.
All information listed in this section was submitted by CFFA.
Kenilworth Media Inc. cannot assume responsibility for errors of relevance,
fact or omission. The publisher does not endorse any products featured in this article.