The future of airport design after COVID-19
by sadia_badhon | December 11, 2020 6:54 pm
by Sadia Badhon
The global COVID-19 pandemic has changed almost all aspects of life and facilities. Airports have especially been affected.
In an exclusive interview with The Construction Specifier, Luis Vidal, president and founding partner of international architecture practice luis vidal + architects[1], spoke about how airport design will change following the pandemic.
Vidal has worked on more than 30 airport design projects worldwide, including the award-winning Queen's Terminal at London Heathrow –Terminal 2, the new Pittsburgh International Terminal, the future transformation of Denver International's Jepessen Terminal, the Boston Logan International Airport's Terminal E modernization, and Phase 1 of the future Terminal F at Dallas-Fort Worth.
Vidal believes future airport design must "answer in real-time to society's changing demands" and balance the "feeling of freedom of movement with the fear of uncertainty."
How can airport design answer to society's changing demands in real-time?
Vidal: Airports often reflect what is going on in the world and, in fact, they manifest our greatest challenges—from providing for accessibility to protecting against terrorism and responding to climate change. Now, amid a pandemic, architecture and design must do even more: They must balance the feeling of freedom of movement with the fear of uncertainty. They must also contribute to the survival of a vital industry that generates international activity, wealth, and cultural exchange.
How can airport design manage uncertainty and ensure security when the threat we are facing is global and invisible, and directly impacting our hyperconnected way of life? How can infection transmission be avoided in spaces/buildings that "move" a great amount of people? The solution lies in "flexibility," maximizing an airport's square footage to include and implement the new visible and invisible security actions while ensuring social distancing and disinfection protocols. Space will be key. What we imagined as a possibility is now an imperative in this new reality. To achieve this, architects, governments, and society will need to collaborate. Architecture cannot, and must not, act alone; it is a discipline at the service of society and must form alliances with other fields.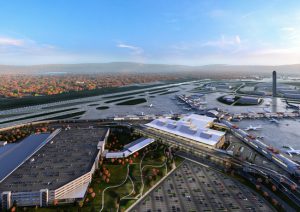 How soon do you see new tech applications being implemented? Do you foresee any privacy concerns?
Vidal: To reduce physical contact and avoid congregations, certain processes that, until now, occurred within the airport, will soon be completed in advance. With mobile apps, travelers will be able to do their check-in at home, in the hotel, or on the way to the airport and luggage will have an electronic labeling system. Temperature control tests will be implemented at airport entrances or in the parking areas, which will turn into registration and customer service areas. This will input another control measure prior to airport entry.
Materials are going to change, too. The use of new photocatalytic devices based on antibacterial, antiviral, and "auto-cleaning" material, such as titanium dioxide, silver, or copper, in high-use areas will become the norm. Contact-heavy elements of the space—think elevator buttons, door handles, railings, etc.—will be redesigned and rearranged to adapt to the new, "contactless" reality.
The airport of the future is being designed now. What we imagined as a possibility is an imperative in this new reality. Technology will no doubt play a main role. However, it will have consequences in different areas, namely privacy.
Also, social norms around personal space are rapidly changing, as is the demand for new technological advances to ensure public safety. We will see the birth of new technologies utilizing artificial intelligence (AI) and big data to process information, as well as to reduce our reliance on high-touch areas like elevator buttons.
What types of AI technologies will be implemented, and how will they function?
Vidal: New airport technology will be partially about what we cannot see: the gathering of data and the ultimate reuse of that information. While many airports currently use thermal imaging, those applications will become more "silent" and less visible. To gauge body temperature upon departure and return, it should be done in a comforting and ultimately "inviting" surrounding, and will be monitored on efficient, digital applications operating in real-time.
To that end, electronic identification and sanitary "passports" will be electronically read without passengers rummaging through bags and pockets. Ever-changing AI tools and the use of enormous data sets will effectively equip airport security with the ability to screen passports electronically, via facial recognition, a technology that has long sought its entrance into high-traffic public infrastructure. Think of it this way: a passenger's face or iris will essentially grant entry across borders, and will be verified onsite, within the terminal.
Digital screening, backed by complex and highly technical algorithms, is currently being used to gauge wait times in security lines. These data repositories may also be used to help monitor social distancing guidelines and help with contact tracing. There is no doubt technology will play a larger role in the travel experience.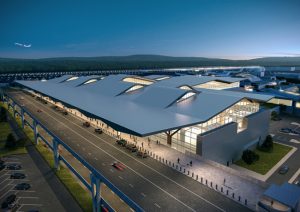 Another example of rapid change within the terminals is the use of next-gen smart-glass technology to transform windows into digital flight and wayfinding tools while offering equally impressive energy efficiencies. This is something we are doing in Boston Logan International Airport's Terminal E modernization. Dynamic glass affords airports the ability to provide clear, digital information for passengers who can view it at a safe distance.
I foresee broadening of the airport's funnels to include open space, a taste of the outdoors, and pavilion-like areas with ceilings that allow exposure to sunlight. Even spaces with long, dreary hallways can be transformed into culture centers, reflecting a city's history or geographic strengths.
What are some examples of airports that are already employing these designs? How can airports meet these design criteria, while being within budget?
Vidal: At the Pittsburgh International Airport[4], we designed a new terminal adjacent to the gates for check-in, security, and baggage claim. In association with Gensler[5] and HDR[6], we considered Pittsburgh's iconic rolling hills, its industrial history, and technological future. This brought me to our design theme, "NaTeCo[7]," the merger of nature, technology, and community. The design is unique to Pittsburgh, incorporating regional characteristics emulating natural elements where possible. For example, the terminal has areas that function like a pavilion in a forest. The outside also blends with the inside, and vice versa. We created spaces where one can be outside, or have the feeling of being outside, even when inside.
In Boston Logan International Airport, we served as vision and concept architects alongside AECOM[8] for the modernization of Terminal E. We looked at Boston, observed its characteristics, and made salient design choices. This included integrating the color red. I found Boston's shading and its sunsets to be incredibly vibrant. Boston's historic[9] and iconic buildings along the waterfront are all made of red brick—tying buildings together with nature. So, for the roof, we developed a unique prismatic red paint in a lab in Switzerland to emulate the sunsets. The shading of this differs, depending on the viewer's angle, shifting from reddish hues and orange to bright-red and a darker color. We wanted to highlight Boston's dynamism and vibrancy.
With innovation occurring rapidly, and hastened by the global health crisis, architects are taking it upon themselves to integrate these safety measures and introduce bold, transformative designs, thereby meeting clients' design goals while also staying in budget.
Sustainability remains critical. A sustainable airport of the future will be recognizable, resourceful, sleek, dynamic, and forward-thinking. Even the careful placement of windows in an airport, and the way they introduce natural sunlight, can limit the amount of solar radiation exposure that the space needs, drastically reducing energy consumption and the electricity bill.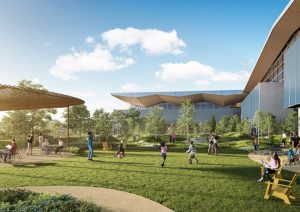 What can existing airports do to reduce their energy consumption?
Vidal: Infrastructure projects, which are inherently large, resource-dependent and, by most measures, relatively inefficient, may present the most challenges to sustainable design. At the same time, done correctly, these projects may be able to achieve the greatest gains toward long-term sustainability.
Existing hubs can consider reasonable design upgrades to adapt to the new global climate and its many technological and safety demands. It may seem obvious, but long-term sustainability will depend on flexibility. We must maximize square footage, even in existing spaces, while providing a feeling of space, cleanliness, and safety. Flexibility may indeed be the cornerstone of sustainable design. Executives may wish to consider upgrading their facilities where necessary, perhaps adding square footage where possible, or bringing new technologies to an entirely new terminal, etc.
At luis vidal + architects, we develop designs that not only uniquely cater to a region, but also rely on various systems to reduce environmental output. One useful strategy is relying on materials that are found in the proximity of the project, geographically. In fact, we will always show a preference for materials that can be sourced near a construction site. Using local materials meets our criteria for suitability and is an environmentally friendly approach, reducing transportation-related emissions. It is also culturally responsible, supporting the local economy, and very cost-effective for the project owners.
In the design of the new terminal at the Pittsburgh International Airport, we made a conscious decision to incorporate a great deal of wood in the finishing materials. Wood is prevalent in the local environment and, as a result, we will be able to reduce the amount of carbon emissions to move the product once the project is under construction. Other eco-friendly materials include cork, coconut, almond shells, peanut shells, and more. These items can be processed to become building materials. Further, brick, which is made from clay, is a very environmentally friendly material. Bricks also retain heat well and insolate from the cold. The use of high-performance glass is also important. These are all factors to explore on new projects or redesigns.
What roles can architects, engineers, and planners play when it comes to designing the airports of the future?
Vidal: We learned and made a lot of changes and continue to do so after the September 11 attacks, mainly for the way passengers maneuver through security and begin a more rigid airport experience. So, in the wake of the COVID-19 pandemic, we will advance our learning on how to build a safer and healthy future: preparing for uncertainty and balancing safety with freedom. As architects, it remains our mission to create recognizable, resourceful, sleek, dynamic, and forward-thinking facilities. It is our duty, as architects, engineers, and planners, to make the airport "journey" memorable, iconic, and efficient. Using innovative and sophisticated systems, involving both active and passive measures, the ecological footprint of airports should, and can, be greatly reduced.
Overall, the airport of the future will be flexible to accommodate rapidly changing conditions, a lesson made apparent by 2020. The underlying factor is that an airport must account for its many byproducts, including its vibrancy and the passenger experience, to its long-term carbon footprint.
Through our work, we have seen just how crucial air travel is to the human race. We have, and will retain, a need to explore. It is the architect's duty, then, to embrace innovation, effectively integrate the space into its surroundings, and exhaust all safety measures. This will ensure the user experience is positive, seamless, and conducive to long-term success.
Endnotes:
luis vidal + architects: https://www.luisvidal.com/en/
[Image]: https://www.constructionspecifier.com/wp-content/uploads/2020/12/Opener-10.jpg
[Image]: https://www.constructionspecifier.com/wp-content/uploads/2020/12/Opener2-2.jpg
Pittsburgh International Airport: https://www.interiorsandsources.com/article-details/articleid/22521/title/pittsburgh-international-airport-modern-design
Gensler: https://www.gensler.com/
HDR: https://www.hdrinc.com/ca
NaTeCo: https://www.interiorsandsources.com/article-details/articleid/22520/title/nateco-pittsburg-international-airport
AECOM: https://aecom.com/
Boston's historic: https://www.interiorsandsources.com/article-details/articleid/22880/title/historic-renovations-adaptive-reuse
[Image]: https://www.constructionspecifier.com/wp-content/uploads/2020/12/Opener3-1.jpg
Source URL: https://www.constructionspecifier.com/the-future-of-airport-design-after-covid-19/
---