Transformative urban planning with roof coatings
February 11, 2019
by Catherine Mary Emery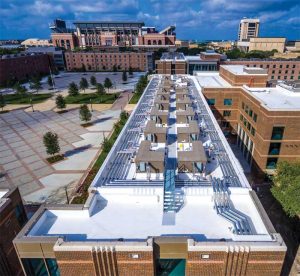 Climate change is problematic for city planners and engineers. Twenty of the hottest years on record have occurred since 1995, indicating a steady pattern of increasingly warm temperatures. Dense urban areas are especially vulnerable to the impact of rising temperatures due to the heat island effect. The Department of Energy (DOE) recognizes the employment of cool roofing strategies to combat urban heat islands and reduce the use of air-conditioning systems.
According to the U.S. Environmental Protection Agency (EPA), cities with a highly built-up infrastructure can trap heat, causing temperatures to be at least five degrees warmer than in nearby, less-populated areas. Dark, non-reflective roof systems contribute to the urban heat island effect, with rooftops reaching 65.5 C (150 F) or higher in the hot summer sun. This heat can then transfer into the building, leaving non-air-conditioned portions of the structure with higher temperatures threatening the health and safety of occupants. For example, Chicago saw detrimental effects during the 1995 heat wave that caused the death of nearly 740 people. White, reflective roofs can decrease rooftop temperatures by more than 10 C (50 F), thereby reducing the overall heat that can potentially transfer into the building and improving the safety of building occupants.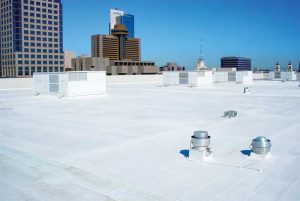 Transforming rooftops is not always an easy task for city officials and building owners. Transporting existing roof tear-offs down and new materials up several floors can be logistically challenging. Roof coatings offer building owners easily transportable, innovative, and sustainable solutions to combat urban heat islands. Additionally, roof coatings with low-odor properties can offer installation benefits, including the reduction or elimination of building downtime. Incorporating various technologies like acrylics (known for their reflective water-based qualities), polyvinylidene fluoride (PVDF)—popular for color fastness—and silicones (preferred for providing protection against ponding water), roof coatings can be specified to meet critical performance attributes while offering unique design capabilities.
Reducing energy consumption
Buildings tend to consume approximately 70 percent of the energy utilized in large cities. Therefore, the focus is on reducing energy consumption in multistory  structures. However, facilities in large cities typically pose a challenge for energy-efficient retrofitting for several reasons, such as:
the majority of buildings tend to be older structures and constructed to meet less energy-efficient codes; and
retrofits are expensive and logistically difficult to execute when all the HVAC systems, roof insulation, and entire exteriors need to be replaced to meet current code requirements.
BIBLIOGRAPHY
1. A Practical Guide to Cool Roofs and Cool Pavements (Imaginary Office, 2012), available to download at www.coolrooftoolkit.org/wp-content/pdfs/CoolRoofToolkit_Full.pdf.
2. "Awesome Interactive Map Shows How Hot Your City Will Be In 2100" by Leslie Baehr, published on July 9, 2014, on the Business Insider. Visit www.businessinsider.com/by-2100-this-is-how-hot-your-city-will-be-2014-7.
3. "It's Getting Expensive to Ship NYC's Garbage to Landfills" by Rich Calder for the New York Post, published on March 24, 2017, at nypost.com/2017/03/24/its-getting-expensive-to-ship-nycs-garbage-to-landfills.
4. "Old Buildings Are U.S. Cities' Biggest Sustainability Challenge" by Iain Campbell Koben Calhoun for the Harvard Business Review. Posted on May 8, 2017, at hbr.org/2016/01/old-buildings-are-u-s-cities-biggest-sustainability-challenge.
5. Resources – Home & Building Owners Cool Roof Rating Council by the Cool Roof Rating Council (CRRC).
6. "Reflectivity, Emissivity Important Factors When Selecting A Cool Roof – Facilities Management Insights" by John A. D'Annunzio for Facilitiesnet, published on April 13, 2010, at www.facilitiesnet.com/roofing/article/Reflectivity-Emissivity-Important-Factors-When-Selecting-A-Cool-Roof-Facilities-Management-Roofing-Feature–11641.
7. "Learn About Heat Islands" at www.epa.gov/heat-islands/learn-about-heat-islands.
8. Brad Plumer's "5 Ways to Keep Cities Cooler During Heat Waves," published by The New York Times on July 24, 2018, and available at www.nytimes.com/2018/07/24/climate/heat-waves-cities.html.
9. "How 739 People Died in a Chicago Heat Wave" by Mike Thomas, published in the Chicago Magazine on June 29, 2015, and available at www.chicagomag.com/Chicago-Magazine/July-2015/1995-Chicago-heat-wave.
Therefore, recoating with a highly reflective coating offers an affordable and feasible alternative to retrofitting an entire building or replacing the existing roof system. Highly reflective roof coatings can have a measurable impact on a building's energy efficiency. Compared to traditional, dark roof material, reflective roof coatings[3] can result in significant reductions in energy consumption, sometimes by 10 to 20 percent. Although energy cost savings may vary based on a number of factors (e.g. climate zone, utility rates, radiative properties of roofing products, insulation levels, and HVAC equipment efficiency), buildings that have been recoated with a white, reflective coating[4] can save up to $0.36 per square meter.
A reflective roof helps to lower a building's heat load, thereby reducing the energy use of air-conditioning units. Reflectivity, emittance, and the solar reflectance index (SRI) are the metrics used to quantitatively evaluate and compare cool roofing performance. Solar reflectivity (SR) is measured on a scale of zero to one. This scale assesses the amount of solar energy being reflected by a surface. Zero indicates solar energy is not reflected, while one means 100 percent reflection. Solar emittance (SE) is also measured on a scale of zero to one. This measurement assesses how much absorbed heat radiates back into the atmosphere. Zero indicates the surface does not radiate any heat back into the atmosphere, while one means the surface radiates all heat back into the atmosphere. SRI is calculated by using both reflectance and emittance values as well as a convective coefficient to provide a measurement of relative steady-state surface temperature. SRI values are able to exceed 100.

Different agencies define cool roofing requirements based on the products meeting specific minimums in terms of SR, SE, or SRI. The Cool Roof Rating Council (CRRC) provides a listing of products rated for SR, SE, and SRI based on a defined testing protocol. CRRC also offers a labeling program to help manufacturers identify how their products perform on cool roofing measurements. Per CRRC, all testing is performed according to specific ASTM standards and weathering protocols applicable to the respective cool roofing measurement. Those measurements can be compared to the minimum cool roofing standards identified by various national, state, and local agencies. For example, American Society of Heating, Refrigerating and Air-Conditioning Engineers (ASHRAE) 189.1, Standard for the Design of High-Performance Green Buildings, along with the Leadership in Energy and Environmental Design (LEED) rating program for new construction, require a minimum SRI of 78 to meet cool roofing requirements. Energy Star requires SR 0.65 on new roof surfaces and a three-year aged SR of 0.50. Design professionals should review manufacturers' specifications and labels to ensure the selected roof coating has met the standards for new and existing roofs as defined by a national agency like ASHRAE, LEED, or Energy Star. Cool, reflective coatings can be used to transform existing dark membranes such as ethylene propylene diene monomer (EPDM) or asphalt-based roofing systems into energy-saving options.
Roof coating installation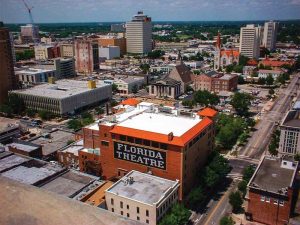 Building downtime and disruption to occupants during renovations are major concerns for owners. It is difficult or nearly impossible for certain buildings in urban areas to close even temporarily. For example, hospitals have patients, schools children, apartments tenants, and stores patrons. Roof coatings can help solve the downtime problem by eliminating the need to tear off the existing roof and, in some instances, by offering low-odor and/or low-volatile organic compound (VOC) installation. The building can typically remain in use while the roof coating is installed. While various roofing technologies require different levels of skill, contractors tend to appreciate the relatively straightforward roof coating installation process. Most roof coatings can be sprayed or applied with a brush or roller, making installation equipment affordable and easy to use. Additionally, coatings form a monolithic membrane (i.e. zero seams) onsite without the high-skill mandate typically accompanying more traditional roof membranes with seams. However, it is important to note coating installers should achieve the minimum dry mil thickness required by the manufacturer. Each manufacturer would have different requirements to measure mil thickness. Some manufacturers may cut out different sample sections of installed dried coating from various areas of the roof to physically measure the thickness.
When the existing substrates are structurally and functionally suitable, city buildings are ideal candidates for roof coating applications. An existing roof must meet certain criteria in order to accommodate a coating. It is recommended to always refer to the manufacturer's requirements prior to specifying a coating over an existing roof or substrate.
Rising landfill costs are affecting reroofing costs when tear-offs are performed. According to the New York Post, New York City's trash export rate has skyrocketed from $63.39 in 2009 to $129.81 in 2016. Roofing materials contribute to at least 10 percent of all landfill waste. This fact may motivate building owners to opt out of tearing off an existing roof and choose to extend a roof's service life with a coating.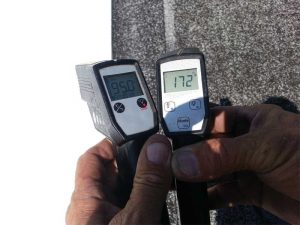 The successful installation of roof coatings is dependent on both substrate preparation and the actual coating installation. It is recommended to always refer to the manufacturer's coatings installation guidelines prior to specifying, preparing, or installing roof coating's or liquid-applied roof membranes. These guidelines will typically advise how to perform an adhesion test during the bid process to ensure all parties agree on which product is the best solution for the project. Once the scope of work is specified, certain preparation guidelines can be generally followed. Preparation usually starts with a moisture survey or scan of the existing roof. This will identify wet areas that should be removed and replaced with a similar technology. Repairs should then be made to the existing roof substrate where leaks, cracks, tears, or buckling occurred. Fasteners must be resecured, excessive gaps resealed, and the seams repaired according to the guidelines for the roofing material.
The surface is then cleaned with a stiff brush to remove particulates, treated with a recommended cleaning solution, and finally pressure-washed. After the surface has been properly prepared, a primer is recommended, depending on the type of substrate. Primers enhance the adhesion of a roof coating and can help block bleed-through of the original substrate.The installation of the reflective roof coating completes the process, leaving a monolithic design that can help protect against leaks and flash penetrations of the assembly and create an energy efficient system.
Coating technologies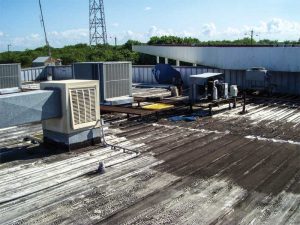 As mentioned earlier, transporting materials to the roof of a high-rise building may be logistically challenging. Roof coatings or liquid-applied roof membranes solve the inherent problem by being more portable than traditional materials. Coatings typically come in 18.93-L (5-gal) buckets, 208-L (55-gal) drums, or 1041-L (275-gal) totes that can be easily moved from the ground to the roof or to various staging areas or can be pumped to the roof. The technology enclosed within those buckets makes roof coatings and liquid-applied roof membranes effective.
By far, the most popular coatings technology uses acrylic resins as the base polymer. Acrylic coating technology is typically water based and has the benefit of being able to be applied over multiple substrate types, including modified bitumen (mob-bit), built-up, concrete, metal, and single-ply systems. Additionally, acrylics usually have low VOC content and can be installed at 10 C (50 F) temperatures and rising. Areas experiencing colder climates have limited installation windows and specifiers should be cognizant of seasonal constraints when detailing coatings. Acrylic technology is a versatile option, easy to install with either a sprayer or roller and simple to maintain.
White acrylic coatings are highly reflective and can help cities reduce the urban heat island effect when applied on rooftops. However, specifiers are increasingly using rooftops as canvases to showcase a building's culture and sense of style, and even for advertising space. Especially in urban areas with airports, rooftops offer building owners an opportunity to present signage, branding, or creative flair to flyover passengers. Due to harsh rooftop conditions, artscapes must be created with coatings that are color stable and can resist damage from ultraviolet (UV) rays. PVDF is a suitable technology to create long-lasting designs on rooftops. Applied as a finish coat after a roof coating system (e.g. acrylic) is installed, PVDF coatings are more color stable, perform well against abrasion, and provide protection against biological growth. Additionally, many PVDFs are listed by the Underwriters Laboratories (UL) as Class A fluid-applied coating systems, can be Energy Star-certified, and are rated by CRRC. PVDFs give specifiers design freedom while offering the same cool benefits as white coatings.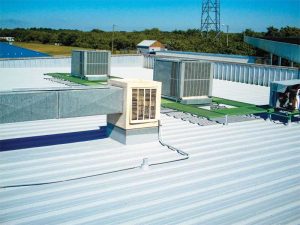 [9]While acrylic roof coatings are recognized as durable and easy to install, silicone technology offers moisture curing and protection against ponding water. These technologies are growing in popularity due to their longer-term elastomeric properties and higher solids content. In terms of installation, contractors appreciate silicone's no-mix, single-component composition. However, designers should be cautious when specifying silicones for recoating purposes. Initial silicone applications achieve excellent adhesion to primed concrete, masonry, metal, and wood surfaces. After the initial application though, only silicone-based technologies can be used for recoating.
Conclusion
As temperatures continue to rise, urban planners are increasingly looking for easy-to-implement strategies to decrease the urban heat island effect and increase energy efficiency. The majority of city buildings already exist, and thus any green tactics must be carried out through retrofitting processes. Upgrading the building envelope and HVAC systems is expensive and requires building downtime, barriers that may stop building owners from implementing any energy-saving strategies. An alternative exists overhead, as white, reflective roofs can reduce rooftop temperatures by as much as 10 C (50 F). This can significantly reduce the overall heat that can transfer into the building, improve building occupant safety, help reduce the energy requirements of air-conditioning systems, and reduce the city's urban heat island effect. Reflective roof coatings are a sustainable solution to transform existing dark roofs into light-reflecting, high-performing monolithic roofs. Currently, summers in Boston average 26 C (79 F). In 2100, summers in the city are projected to average 32 C (89 F), the same average temperature experienced today by North Miami Beach in Florida. Are city planners ready for the heat?
Endnotes:
[Image]: https://www.constructionspecifier.com/wp-content/uploads/2019/02/CREDIT-PHOTOG-Slyworks-Photography-Texas-AM-Univ-Corps-113-2.jpg
[Image]: https://www.constructionspecifier.com/wp-content/uploads/2019/02/7-1.jpg
reflective roof coatings: http://www.coolrooftoolkit.org/wp-content/pdfs/CoolRoofToolkit_Full.pdf
reflective coating: http://www.coolrooftoolkit.org/wp-content/pdfs/CoolRoofToolkit_Full.pdf
[Image]: https://www.constructionspecifier.com/wp-content/uploads/2019/02/Federal-Courthouse-NM-Aerial_BeforeAfter-1.jpg
[Image]: https://www.constructionspecifier.com/wp-content/uploads/2019/02/FL-theatre-cmyk-1.jpg
[Image]: https://www.constructionspecifier.com/wp-content/uploads/2019/02/heat-gun-1.jpg
[Image]: https://www.constructionspecifier.com/wp-content/uploads/2019/02/Before-1-cmyk.jpg
[Image]: https://www.constructionspecifier.com/wp-content/uploads/2019/02/After-13-cmyk.jpg
kate.emery@gaf.com: mailto:kate.emery@gaf.com
Source URL: https://www.constructionspecifier.com/transformative-urban-planning-with-roof-coatings/
---