Trends in clean room/wash-down doors and walls
by Katie Daniel | February 4, 2016 12:07 pm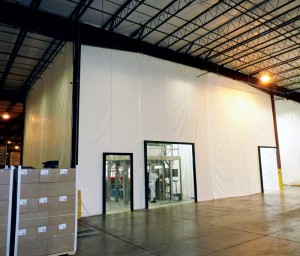 by Jon Schumacher
Similar to most industrial sectors, regulatory requirements in both pharmaceutical and food manufacturing have become more stringent than ever. In response, the equipment and processes used in these industries have also become more sophisticated. A prime example of this can be seen in the ongoing improvements in door and wall products used in clean room and wash-down applications.
In both the pharmaceutical and food industries, clean rooms are essential for ensuring contamination control. Moreover, clean room planning has evolved into its own specific area of industrial design. Keeping airborne contaminants generated by people, process, facilities, and equipment from suspending in the environment is a primary concern for these designers. However, clean room designers have increasingly come to realize one of the best ways to minimize contamination is to prevent contaminants from entering the room in the first place—hence, the growing interest in clean room doors and walls.
As their name suggests, clean rooms create environments that maintain an extremely low level
of environmental pollutants such as dust, airborne microbes, aerosol particles, and chemical vapors. More accurately, a clean room has a controlled level of contamination specified by the number of particles per cubic meter at a specified particle size.
To give perspective, the ambient outside air in a typical city contains 35 million particles per cubic meter in the range of 0.5 μm and larger in diameter, corresponding to a rating of '9' under International Organization for Standardization (ISO) 14644-1, Cleanrooms and Associated Controlled Environments, while an ISO '1' clean room allows no particles in that size range and only 12 particles per cubic meter of 0.3 μm and smaller. (As a point of reference, human hair is about 75 μm across, depending on the person.)
In the pharmaceutical industry—where clean room requirements of ISO '6' to '8' are common—clean rooms play a crucial role in the manufacturing of products required to be free from microbial and particulate contamination and be protected from moisture. Although regulations are not quite as stringent in the food industry—with respect to the particulates range—clean rooms, clean areas, and wash-down walls are equally important in the prevention of contamination.
In both industries, doors and walls play an essential role in clean room operations. Today's high-performance fabric doors fit virtually anywhere and are uniquely designed to address the need for environmental control, productivity, safety, and cleanliness. They are used not only to prevent cross-contamination, but also to aid in maintaining correct room pressures and air circulation rates, and helping to ensure optimal operating efficiency. While anti-microbial walls have always been important in segmenting environments with differing levels of clean requirements (or clean/non-clean environments) there is a growing use of flexible, industrial 'curtain walls' for applications subject to wash-down protocols. Not only are they quicker, easier, and less expensive to install than traditional construction, but they can also be moved or reconfigured if changes in the process or floor plan occur later.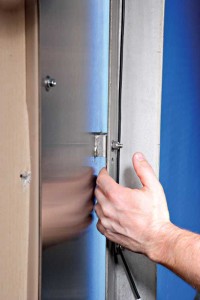 The role of doors
High-performance doors and flexible fabric curtain walls have evolved in recent years and are a viable option for various food and pharmaceutical applications.
The primary function of most industrial doors is to provide tight environmental separation, yet allow occupants and equipment to quickly and safely move from one area to another. For pharmaceutical manufacturing, doors take on an even larger role by allowing companies to achieve and maintain a specified level of cleanliness for a given clean room. High-speed fabric roll-up doors (also called upward-acting doors) are commonly used in clean rooms. They are also an integral part of airlocks that form buffers between different classes of clean areas.
The goal in virtually all clean rooms is to maintain an air pressure differential between rooms, pushing air from the opening's cleaner side to the less clean side. Occasionally, the goal is to keep particulates within a certain room to avoid cross-contamination with the processes in adjoining rooms. For these reasons, most facilities incorporate multiple pressure steps within the building's structure. The steps typically range from 5 to 13 Pa (0.02 to 0.05 w.g.) between rooms, but can be as high as 50 Pa (0.2 w.g.).
A door capable of at least 0.2 w.g. in pressure differential is needed to maintain a tight seal and minimize air leakage. Given the need to maintain pressure differentials, doors that seal tightly and cycle quickly are essential in pharmaceutical manufacturing. A properly designed door helps ensure the facility's makeup fans can satisfy the required amount of makeup air needed to maintain pressure. Another prerequisite in overall door design is cleanliness, since doors must operate in
a pristine manufacturing environment. Any high-speed door used in pharmaceutical manufacturing must also balance the need for productivity with operational safety.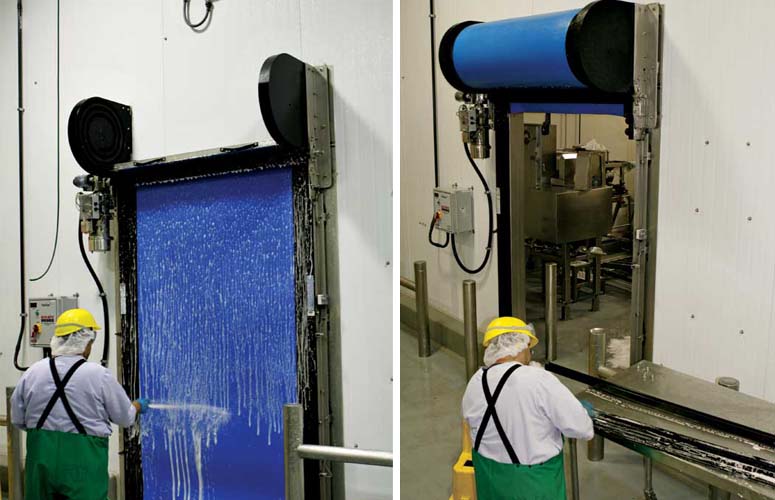 Specifying high-speed roll-up doors
Bi-parting doors of stainless steel or fiberglass are widely used in pharmaceutical manufacturing facilities. However, many companies also use fabric roll-up doors to meet the needs of specific applications where the bi-parting doors will not fit, due to limited wall space in many plants.
A roll-up door uses little wall space because it is an upward-acting unit. In other words, the curtain of the door collects in a head assembly at the top of the door when it is opened. By comparison, depending on the configuration of adjacent walls, a rigid-panel door that opens from the center may require considerable wall space on each side of the door in order to function. As an example, a door spanning a 1.8-m (6-ft) wide opening may require approximately 0.9 m (3 ft) of wall space on each side of the opening so each panel has a place to travel when opened.
A new generation of roll-up doors has come on the market in recent years featuring anti-microbial materials and other upgrades for clean room applications. These new features—along with their ability to operate at high cycle speeds and provide tight sealing capability—are the major reasons they are catching on with pharmaceutical and food manufacturers.
How to choose a clean room door
The U.S. Food and Drug Administration (FDA) publish clean room standards, both required and recommended, for manufacturers of pharmaceuticals and medical devices. The starting point is to look for doors that are compliant with Current Good Manufacturing Practices (cGMP), U.S. Food and Drug Administration (FDA), and United States Department of Agriculture (USDA) requirements.
Regardless of the door's configuration, ease of cleaning and durability are key considerations. In all cases, these doors must be able to stand up to repeated cleaning with chemical solvents and have a smooth, hard, non-porous surface resistant to microbial and fungal growth. Doors should also have a tapered surface and edges that all but eliminate 'harborage' of dust or other contaminants—this also reduces sharp angles that can harbor microbes. Additionally, they should:
be corrosion-resistant (often a problem with older door systems);
use stainless steel side frames and shrouds; and
incorporate a lubrication-free design, since lubricants can attract particulates.
It is also advisable to avoid doors with exposed fasteners and coils, as they will take longer to clean and could harbor contaminants.
The ability of clean room doors to accommodate site-specific needs is another consideration for industrial designers. These could include features such as vision panels, push plates, or other activation devices, as well as magnetic locks and (perhaps most importantly) interlocking systems. Commonly known as 'airlocks,' these systems are found in entrances and exits, gowning and de-gowning areas, and material transfer locations. In all these areas, it is important to keep two doors from being open simultaneously, thus preventing air infiltration from one space to the other.
The best door systems allow for wireless interlocking of air locks. 'Breakaway capability' is another recent advancement in clean room doors, allowing employees to push through the curtain in the event of a power failure. While this feature is not needed on a daily or even monthly basis, it will be greatly appreciated on the rare occasion it is needed. Finally, low-voltage remote controls should be specified when possible as they provide a cleaner look and are easier to install.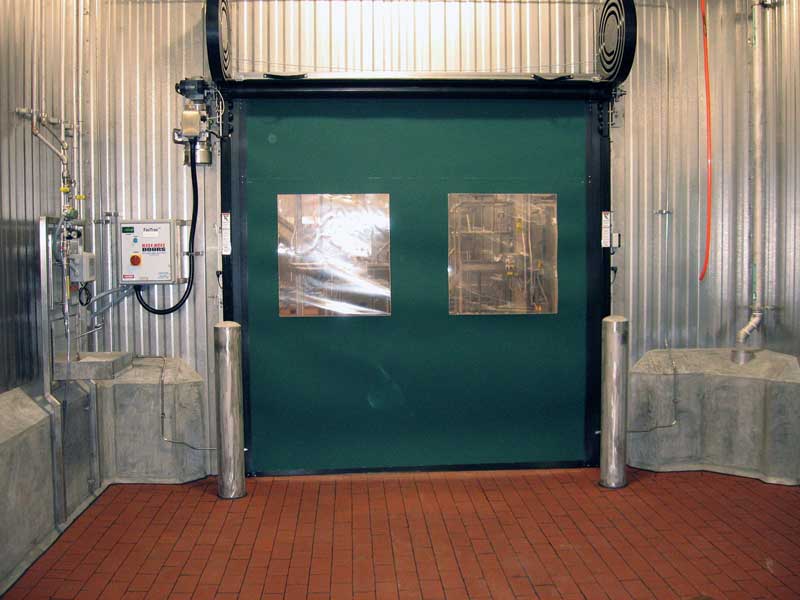 High-speed doors
High-speed doors are also a key component for maintaining cleanliness in the food industry. New food industry-specific variations have been developed that meet USDA and FDA standards for clean-up. They are made of smooth polypropylene (PP), which provides higher resistance to acids and bases and a lower water absorption rate than vinyls and urethanes—making them highly resistant to mold and providing superior wash-down durability.
Other food-specific enhancements include:
wash-down-rated sealed drive systems and controls;
one-piece ultra-high-molecular-weight (UHMW) polyethylene plastic radial headers; and
non-corrosive polycarbonates and UHMW side frames, which stand off from the wall to minimize surface-to-surface contact, and reduce pockets where bacteria can grow.
Fabric curtain walls
Walls of fabric curtain also play a key role in maintaining clean conditions in the food industry, where they are increasingly being used for clean applications related to blending, mixing, powder ingredient, raw ingredient, or other production operations.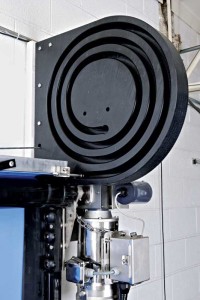 While USDA and FDA do not specify clean room regulations in the food industry, they do provide guidelines based on Hazard Analysis & Critical Control Points (HACCP) best practices. Thus, designers should seek out products that specifically cite their compatibility with these protocols. One of the most common uses for industrial fabric curtain walls in the food and beverage industry is for the isolation of production lines so they can be cleaned while other lines nearby continue to run at peak efficiency. Not only do these flexible fabric walls allow plant engineers to easily enclose areas and contain overspray from cleaning, but they can also help reduce the potential for cross contamination during production processes.
Some wash-down curtains are constructed of durable, cleanable, anti-microbial vinyl fabric specifically designed for use in operations where compliance with federal food regulations is paramount. To eliminate the potential for harborage concerns, these wall assemblies with manufactured panels with heat-welded or radio-frequency (RF)-welded seams and air- and water-tight panel-to-panel connections should be employed.
Wash-down fabric curtain walls are typically suspended from existing ceiling structures or roof decks. Stainless steel components and hardware allow the walls to hold up to wet and harsh conditions that occur when production equipment is cleaned as part of hazard analysis and critical control points (HACCP) best practices protocol. Should the ability to open and close the wall be needed, heavy-duty stainless steel track and trolley systems can ensure easy operation and durability in the wash-down environment.
Flexibility and potential cost savings are among the main benefits of curtain walls in any application. Since they are not rigid, they can easily be custom-designed to match a facility's specific needs or work space—and they can be moved or reconfigured if those needs change. When combined with anti-microbial wash-down features, this flexibility allows plant managers to achieve cleanliness protocols and production goals without the cost, permanence, or space requirements of rigid walls. Used in concert with application-specific high-speed roll-up doors, they can provide designers of clean and wash-down areas a dynamic option for enhancing plant efficiency and product integrity.
Jon Schumacher is the director of marketing for Rite-Hite Doors. He has been with the company for 20 years and is the vice-chair of the Door and Access Systems Manufacturers Association (DASMA). Schumacher can be reached via e-mail at jschumacher@ritehite.com[1].
Endnotes:
jschumacher@ritehite.com: mailto:jschumacher@ritehite.com
Source URL: https://www.constructionspecifier.com/trends-in-clean-roomwash-down-doors-and-walls/
---