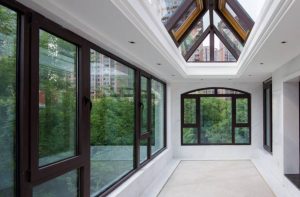 VacuMax™ Vacuum Insulating Glass (VIG) by Vitro Architectural Glass is an innovative architectural glass that combines vacuum technology and Vitro glass substrates into an insulating glass unit (IGU) with exceptional insulation performance and R-values of R14+, rivaling that of traditional walls.
Tempered VacuMax™ VIG units can be used alone as nominal 8.3mm (0.33in) glass to replace monolithic (single pane) glass without needing to replace the framing system, making VacuMax™ VIG an ideal solution for retrofits. VacuMax™ VIG also can be used as a substitute for the interior lite in any double- or triple-glazed insulating glass unit (IGU), where it forms a second airspace and creates a hybrid IGU to further enhance energy efficiency and insulation performance. When a VacuMax™ VIG unit is used as the interior lite in a hybrid IGU, the exterior lite is available with the full range of Solarban® glass products and substrates by Vitro glass.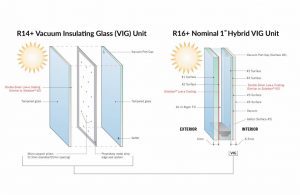 Visit VacuMaxVIG.com to access detailed product information, browse performance data and download the VacuMax™ VIG brochure.
All information listed in this section was submitted by Vitro Architectural Glass.
Kenilworth Media Inc. cannot assume responsibility for errors of relevance,
fact or omission. The publisher does not endorse any products featured in this article.