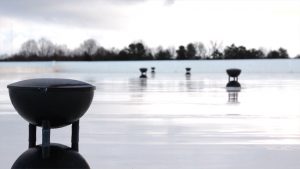 The VacuSeal™ Vent Secured Roofing System uses special vents that harness the power of the wind to lock roof membranes in place. This happens because of the Venturi Principle, in which a vacuum is created whenever the speed of the wind moves faster than the air in surrounding areas. Each VacuSeal V2T vent is designed to create that vacuum, and leverage its suction to pull air out from under membranes and lock the vents into place. Uplift pressures are negated by the greater vacuum force created by each vent.

Negative pressure equals positive results! VacuSeal systems are quick and easy to install and save cost and labor by substantially reducing the amount of glue, ballast, or fasteners a project requires. This engineered system is designed to provide optimal performance while maximizing opportunities for retrofit and monolithic deck applications. Resolve rooftop issues that require an innovative solution by taking advantage of this problem-solving product from Carlisle SynTec Sytems.
All information listed in this section was submitted by Carlisle Syntec Systems.
Kenilworth Media Inc. cannot assume responsibility for errors of relevance,
fact or omission. The publisher does not endorse any products featured in this article.