Washington university building juxtaposes metal and terra-cotta panels
by sadia_badhon | May 7, 2019 12:00 am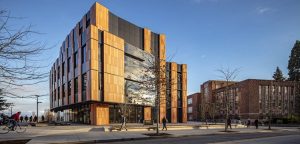 The new Bill & Melinda Gates Center for Computer Science & Engineering[2] at the University of Washington, Seattle, is now open.
According to Seattle-based LMN Architects[3], the 12,542-m2 (135,000-sf) academic building establishes a new standard for the study of computer science by creating a connected, warm, and welcoming space, designed to attract a broad and diverse student population and enhance connections to the campus and community.
In a dense campus precinct, the 8967-m2 (96,520 sf) expansion site interacts with the existing facility across a major campus corridor shared by cars, buses, pedestrians, and bicycles. This required a holistic approach to integrating campus circulation into the two-building program. A pedestrian circulation path through the steeply sloped, forested site forms a critical axial connection between the campus center and the athletic facilities.
Within the Gates center, a variety of program elements including classrooms, offices, and workroom spaces are intermingled across five floors to foster community and collaboration. A roof-level event center takes advantage of views of Lake Washington and the Cascade Mountains to provide a signature experience for a wide range of educational needs, industry collaborations, and outreach functions.
Departing from the minimal, bare spaces typically associated with the technology sector, the 20-m (64-ft) buildings offer a warm, welcoming, and accessible environment. The expansion building features a two-sided curving form responding to the unique flow of campus circulation. A richly detailed building façade system of terra-cotta panels in four texture types juxtapose against crisp, modern black glass and metal, providing sun shading while framing the intermixed nature of the program within.
A cafe activates the primary entry, transitioning between the exterior landscape to a sky-lit central atrium with visual and circulation connections to all floors and program functions. The shared plaza continues through a series of stepped elevations offering building entries at multiple locations, remaining porous with the open circulation of the atrium, while remaking the existing pedestrian path with natural edges defined by boulders and lush vegetation.
Endnotes:
[Image]: https://www.constructionspecifier.com/wp-content/uploads/2019/05/G4_33.jpg
Bill & Melinda Gates Center for Computer Science & Engineering: https://www.engr.washington.edu/about/bldgs/cse2
LMN Architects: https://lmnarchitects.com/
Source URL: https://www.constructionspecifier.com/washington-university-building-juxtaposes-metal-and-terra-cotta-panels/
---