Welcome center in Baton Rouge, Louisiana, to serve as a portal to nature
by arslan_ahmed | May 23, 2023 12:15 pm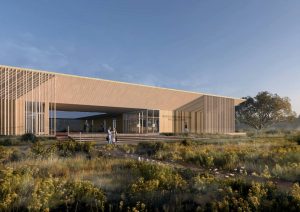 The Burden Museum and Gardens' new welcome center is designed to cater to visitors of the nearby Botanic Gardens, Rural Life Museum, and Louisiana State University (LSU) AgCenter, as well as nearby communities and cultural attractions.
Located in the heart of Baton Rouge, Louisiana, on a vast 178-ha (440-acre) property, this 2,626-m2 (28,625-sf) facility aims to provide visitors with an overview of the various destinations available. Further, it showcases the fascinating history of the Burden family and their significant contribution to LSU and the local community, as it is one of the largest donations ever received.
In envisioning the Welcome Center as a tranquil gateway to nature, the design team at EskewDumezRipple aimed to create a space that would ignite curiosity and appreciation for the surrounding scenery. The center is not simply placed on the land, but rather integrated into it, emphasizing a seamless connection with the landscape.
The entryway features glass walls on one side, allowing unobstructed views and acting as a bridge between the building and the landscape. A spacious central courtyard measuring 669 m2 (7,200 sf) is enveloped by covered outdoor areas.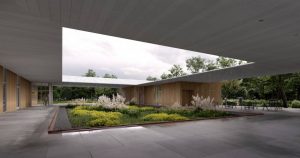 The Welcome Center serves as a platform for environmental education and offers a diverse range of experiences, including events, art exhibitions, recreational activities, and opportunities for rejuvenation. The environmentally conscious design incorporates 279 m2 (3,000 sf) of flexible space, a 92.9-m2 (1,000-sf) gallery, an occupiable green roof, a small dining area and cafe, a gift shop, visitor restrooms, and administrative offices for the botanic gardens staff.
Other project collaborators are the contractor, Buquet & LeBlanc Engineering Inc; civil engineer and structural engineer, Fox-Nesbit Engineering, LLC; mechanical and electrical Engineer: ASSAF, Simoneaux, Tauzin & Associates; geotechnical engineer, Landscape, Inc.; and landscape designer, Carbo Landscape Architects.
Endnotes:
[Image]: https://www.constructionspecifier.com/wp-content/uploads/2023/05/LSU-Burden-Welcome-Center_Entry-Perspective-Color-Temp_lr.jpeg
[Image]: https://www.constructionspecifier.com/wp-content/uploads/2023/05/LSU-Burden-Welcome-Center_Courtyard-Perspective_lr.jpeg
Source URL: https://www.constructionspecifier.com/welcome-center-in-baton-rouge-louisiana-to-serve-as-a-portal-to-nature/
---