Westin Tampa Waterfront restoration: Ready for the long haul
January 25, 2019
by Erin Brown-Neff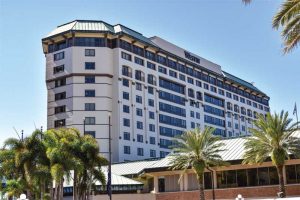 Located on the Gulf of Mexico, the building façade of the Westin Tampa Waterfront in Tampa Bay, Florida, is often subjected to the negative effects of rain, wind, high humidity, saltwater corrosion, bright sun, and soaring temperatures. Rapid fading and chalking of painted exteriors in the area is a problem that could be expensive and time-consuming to repair, as well as cause disruption to building occupants and visitors.
When the Westin experienced interior damage due to water penetration through its brick façade, its owner/operator, HEI Hotels & Resorts, wanted to do more than improve the building's weatherproofing. The company also wanted to give the hotel a fresh, new look that would last for years.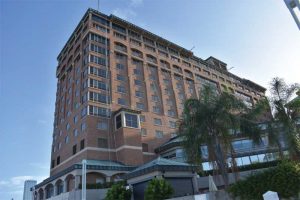 Therefore, HEI chose to recoat the Westin's brick façade and metal window profiles with an innovative, field-applied coating containing a fluoropolymer resin. The manufacturer also provided a 15-year color performance warranty covering both replacement product and the labor costs to recoat if the Delta-E (ÄE, or total color difference) of the coating shifts by a unit of five or more.
The single-component, water-based coating system extended the service life of the hotel's façade by 25 to 30 years, at a much lower cost than replacing the building's brick façade and window profiles or having to repaint the exterior every three to five years, which is a typical coating life cycle in Florida.
Strong color performance
Fifteen years without severe fading and chalking is unheard of in the Gulf Coast of Florida. Even with high-performance urethanes and 100 percent acrylic-latex coatings, the pigment and binder usually begin to break down after a couple of years, resulting in a significant shift in color and chalky residue on the surface. If left alone, paint will eventually deteriorate completely, leaving the building's substrate bare and open to damage from the elements, a costly problem to repair.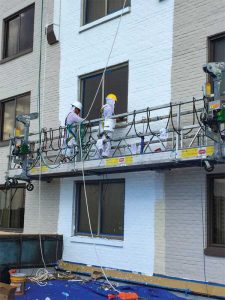 The coating system's long-lasting performance is due, in part, to the inclusion of a tough polyvinylidene fluoride (PVDF) resin that resists thermal, chemical, and ultraviolet (UV) degradation. The PVDF resin has been weathering in the field and in a Miami-based natural weathering testing site for 18 years to date. However, its first-generation technology, which requires high-temperature baking and is used by original equipment manufacturers (OEMs) of exterior architectural components, has been performing for more than 50 years in harsh UV-prone environments with exceptional color retention. PVDF is traditionally known as a high-performance coating for coil-coated metal roofing and curtain walls. It is also a thermoplastic and can be injection molded into unique materials. For example, the leaves on the 44-m (145-ft) Tree of Life at Disney's Animal Kingdom in Bay Lake, Florida, are made from this polymer.
Serving as the backbone of the coating technology, coupled with high-performance additives and specialty-grade inorganic pigments, the PVDF resin is highly resistant to UV degradation, chalking, dirt pickup, staining, algae, mold, fungal growth, and erosion. When applied with the compatible primer systems, the coating system can even protect against rust, corrosion, and efflorescence, as well as promote long-term adhesion to the building surface, thereby extending the life of the property. Key to its long-term performance is the high concentration (35 to 70 percent) of PVDF resin within the formulation. The PVDF binder's carbon-fluorine bonds do not break down under exposure to the elements. This bond allows the coating formulation to withstand thermal, chemical, and UV conditions without degrading, providing proven weatherability in extreme conditions.
Some coating manufacturers custom-blend each batch of topcoat and custom-match colors for clients. They offer the option to tint the primer for easy application. In the case of the Westin property, the manufacturer custom-matched the Westin Tan for use on the hotel's brick surfaces, as well as the Westin Granite for the window profiles. Custom-tinted primers in a different hue of the topcoat colors were used on both the brick and window profiles.
No impact on guests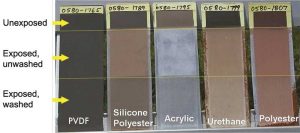 HEI Hotels & Resorts wanted to ensure the façade restoration project would have minimal impact on room reservations and guest activities. Typically, odors are a major concern and point of complaint for building occupants during this type of renovation. Since the coatings are water-borne and low in volatile organic compounds (VOCs) and odor, the project was completed with no impact on room reservations and hotel use by guests.
The water-based coating system is environmentally responsible as well. Not only is the VOC content very low, but also the long life cycle of the product creates a sustainable, low-carbon-footprint solution for the building because it eliminates the need to recoat the property every two to five years, thus reducing the amount of consumables used and the amount of consumable refuse going into landfills. With this system, property owners can expect 20 to 30 years of protection and reduced maintenance.
Project details
Coating contracting company Stuart Dean performed three-dimensional mockups of the structure to create the look designed by the architect for the project. The mockup process allowed the façade restoration experts at Stuart Dean to conduct adhesion testing and gave HEI an opportunity to verify the finish and color met expectations.
Prior to coating, all exterior surfaces were pressure cleaned using a minimum of 17,237 kPa (2500 psi) water to remove loose surface contamination, salt deposits, and mildew. On areas where mildew was present, it was removed using a bleach-based solution, and then the surface was rinsed with water. Metal surfaces (windows, doors, frames, and railings) were scraped and sanded to remove all loose paint and contaminants before being wiped with solvents prior to priming. Cracks in the brick, stucco, and masonry were repaired by removing loose or deteriorated material, grinding out the cracks, and thoroughly cleaning the surface and interior of the joints. Paintable caulk was then applied. Loose bricks were removed and the surface was cleaned to remove dust. Then, a bonding agent was applied to the surface and the brick face was reformed with stucco to match the surrounding areas.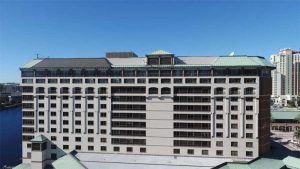 Using the PVDF-based formulation allowed the Stuart Dean crew to avoid hard-to-blend roller marks, one of the biggest challenges associated with rolling a coating onto a surface in high ambient temperatures. The masonry was sealed, followed by one coat of primer, and one coat of topcoat at 0.05 mm (2 mils) dry was applied to all surfaces.
"We were able to keep a nice wet edge, which can be difficult to do in the hot, humid Florida climate, because coated areas tend to dry too quickly," said Rex Dean, global director, façade restoration, Stuart Dean. "Since the coating system was water-based, we also were faced with fewer restrictions for application such as dewpoint and relative humidity (RH), thus assisting an accelerated completion schedule."
Fresh new look
Although the project was briefly interrupted for Hurricane Irma, the Stuart Dean crew finished the project quickly and efficiently, in about five months. The property now has a fresh, lighter, and brighter look.
Erin Brown-Neff is the director of marketing and business development for APV Engineered Coatings. She is responsible for generating new business accounts and managing key product development projects in strategic markets including architecture and building products. She also oversees external communications, public relations, and advertising, as well as website and digital marketing efforts. Brown-Neff has a bachelor's degree in business and marketing management from the University of Akron. She is a National Association of Corrosion Engineers- (NACE) certified coating inspector. Brown-Neff can be reached at ebrown@apvcoatings.com.
Endnotes:
[Image]: https://www.constructionspecifier.com/wp-content/uploads/2019/01/DSC_0027.jpg
[Image]: https://www.constructionspecifier.com/wp-content/uploads/2019/01/Before2.jpg
[Image]: https://www.constructionspecifier.com/wp-content/uploads/2019/01/IMG_5279.jpg
[Image]: https://www.constructionspecifier.com/wp-content/uploads/2019/01/18YearTestPanel.jpg
[Image]: https://www.constructionspecifier.com/wp-content/uploads/2019/01/DJI_0013.jpg
Source URL: https://www.constructionspecifier.com/westin-tampa-waterfront-restoration-ready-for-the-long-haul-2/
---