Window and Storefront Thermal Performance: What every specifier needs to know
November 25, 2013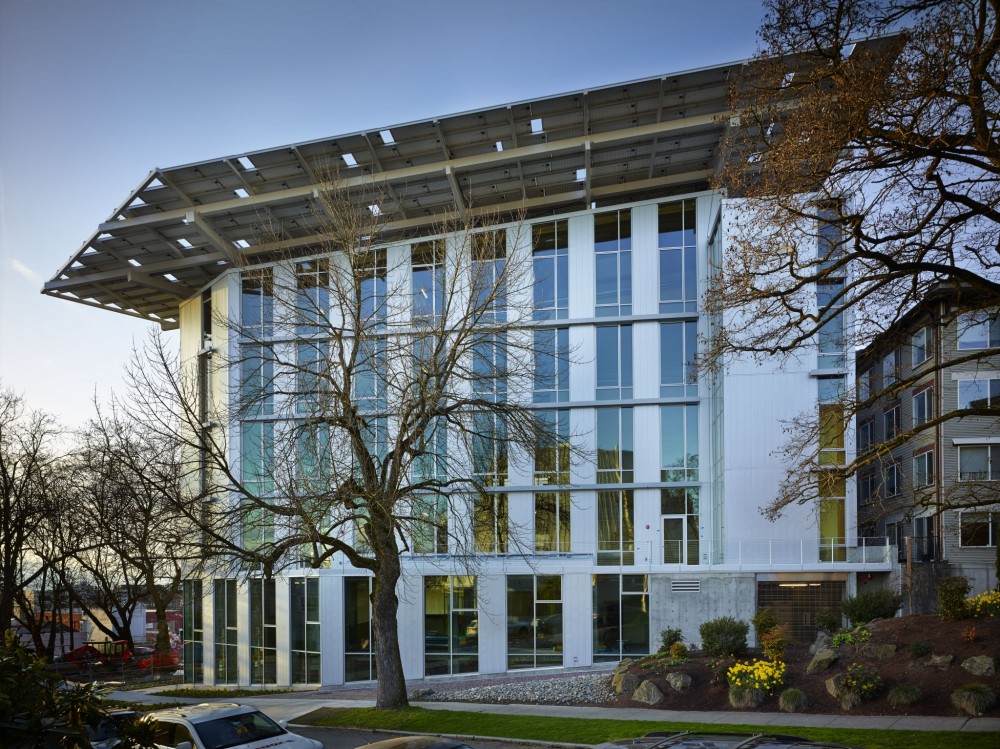 by Brian Stephens
Energy efficiency is becoming an ever-increasing topic in domestic and global markets. However, the scope of effective energy management utilizing fenestration becomes difficult when designing a system that balances performance requirements while remaining economically viable and minimally impacting the environment.
In the commercial building segment, advanced fenestration design is evolving to address growing energy management issues. Although the tools available to influence these designs are readily available, they must be properly employed to achieve the desired result.
The U.S. Department of Energy (DOE) has set a goal to reduce building energy consumption in commercial buildings by 20 percent by 2020. This goal is viable considering current waste levels, but does not have a clear prescriptive path. Examining the components of the fenestration system can help improve a system's capability to more effectively manage energy and meet thermal requirements.
The need for design evolution is connected to market knowledge, demand, and codes. U.S. code evolution, which follows the international market, is a pressing topic of conversation amongst many organizations in recent years. Building for longevity necessitates specifying with consideration for future standards.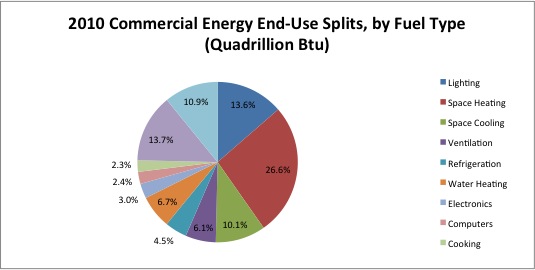 Breaking the frame
With consideration to long-lasting, high-performance windows, it is helpful to first understand the components. Improving performance of fenestration products typically begins with a thermally broken frame. According to the American Architectural Manufacturers Association (AAMA) and the Window and Door Manufacturers Association (WDMA) 2012/2013 "U.S. National Statistical Review and Forecast," 38 percent of all aluminum window and door products in North America have thermally broken frames. This is up from 22 percent in 2005, and projected to increase to more than 50 percent by 2016. The report also states aluminum framing accounts for approximately 91 percent of commercial fenestration systems.
Aluminum is a highly conductive material, so thermally 'breaking' the frame improves the fenestration system's thermal performance. According to the National Fenestration Rating Council (NFRC) 100-2010, Procedure for Determining Fenestration Product U-factors, this means a separation of at least 5.3 mm (0.21 in.) with a low-conductive material. Usually, aluminum-framed commercial fenestration systems are thermally broken using either a pour-and-debridge method or extruded polyamide strips.1[4]
The former method involves a two-part polyurethane mixture poured into an aluminum channel, allowed to cure, and then debridged using a saw blade. 'Debridging' refers to separating the interior and exterior assemblies.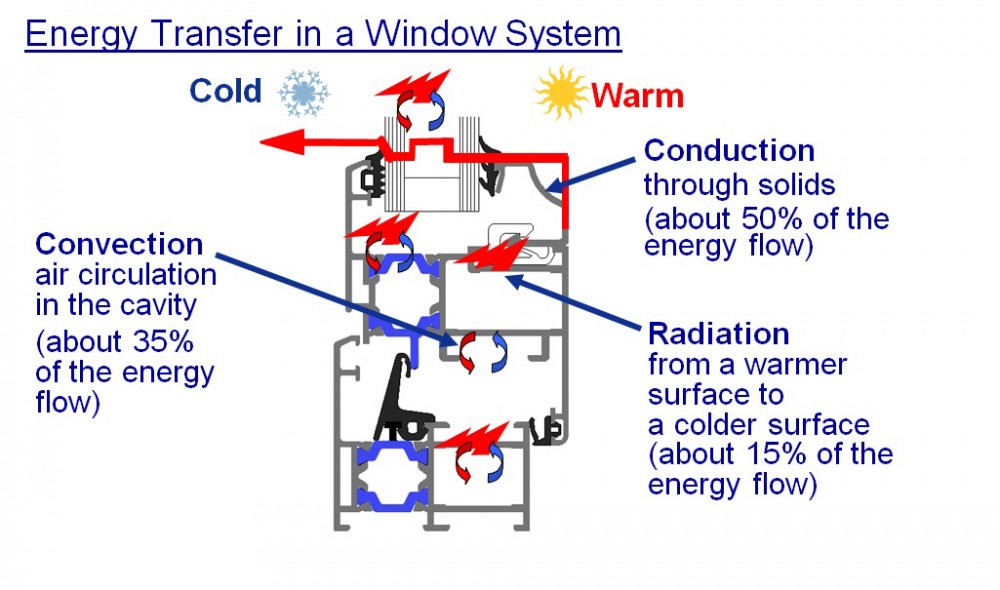 However, the majority of thermally broken systems are designed using polyamide due to flexibility in design and recyclability. The strips also separate interior and exterior assemblies, but do so using a mechanical connection. Aluminum pockets designed to hold polyamide strips are knurled to create teeth, which helps create a solid mechanical connection. Polyamide is then slid into these pockets and crimped into place creating a composite profile. The finished assembly is then shear-tested to validate proper assembly. Polyamide has a similar coefficient of expansion and contraction to aluminum ensuring system durability after thermal cycling.
Solar radiation
Once the heat transfer through the window frame has been addressed, the solar radiation through the glass must be improved. Critical to improving glass performance is the management of the solar radiation through it. The glass' ability to withstand this energy transfer is called its emissivity. As a benchmark, clear glass has an approximate emissivity of 0.84, meaning it allows approximately 84 percent of the energy to pass through.
To reduce the amount of energy transferred through the glass, the fenestration industry developed low-emissivity (low-e) coatings. Low-e coatings can be formulated to have a broad range of solar control characteristics, while maintaining a low U-factor. Dual-pane insulating glass units (IGUs) made with high-performance, low-e coatings can achieve a U-factor of 0.25 Btu/hr·sf·F (1.42 W/m2·K) to 0.30 Btu/hr·sf·F (1.70 W/m2·K), which is a solar heat gain coefficient (SHGC)—fraction of incident solar radiation admitted through a window—of 0.20 to 0.30, while still allowing between 40 to 70 percent visible light transmittance (i.e. amount of light in the visible portion of the spectrum passing through a glazing material). Even lower U-factors are achievable with triple IGUs. The 2012/2013 AAMA/WDMA "U.S. National Statistical Review and Forecast" also noted 42 percent of commercial windows were not thermally improved with either a thermal break in the frame, a low-e coating on the glass, or a high-performance spacer in the IGU.
Heat transfer through glass
Once the conduction (material type and design), convection (system design) through the frame, and the radiation (glass selection) are improved, the limiting factor to the overall system thermal performance is the heat transfer through the edge of glass. To manage this portion of energy loss in a design, systems have evolved from single-lite units to dual-lite IGUs. The IGU, now a sub-assembly in the overall design, comprises several components with the premary influencer on energy management being a warm-edge spacer.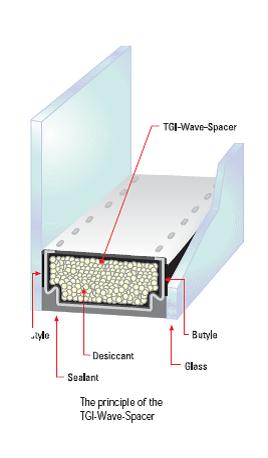 In addition to keeping the glass lites separated and establishing the airspace in the unit, the spacer also serves additional functions in the system. It:
accommodates stress induced by thermal expansion and pressure differences;
serves as a moisture barrier to prevent passage of water or water vapor that would fog the unit;
ensures a gas-tight seal to prevent the loss of low-conductance gas in the air space;
creates an insulating barrier to reduce the formation of interior condensation at the edge; and
provides a substrate for which adhesive components in the system create the primary and secondary sealant to deliver longevity and performance.
Previously, IGUs were primarily produced with a metal box spacer made of aluminum, filled with a desiccant that absorbs moisture. This assembly has a sealant applied to the edge of the frame, which bonds the glass lites to the spacer. The efficiency of this unit type is relatively low since aluminum is a highly conductive material.
Spacer systems have evolved throughout the years to address this highly conductive component. High-performance, warm-edge spacers were designed to go beyond the standard system. These greatly improve a window unit's overall U-factor, condensation resistance, and sightline temperature by employing low-conductivity materials and unique design elements. During the fabrication of an IGU, its performance may be further enhanced through the introduction of gas.
Filling the airspace between the lites with a less conductive, more viscous, or slow-moving gas minimizes the convective currents and conduction through the gas within the air space. Manufacturers generally use argon or krypton gas to achieve measurable improvement in thermal performance. Both of these gases are inert, clear, and odorless. Argon and krypton occur naturally in the atmosphere and can help improve the thermal performance, but gas retention and cost can be a concern.
Industry testing (i.e. European Standard [EN] 1279-3, Glass in Building: Insulating Glass Units–Long-term Test Method and Requirements for Gas Leakage Rate and for Gas Concentration Tolerances) has shown less than one percent leakage per year can be achieved if the unit is well-designed and well-fabricated. Again, keeping the gas within the IGU depends largely on the quality of the design, materials, and assembly of the glazing unit seals. Without these, the influence of gas on the system performance can be lost in a short period in spite of the added cost. The Insulating Glass Certification Council (IGCC) offers third-party certification of IGUs for seal durability and gas content in compliance with ASTM E2190, Standard Specification for Insulating Glass Unit Performance and Evaluation.
Sustainability and success
Effectively using some, or all, of these design improvements can aid in the achievement of energy goals for fenestration systems. Another benefit is it allows the designer to maintain flexibility with environmental fenestration design and to reduce use of opaque materials to achieve the energy targets. This approach also responds to owners' desire for increased daylighting within the building. (The University of Minnesota's Center for Sustainable Building Research offers more detailed information on this topic.2[7])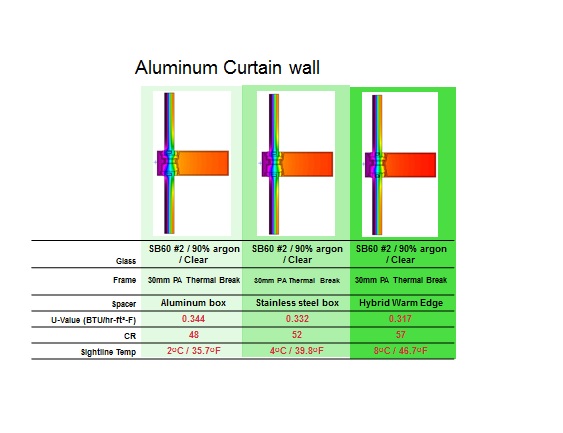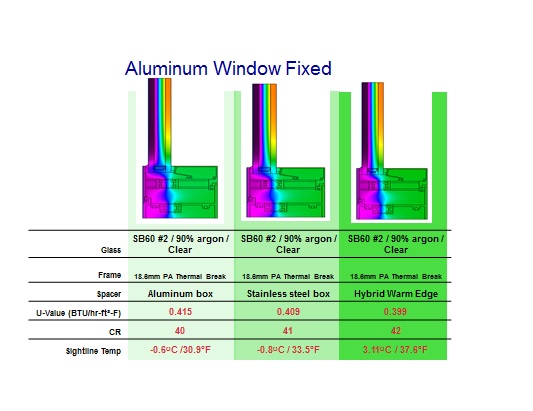 [9]
The benefits of daylighting are often overlooked due to other pressing requirements, yet evidence continues to mount in identifying the value expanded daylight adds to a building and its occupants. The Heschong Mahone Group has published three reports with the California Energy Commission (CEC) and the New Buildings Institute (NBI) showing more window area and the corresponding increased daylighting may have a positive influence on productivity, mental function, and physical wellbeing.3[10]
These studies also indicate students in classrooms with more window area have higher test scores, and employees with a window to look out are more productive than their coworkers in cubicles without views. Similarly, the studies demonstrate retail stores with more daylight have higher sales than similar stores with primarily electrical lighting.
The U.S. Green Building Council (USGBC) is one of the many organizations promoting the need for daylighting and high-performance buildings. Its Leadership in Energy and Environmental Design (LEED) rating systems certify projects meet criteria for sustainable design and construction. LEED guidelines are now in their fourth version, known as LEED v4. There are three main changes in v4: market sectors, increased technical rigor, and streamlined services.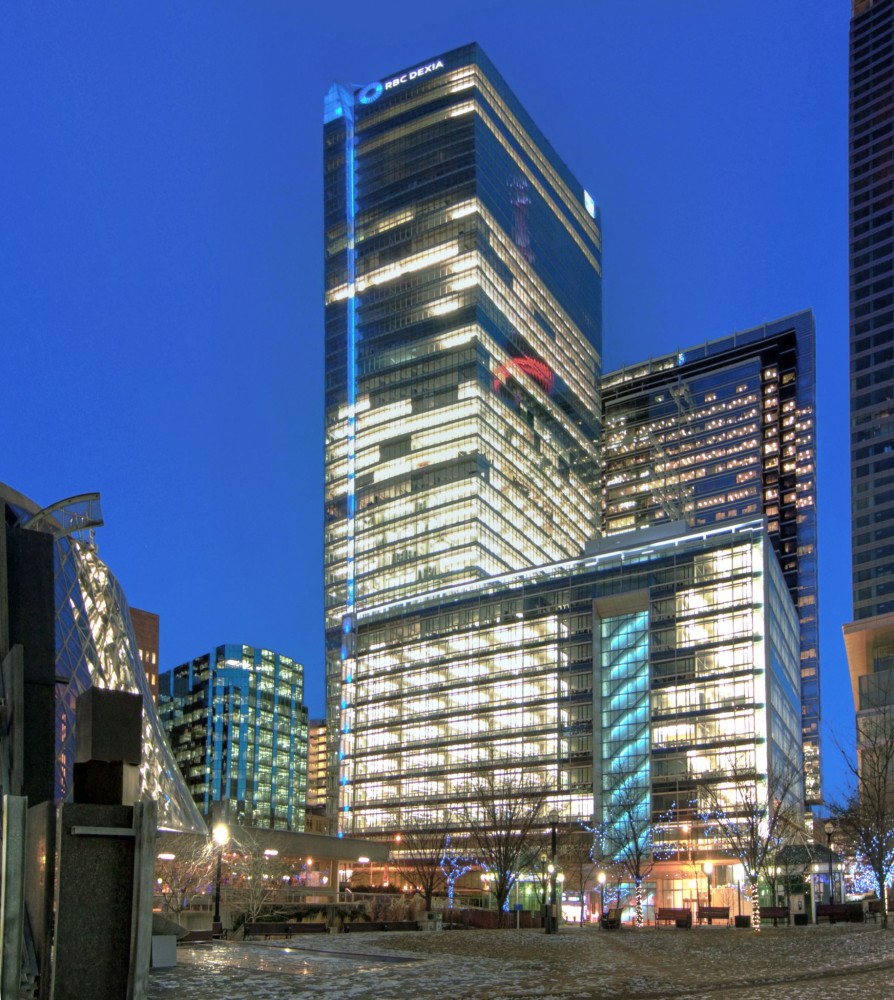 While high-performance systems cannot achieve LEED credits on their own, they still can contribute to the overall building design in many categories, with respect to energy performance, recycled content, regional materials, and daylighting.
Commercial buildings are adopting many of LEED's principles and advance system design to improve energy and human performance. The RBC Centre in Toronto, designed by architect firm Kohn Pedersen Fox & Bregman Hamann, incorporates many of these design features to achieve its LEED Gold status. The RBC Centre's window system relies on a high-performance polyamide thermal break system, as well a high-performance low-e coating and high-performing warm edge spacer in its IGUs. Light shelves also assist in bringing the daylighting more deeply into the building's interior.
The Living Building Challenge (LBC) seeks to surpass LEED criteria as a green building certification program recognizing the most advanced measure of sustainability in the building environment possible today. Through the International Living Future Institute, LBC certification poses the most rigorous performance standards across the globe.
LBC has seven performance areas, four typologies, and three types of certifications. The seven performance areas are Site, Water, Energy, Health, Materials, Equity, and Beauty, which are then subdivided into 20 'Imperatives.' The four typologies are Renovation, Infrastructure & Landscape, Building, and Neighborhood. LBC provides a framework for design, construction, and the symbiotic relationship between people and all aspects of the built environment.
Its three certification types are Full Certification, Petal Recognition, and Net-zero-energy Building Certification. Validation for Full Certification includes submitting 12 months of post-occupancy data to demonstrate annual operations for net-zero energy and water, plus a zero carbon footprint.
Number one with the Bullitt
Located in Seattle's Capitol Hill neighborhood, the Bullitt Center strives to become the first U.S. commercial office building to earn LBC Full Certification. The $18.5-million project opened this year on Earth Day—April 22—and intends to last until 2263. The project also serves as a premier example of a successful, collaborative effort between a building's owner, developer, architect, contractor, specifiers, and manufacturers to incorporate sustainable principles, including energy management levers for fenestration design.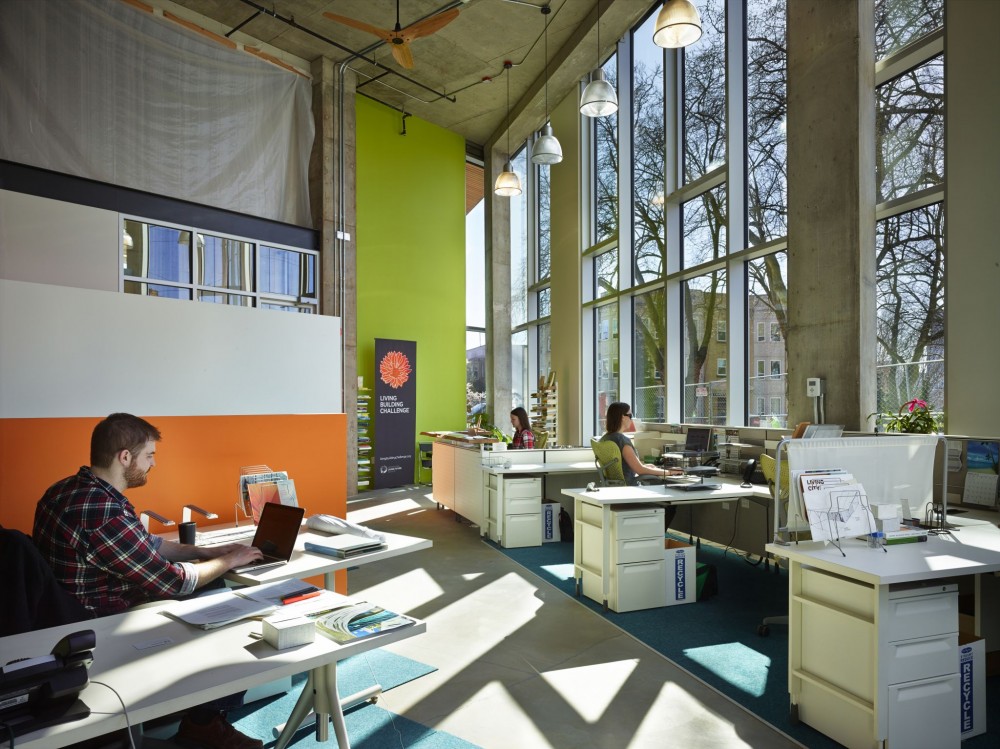 The six-story, 4831-m2 (52,000-sf) Class A office building's unusually tall 4.2-m (14-ft) floor-to-floor heights are matched with equally impressive floor-to-ceiling operable window systems. These spacious, daylit areas provide expansive views of the downtown skyline and connect the building's occupants with their surrounding environment. Prior to fabrication and construction, computer simulations modeled daylight illumination for different window configurations and ceiling heights to optimize energy efficiency.
Further contributing to the building's energy goals and the occupants' comfort, the fenestration system not only maximizes thermal performance and condensation resistance, but also enhances acoustic performance for quiet interiors. The IGUs are triple-pane and weigh up to 212 kg (468 lb). The majority of these units are 51 mm (2 in.) thick and comprise a warm-edge spacer plus two lites of glass with low-e coating on the second and fifth surfaces. The spacers vary in size from 12.7 to 15.9 mm (1/2 to 5/8 in.). This composition attains a U-factor of 0.17 Btu/hr·sf·F (.97 W/m2·C), and a condensation rating of 86 can be achieved.
Addressing LBC's seven performance areas, the Bullitt Center's operable windows also capitalize on natural ventilation coupled with a heat-recovery system and weather-responsive shading system. The warm-edge spacers were one of thousands of building materials in the Bullitt Center vetted thoroughly for compliance with the LBC "Red List" of 14 potentially toxic substances. Many of these substances, such as polyvinyl chloride (PVC) and formaldehyde, are common in building materials. In striving for a building with essentially no environmental footprint, the Bullitt Center's collaborative team discovered its high-performance targets could be met with a mix of existing and new technologies, systems, and materials.
Conclusion
Carefully specified components can influence the performance of not only the complete fenestration system, but also the entire building. Integration of thoughtfully selected components can drive system evolution to create successful, sustainable properties that attack building energy mandates, provide effective spaces for building occupants, become valuable structures for building owners, and endure for decades.
Commercial building codes and energy regulation continue to evolve; with these, demand for advanced performing buildings will continue to increase. To support this evolution, it becomes imperative fenestration design moves at a more aggressive pace. To provide value and longevity, these systems should not only meet the current requirements, but also be engineered to respond to future expectations.
Notes
1 There are dozens of different kinds of isolation materials, and trade-offs are associated with each. Globally, the majority of projects employ polyamide, which is the focus of this article. (back to top[13])
2 For more information, visit www.commercialwindows.org/performance.php[14]. (back to top[15])
3 Visit www.h-m-g.com/downloads/Daylighting/order_daylighting.htm[16]. (back to top[17])
Brian Stephens, LEED AP, is a product manager with Technoform Glass Insulation North America. He earned a B.Sc. in mechanical engineering from the University of Colorado at Boulder. Within the company, Stephens focuses on strategic market and business development including new product design. Within the industry, he seeks opportunities to share his knowledge of fenestration systems that incorporate thermally broken frames and high-performance warm-edge spacers, as well as the impact of high-performance fenestration on sustainability. Stephens can be reached via e-mail at bstephens@technoform.us[18].
Endnotes:
[Image]: http://www.constructionspecifier.com/wp-content/uploads/2014/04/WA_BullittCenter_Benschneider2.jpg
[Image]: http://www.constructionspecifier.com/wp-content/uploads/2015/11/DOE_CommBldgEnergyUse.jpg
buildingsdatabook.eren.doe.gov/TableView.aspx?table=3.1.4: http://buildingsdatabook.eren.doe.gov/TableView.aspx?table=3.1.4
1: #note1
[Image]: http://www.constructionspecifier.com/wp-content/uploads/2014/04/EnergyTransfer2.jpg
[Image]: http://www.constructionspecifier.com/wp-content/uploads/2014/04/TGI_SpacerWithLites.jpg
2: #note2
[Image]: http://www.constructionspecifier.com/wp-content/uploads/2014/04/Aluminum_Curtainwall.jpg
[Image]: http://www.constructionspecifier.com/wp-content/uploads/2014/04/Aluminum_FixedWindow.jpg
3: #note3
[Image]: http://www.constructionspecifier.com/wp-content/uploads/2014/04/ON_RBC-Centre.jpg
[Image]: http://www.constructionspecifier.com/wp-content/uploads/2014/04/WA_BullittCenter_Benschneider3.jpg
top: #note4
www.commercialwindows.org/performance.php: http://www.commercialwindows.org/performance.php
top: #note5
www.h-m-g.com/downloads/Daylighting/order_daylighting.htm: http://www.h-m-g.com/downloads/Daylighting/order_daylighting.htm
top: #note6
bstephens@technoform.us: mailto:%20bstephens@technoform.us
Source URL: https://www.constructionspecifier.com/window-and-storefront-thermal-performance-what-every-specifier-needs-to-know/
---