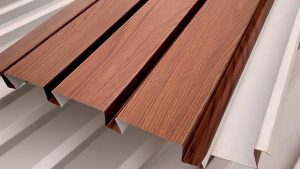 New Millennium Building Systems is rolling-out the latest in advanced pre-finish options for steel deck. The Impressions line expands the factory finish offerings palette to unprecedented creativity for architects and designers. Starting with a series of woodprint "species", these coil-coatings have the authentic look of walnut or maple, or multiple others, for projects seeking the warmth of wood, without the distinct disadvantages of the material: added costs, questions of availability, lumber consistency, insect damage, dry rot, and not to mention continuous maintenance of staining and sealing.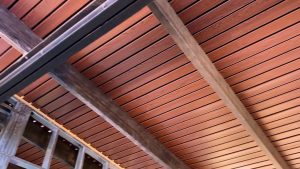 Impressions wood-series are for projects that intend to expose structure with aesthetics in mind using New Millennium's 2.0 Versa-Dek. Specified to augment the standard or acoustical profiles, Versa-Deck's dovetail profile eliminates the need for a secondary suspended ceiling. Steel adds the benefit of strength to span ratio, accommodating any roofing assembly from flat single-ply membranes to pitched standing seam systems. Long-span steel deck can be used in composite for floor solutions as well. Ceilings are integral to any design composition, whether part of the roof or floor assembly. The Impressions wood-print series is another means to achieving an architectural vision.
Learn more here.
All information listed in this section was submitted by New Millennium Building Systems.
Kenilworth Media Inc. cannot assume responsibility for errors of relevance,
fact or omission. The publisher does not endorse any products featured in this article.