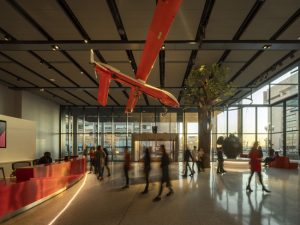 The International Spy Museum in Washington, D.C., was designed and constructed to capture the essence of espionage, secrecy, and intrigue. Acoustical ceiling tiles helped contribute to the intensive, quiet, and focused feeling permeating the space.
Designed by London-based architect Rogers Stirk Harbour + Partners in collaboration with Hickok Cole of Washington, D.C., the 13,006-m2 (140,000-sf) building is recognizable for its look. The building's exterior features sloped columns, a backlighted, folded metal panel skin, and a pleated glass veil—all emphasizing the museum's theme of "hiding in plain sight."
The theme continues into the building's eight-floor interior. Sustainable goals also guided the building's design and construction and helped it earn the Leadership in Energy and Environmental Design (LEED) Silver certification. The purpose-built nonprofit museum facility more than doubled the space of the previous location's education and programming area. Above the two-story lobby and retail area and the three floors of exhibition and theater space are two floors of set-back event space and a rooftop terrace.
Sound-absorbing, acoustic stone wool ceiling panels were installed in the building's two-story lobby, corridors, bathrooms, designated galleries, and the event space. The ceiling panels offer a noise reduction coefficient (NRC) of 0.85 or higher.
In the hallways, ceiling tiles with smooth, white surfaces reflect 86 percent of available light, and provide high sound absorption (NRC = 0.90). In the restrooms, cleanable acoustical ceiling tiles also offer a cleanable surface with good sound absorption (NRC = 0.85).
With an NRC of up to 0.90, 0.6 x 2.4-m (2 x 8-ft) anthracite panels were selected for the lobby and 0.3 x 1.5-m (1 x 5-ft) concrete panels for the gallery and event space.
All of these stone wool ceiling panels offer high fire performance and have earned Greenguard Gold certification for low volatile organic compound (VOC) emission. Stone wool's natural properties for resisting moisture and humidity also are key attributes in museum installations with sensitive climate-controlled protection.
Clark Construction Group, LLC, from Bethesda, Maryland, was the general contractor on the project. Jaffe Holden from Norwalk, Connecticut, was the acoustic consultant. The installing contractor was CJ Coakley Co., Inc. from Falls Church, Virginia.