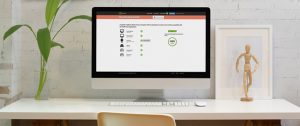 In mid-December, architecture graduates and other qualified candidates will have the flexibility to take the national licensing exam online or at test centers. Candidates will have the option to take the six-part Architect Registration Examination (ARE) online, at Prometric centers as they do today, or a combination of both options.
Developed and administered by the National Council of Architectural Registration Boards (NCARB), ARE assesses a candidate's knowledge and skills related to architectural practice. The exam, which is required by all state and jurisdictional licensing boards, addresses services that affect the public's safety and wellbeing—such as evaluating the integrity, soundness, and health impact of a building.
NCARB's staff, architect volunteers, and testing consultants have been exploring the viability of an online exam for several years. Throughout the development process, ensuring state licensing boards can continue to trust the security of the exam has been a top priority, a press release from NCARB said. The organization is also addressing concerns that have troubled other disciplines regarding security, technical glitches, accessibility, and privacy.
"While the pandemic has moved up NCARB's timeline to launch an online exam, we have not come to this decision swiftly or lightly," said 2020-2021 NCARB president and New Mexico architect Robert Calvani, FAIA, NCARB. "We understand that any updates to the ARE can be stressful for test takers. Our primary goal is to ensure candidates have a consistent experience whether testing online or in a testing facility, while maintaining the security and legal validity of the national licensing exam."
Online proctoring will enable candidates to take ARE in a private location that meets specific technical and environmental requirements. While ARE's content and division structure will not change, the exam's format and experience will be updated for both online and in-person tests. All of these updates will ensure all candidates—regardless of where they test—will have a consistent and secure experience.
In the coming weeks, NCARB will share additional tools and resources with candidates, including updated study materials, sample questions in the ARE 5.0 Handbook, step-by-step instructions in the ARE 5.0 Guidelines, and a demonstration exam where candidates can practice using the new whiteboard. Click here to learn more about the launch of online proctoring.