Automaker aims to revitalize Detroit neighborhood
by Sarah Said | August 23, 2018 3:25 pm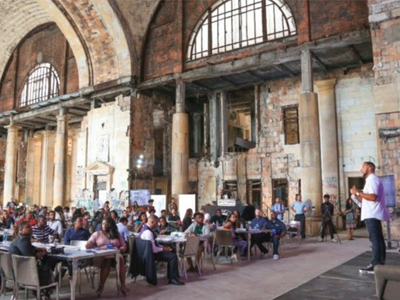 Michigan Central Station is set to become the centerpiece of Ford Motor Company's new campus in Detroit's Corktown neighborhood and will serve as an innovation hub for the motor company's vision for the future of transportation.
Ford invited a crowd of almost 200 millennial tech and business talent from surrounding areas to the station to participate in Reimagined Detroit Tech, a day of design challenges and workshops where the young innovators explored new ways to grow an inclusive tech and entrepreneur ecosystem in and around the iconic building.
Michigan Central Station, shuttered 30 years ago, will be redeveloped over the next three to four years into a magnet for high-tech talent and a regional destination with modern work spaces, retail, restaurants, residential living.
Ford's goal is to obtain at least 111.484 m2 (1.2 million sf) of space in Corktown, three-quarters of which will be divided between the company and its partners, with the remaining 27.870 m2 (300,000 sf) serving as a combination of community and retail space, and residential housing.
Designed by the same architects that designed New York's Grand Central Station, Michigan Central Station was the primary intercity passenger rail depot in Detroit until a major fire struck in December 1913. The station remained open for business following the fire until the end of Amtrak service on January 6, 1988. Michigan Central Station was the world's tallest rail station when constructed, owning a train depot and 13-story office tower with a roof height of 70 m (230 ft).
"Michigan Central Station is a place that in many ways tells the story of Detroit over the past century," said Bill Ford, the company's executive chairman. "We at Ford want to help write the next chapter, working together in Corktown with the best startups, the smartest talent, and the thinkers, engineers, and problem-solvers who see things differently – all to shape the future of mobility and transportation."
The acquisition of Michigan Central Station comes alongside the company's purchase of the former Detroit Public Schools Book Depository, two acres of vacant land, the site of an old brass factory and the recent purchase of a refurbished former factory in Corktown, now home to Ford's electric vehicle and autonomous vehicle business teams.
Ford is also continuing with its 10-year Dearborn Campus Transformation plan that began in 2016. The 13.935 m2 (150,000 sf) Wagner Place development in West Dearborn is set to open, as is a new driving dynamics lab located on Ford's Product Development Campus, by the end the of summer.
Endnotes:
[Image]: https://www.constructionspecifier.com/wp-content/uploads/2018/08/ford.jpg
Source URL: https://www.constructionspecifier.com/automaker-aims-to-revitalize-detroit-neighbourhood/
---