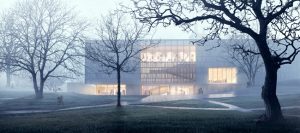 New Orleans-based architecture firm EskewDumezRipple (EDR) has been selected to design the multi-phase renovation and expansion of the Bruce Museum in Greenwich, Connecticut.
The firm was chosen following a national search undertaken by the museum with the assistance of jones|kroloff, an architecture advisory practice.
The reimagined New Bruce will more than double the size of the museum, from 2787 m2 (30,000 sf) to 6503 m2 (70,000 sf). It will add education and community spaces and expand its area for permanent and temporary installations of art, science, and natural history exhibitions.
The centerpiece of the New Bruce is a three-story addition that will be integrated with the current structure while connecting the project to its adjacent park setting.
The design vision for the project ties the building to the landscape and geology of its New England context. Drawing inspiration from stone quarries found along the Connecticut coast, the design features a striated façade of cast stone and glass that will be animated by light across the building, changing appearance with the weather and time of day. The design orients the new entrance to face Bruce Park, connecting the project to the community while drawing the landscape in to create a light court in the center of the museum.
The first phase of the project will renovate and revitalize the existing structure, which includes a private residence built in 1853 and deeded by Robert Moffat Bruce to the Town of Greenwich for use as "a natural history, historical, and art museum for the use and benefit of the public."
The second phase, beginning next summer, will entail the 3716-m2 (40,000-sf) addition.