Case filed against consortium in multimillion-dollar NYC construction scam
by arslan_ahmed | January 30, 2023 3:26 pm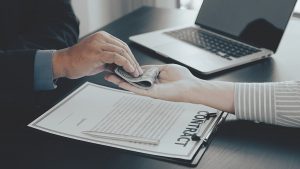 Manhattan's District Attorney (DA) recently filed charges against 50 people and companies allegedly involved in a construction bribery scheme amounting to $7 million in kickbacks—robbing developers of millions and foiling dozens of private sector contracts.
The case consists of a total of 83 charges by the New York County Supreme Court. The main person accused in the case is a construction executive, who allegedly ran a scheme spanning eight years, in which he conspired with subcontractors to put forth bids with highly exaggerated amounts to developers. According to the DA, the accused stole more than $5 million from the developers over the years.
Further, documents submitted to the court show the scheme started in April 2013, when the accused leveraged his vice president role in his construction firm to influence the passing on of subcontracts and changed orders, which were more than $100 million in value, to the conspiring firms.
The accused placed the conspiring firms on his firm's bidders' lists and provided insider information about competing bidders and informed the conspirators to increase the value of their bids to include the value of the kickbacks. Later, he would build the case for the conspirators in front of the developers and pretend to negotiate lower prices with the conspiring contractors. This way, once the firms won the contracts, he would be paid the kickback amounts.
Sometimes, the bribes led to poor quality of work, for instance, one subcontractor with previous experience of having worked on only small residential projects was contracted to install a heating and cooling system for a 32-story condominium tower.
Some of NYC's projects affected by the scheme, as named in the documents are, the FiDi Hotel, New York Bowery Hotel, and the Fifth Avenue Hotel.
Endnotes:
[Image]: https://www.constructionspecifier.com/wp-content/uploads/2023/01/MicrosoftTeams-image-13.jpg
Source URL: https://www.constructionspecifier.com/case-filed-against-multimillion-dollar-nyc-construction-scam/
---