Celebrating the best in contemporary architecture
by sadia_badhon | February 5, 2019 3:57 pm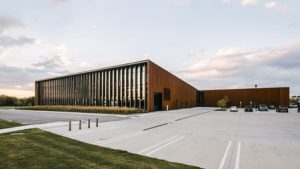 The American Institute of Architects[2] (AIA) has recognized nine projects with its 2019 Institute Honor Awards for Architecture.
The awards celebrate the best in contemporary architecture and highlight the many ways buildings and spaces can improve lives. AIA's nine-member jury selects submissions demonstrating design achievement, including a sense of place and purpose, ecology, environmental sustainability, and history.
The recipients of the 2019 Institute Honor Awards for Architecture are:
Arlington Elementary School[3] (Tacoma, Washington), Mahlum Architects;
Casey House[4] (Toronto, Ontario), Hariri Pontarini Architects;
Confluence Park[5] (San Antonio, Texas), Lake Flato Architects + Matsys;
Crosstown Concourse[6] (Memphis, Tennessee), Looney Ricks Kiss;
Restoration of the Rotunda at the University of Virginia[7] (Charlottesville, Virginia), John G. Waite Associates, Architects;
Smart Factory[8] (Hoffman Estates, Illinois), Barkow Leibinger;
Smithsonian National Museum of African American History and Culture[9] (Washington, D.C), Adjaye Associates, Davis Brody Bond, and SmithGroup;
Starter Home* No. 4-15, Saint Thomas/Ninth[10], (New Orleans, Louisiana), OJT; and
TIRPITZ Museum[11] (Blåvand, Denmark), BIG-Bjarke Ingels Group.
Endnotes:
[Image]: https://www.constructionspecifier.com/wp-content/uploads/2019/02/Opener-3.jpg
American Institute of Architects: https://www.aia.org/resources/10046-architecture-billings-index-abi
Arlington Elementary School: https://www.aia.org/showcases/6093857-arlington-elementary-school
Casey House: https://www.aia.org/showcases/6093875-casey-house
Confluence Park: https://www.aia.org/showcases/6093889-confluence-park?tab=library
Crosstown Concourse: https://www.aia.org/showcases/6093906-crosstown-commons
Restoration of the Rotunda at the University of Virginia: https://www.aia.org/showcases/6094036-restoration-of-the-rotunda-at-the-universi
Smart Factory: https://www.aia.org/showcases/6094126-smart-factory
Smithsonian National Museum of African American History and Culture: https://www.aia.org/showcases/6094129-smithsonian-national-museum-of-african-ame
Starter Home* No. 4-15, Saint Thomas/Ninth: https://www.aia.org/showcases/6094130-starter-home-no-4-15-saint-thomasninth?tab=library
TIRPITZ Museum: https://www.aia.org/showcases/6094132-tirpitz-museum
Source URL: https://www.constructionspecifier.com/celebrating-the-best-in-contemporary-architecture/
---