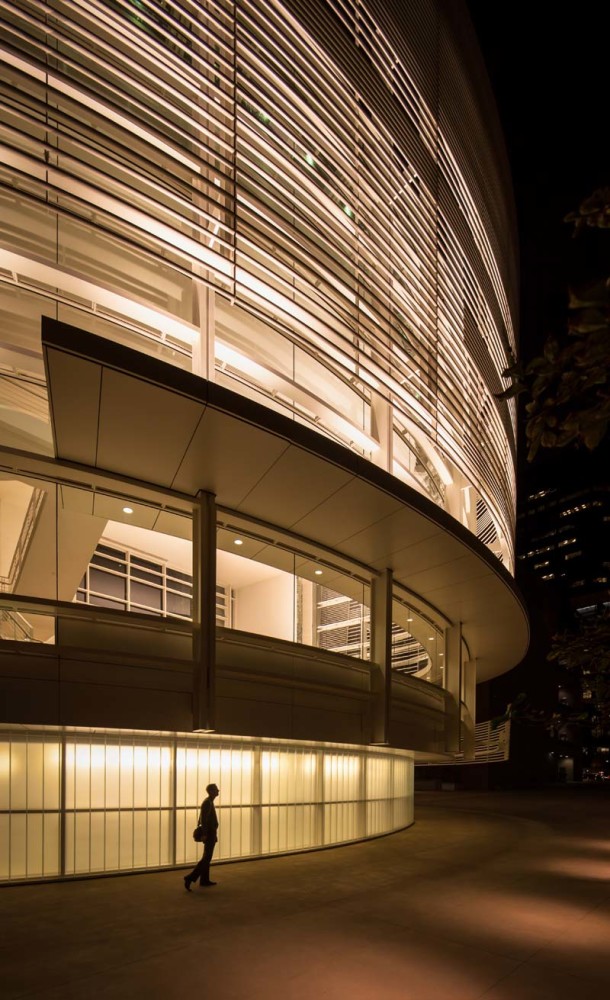 Using channel glass in curved and serpentine applications
by Jeff Razwick
As shown in Part One of this series, channel glass' distinctive, self-supporting, U-shape makes it possible for design professionals to use glazing in new ways. Its versatile depth and profile can follow a building's shape, step around fixed objects, change elevation, and soar uninterrupted up to 7 m (23 ft). Its linear form also opens up a whole new realm of design possibilities by enabling what few other glazing materials can—curved and serpentine applications.
The slender frames and narrow glazed segments in channel glass systems allow for radii as tight as 1980 mm (78 in.). These compact arcs allow architects to push the form of buildings in ways impossible with conventional glazing, from tall curved partitions to ethereal glass walls that ripple like ribbon.
While these installations may appear complex to design professionals who are new to channel glass, a basic understanding of how the material performs in curved and serpentine applications can simplify specification. To aid in this process, this article offers considerations for using the material to add 'curve appeal' to buildings.
Curved channel glass basics
In curved channel glass systems, the aluminum framing is stretch-formed into a radius. The cast-glass channels then segment around the framing to form a curved or serpentine configuration. The three primary ways the framing can be stretch-formed to achieve a desired outcome are:
curving the head and sill frames parallel to the ground—this creates a standard curve;
curving the head frame perpendicular to the ground—this creates an arch at the head of the channel glass application; and
curving raked head or sill frames parallel to the ground—this creates a curve that gradually changes dimensions.
The simplest way to stretch-form framing is to curve the head and sill frames parallel to the ground. In such applications, the glass is cut square at each end and then segmented around the framing. Where aesthetics drive channel glass applications that rise or fall in height as they curve, or that feature an arch at the head, the manufacturer or supplier will cut the glass segments at an angle to accommodate the change in dimension and ensure the planks fit within the frame profile. This process is more challenging and may require additional planning to ensure channel glass segments lay out appropriately within the system. In such instances, one should consider consulting with the manufacturer or supplier early during the design and specification process.
In all the above configurations, the channel glass segments are installed vertically (horizontally glazed applications cannot be installed in a curve/serpentine, as that would require the glass channels to be bent, which is not done). The planks can either be dual or single-glazed, depending on project needs. Single-glazed channel glass systems allow for greater light transfer, and are well-suited for interior partitions or façades where energy performance is not a concern.
Dual-glazed channel glass systems provide greater sound, thermal, and energy performance, and can accommodate insulating aerogels to improve thermal performance (as discussed in Part One). Both single- and dual-glazed curved channel glass systems can incorporate high-performance coatings to improve functioning.