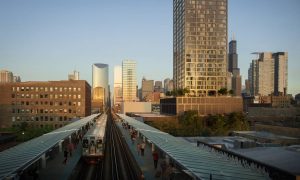 Chicago's 900 Randolph is Fulton Market's newest mixed-use development, featuring 300 apartments and a suite of amenities, services, and more.
It is the first high-rise building constructed under new Affordable Illinois legislation, with 80 percent market-rate and 20 percent affordable units.
Related Midwest, BOWA Construction, and LR Contracting will co-lead construction of the building.
"We are proud to lead Chicago's post-COVID comeback and break ground on 900 Randolph with our truly innovative partners, BOWA Construction and LR Contracting," said Curt Bailey, president of Related Midwest. "This mixed-use development represents a turning point in Chicago's development history, and we look forward to further enhancing the Fulton Market community."