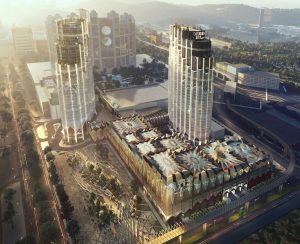 Celebrating the construction of Studio City Phase 2 reaching its full height, Lawrence Ho, chair and CEO of Melco Resorts & Entertainment, hosted the topping out ceremony in Macau, China.
Scheduled to be completed in December 2022, the Studio City Phase 2 development was named winner of the Regional Award for Asia at the 2021 BREEAM Awards.
Comprising two hotel towers with 900 rooms and suites, 21,000 m2 (226,042 sf) of shopping and dining, as well as 2300 m2 (24,757 sf) of gaming space, the 250,000 m2 (2,690,978 sf) design is informed by the existing resort's cinematic references, with a contemporary reinterpretation of the detailing, geometries, and craftsmanship of the art deco period.
The insulated glazing units and shading fins will reduce solar heat gain and glare while maintaining thermal comfort for hotel guests. The building envelope along with its services and systems will reduce energy demand. All timber and timber-based products specified within the design have been harvested, traded, and sourced in accordance with Forestry Stewardship Council certification.
Environmental site assessments determined the composition of Studio City Phase 2's development is far enough away from the 15 ha (37 acre) protected wetland of the adjacent Macau Cotai ecological zone. The orientation and configuration of the elliptical towers have been calculated to facilitate natural ventilation within and around the resort. The project's ecologist developed preservation measures for the site's existing flora and arranged for compensatory planting of species compatible with the landscape and habitat.