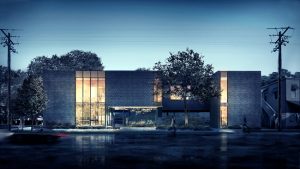 Clayton Korte revealed designs for Herrera Law Office, a courtyard-style building surrounded by oak trees in Austin, Texas.
After years of renting office space in the city's downtown, the clients wanted to invest in a permanent home for their law practice. This project offers an opportunity to create a workspace that will meet their specific needs and reflect their personality and taste: professional yet comfortable, expressive yet restrained.
The urban site is 715 m2 (7700 sf), bounded by streets on three sides, and is home to three heritage oak trees. These constraints are embraced as design opportunities, elevating the main occupiable space above parking, and weaving the building around the trees to provide views from the interior and a dynamic façade from the exterior. The new 539-m2 (5800-sf) building meets the needs of the client, while remaining respectful of its site and context.
Allowing natural light to flood the interior spaces is a key design element. The massing incorporates a central light well allowing daylight to penetrate deep into the interior as well as highlight the entry as approached from the street and the parking. All private offices ring the perimeter of the building, ensuring each has access to natural light. Windows frame views of the oak tree canopies, and the south and west offices embrace views of the large neighborhood park across the street.
Materials, inside and out, are carefully considered to meet the client's vision. The exterior brick and stucco are modern and clean, while also hinting at the craft of construction in their textures. This relatively desaturated exterior palette is complemented with pops of wood accents throughout the interior. A wood soffit flows from the exterior to interior at the entry, and wood stair treads, office dividers, and paneled walls punctuate the space with warmth.
The project is expected to be complete in summer 2022.