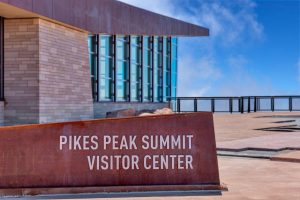 The $60 million Pikes Peak visitor center is now complete, featuring a standing seam metal roof.
The City of Colorado Spring's website notes the new visitor center is the most sustainable high-altitude structure in the U.S., if not the world. All prefabricated building components used in construction meet and exceed green, sustainable certifications, including its new mechanically seamed metal roof and snow guard.
The weather on Pikes Peak is cold, icy, windy, and generally unforgiving. By October, temperatures can plummet to -17.8 C, with wind chills falling even lower. Snowstorms sweep in quickly, with wind gusts reaching over 241.4 km/h. During the winter, temperatures can drop to -40 C. Roof design snow loads are 610.3 kg/ m2 on the Peak versus an average of 146.5 kg/ m2 in nearby Colorado Springs.
The snow guard was custom-designed and engineered for this project to withstand these extreme winter conditions and mitigate potential rooftop avalanches, dramatically reducing the risk of sudden and unexpected release of snow slides while providing a long-term solution for the life of the mechanically seamed metal roof.
"We are honored to be part of this extraordinary project on 'America's Mountain' right in our backyard," said Rob Haddock, CEO & founder of S-5! "The new Pikes Peak Summit Complex is an extraordinary place to visit, with unobstructed inspiring views—a place where everyone can experience the summit of a magnificent Colorado 'fourteener.'"
Roof Project Team:
General Contractor: GE Johnson Construction
Architect: GWWO Architects & Architect of Record: RTA Architects
Roofing Contractor: Weathercraft Co. of Colorado Springs
Snow Guard Supplier: S-5!