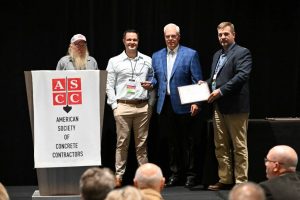 The American Society of Concrete Contractors (ASCC) awarded general and specialty concrete contractor firms and the CEO of a concrete firm to recognize their commitments to safety, and further presented scholarships to two students enrolled in the concrete industry management (CIM) program.
Safety awards to general and specialty contractors
Burr Bennett Awards for safety excellence were given to specialty contractor, Keystone Structural Concrete, Houston, TX, and general contractor, Shiel Sexton, Indianapolis, IN. These awards are presented to contractors who make safety the highest priority. Judges critique the entries based on three years of safety performance indicators, values and trends, a self-assessment checklist of company safety practices, and detailed descriptions of safety plans and culture.
Keystone Structural Concrete also won the outstanding safety achievement award, alongside Vicon Construction, Columbus, MS, and Anderson Commercial Concrete, Morton, IL.
General contractors also receiving this award for the lowest incident rate were Shiel Sexton Co., with 650,000 work hours; Gregory Construction Services, with 160,000 to 650,000 work hours; and Wm. Aupperle & Sons, with under 160,000 work hours.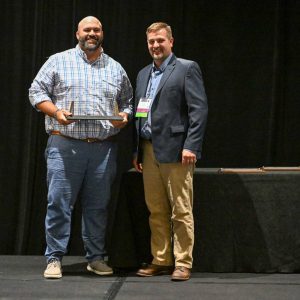 Safety award for owner/executive
The association's Safety and Risk Management Council (SRMC) also presented Theodore Goloboski III, CEO of Belfast Valley Contractors, Dundalk, MD, with the ASCC member owner/executive safety award. This award recognizes an owner/executive of a contractor member company who displays a focus and passion for safety and provides leadership that creates a best-in-class safety culture.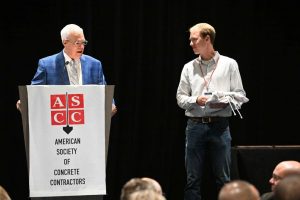 Scholarships for CIM
ASCC's Education, Research and Development Foundation awarded two scholarships to students in the CIM program. The recipients are Joseph McDaniel and Erik Bermudez. They attend Middle Tennessee State University and California State University (CSU) and received $5000 respectively. To qualify for the scholarship, a student must be enrolled full time in the CIM program and maintain a minimum of 2.5 GPA.
The ASCC is a non-profit trade association of cast-in-place concrete contractors. Its members include concrete contracting firms, manufacturers, suppliers, and others interested in the concrete industry such as architects, specifiers, and distributors. There are approximately 715 member companies in the United States and 12 foreign countries.
The awards and scholarships were presented at the society's annual conference in Cleveland, Ohio.