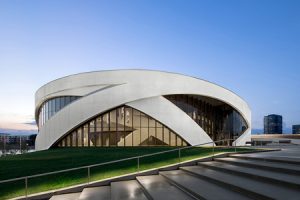 The culmination of five years of research, investigation, design, and development, the National Veterans Memorial and Museum (NVMM) has opened in Columbus, Ohio. Designed by Allied Works, the space seeks to honor veterans from all conflicts.
The project represents the combined vision, effort, and investment of veteran groups led by former US Marine, astronaut, and Ohio senator John Glenn, local civic leaders, and the Columbus Downtown Development Corporation (CDDC).
Only the 20th institution in the country to receive national designation, the NVMM combines building and landscape in one fluid gesture. It offers the city a civic space that tells the personal stories of veterans through diverse artifacts, multimedia exhibits, and installations in a 4924-m2 (53,000-sf) building and a 3-ha (7-acre) site.
Intersecting bands of site-cast concrete, arranged in concentric rings, give form to the museum and represent the branches of service supporting and strengthening one another. Within this sheltered space, immersive exhibits convey the scope of historical events from pre-Revolutionary era to the present day, thereby offering a glimpse of all aspects of military service through the lens of the veteran experience.