From September 9 through 12, CSI members convened in the Charm City for CONSTRUCT. Billed by its organizers, Hanley Wood, as "the only dedicated national trade show and educational conference for the commercial building teams that spec and source building products," the four-day event strives for the perfect blend of networking, technical education, and association business. In Baltimore, those aspects took place in the seminar rooms, on the show floor at exhibitor booths, and at special events ranging from 'game-changer' presentations and annual general meetings to impromptu lunches and Inner Harbor dinner cruises.
CONSTRUCT also served as the foundation for the 58th CSI Annual Convention, allowing the institute to highlight its brightest and best volunteers for the skills, knowledge, and time they have shared.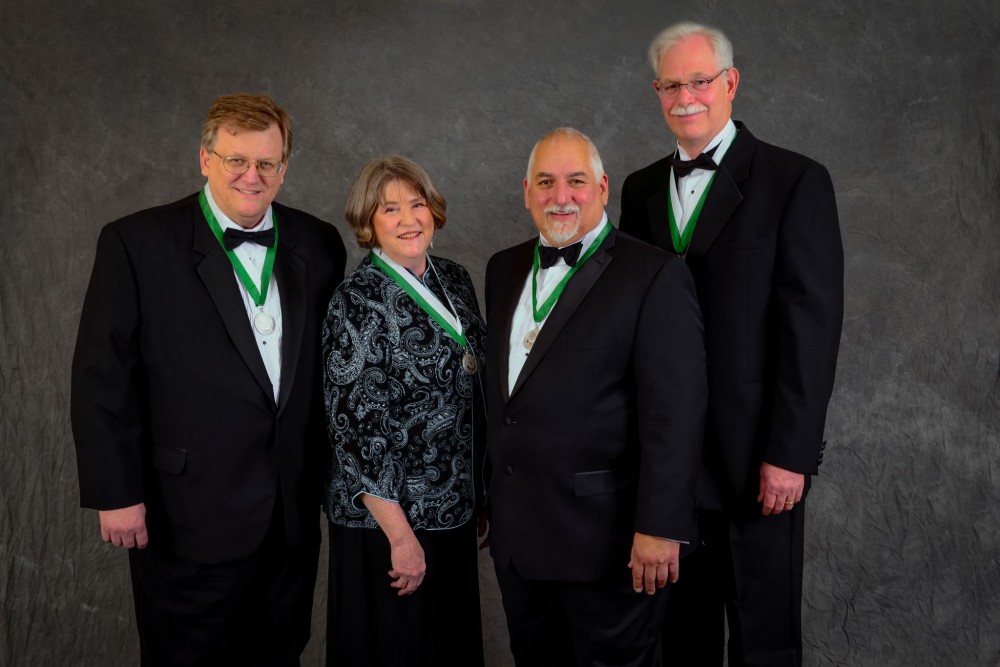 Among the many honors and awards bestowed on CSI members at the conference, 'Distinguished Membership' is considered the most prestigious. Conferred on those whose contributions to the construction industry go far beyond what is expected, this status has only been conferred on 44 individuals since its debut in 1954. This year, two members joined the hallowed ranks.
Alana Sunness Griffith, FCSI, Distinguished Member, CCPR, was recognized for her passionate volunteering, leadership skills, and constant pursuit of CSI's mission and value in the industry, along with the past-president's dedication to mentoring women in the industry. Paul W. Simonsen, RA, FCSI, Distinguished Member, CCS, CCCA, was named for his work as a teacher in CSI who continually enlightens, supports, and cheers on those around him. He was also cited for his efforts to grow CSI's education and certification programs and technical documents.
This year also saw the induction of four new members into the College of Fellows (visit www.fcsinet.org), all of whom were lauded for mentoring:
? Ann G. Baker, RA, FCSI, CCS, CCCA (Denver Chapter), for her long-term diligence to CSI certification practices and programs at all levels;
? Marc C. Chavez, FCSI, CCS, CCCA (Puget Sound Chapter), for efforts in developing educational programs for CSI chapters and members using distance learning technology, along with CDT 'boot camps' across the country;
? Jon Rao Papke, FCSI, CCS (Minneapolis-St. Paul Chapter), for commitment and contributions to certification and student education programs at the chapter and regional levels; and
? Walter R. Scarborough, FCSI, CCS, CCCA (Dallas Chapter), for contributions to the many scholarly Practice Guides of CSI, which educate those seeking professional certifications.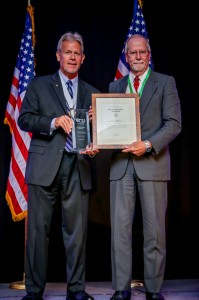 At the CSI Annual meeting, numerous other awards were given out. The Communications Award, bestowed on individuals or groups for publications, articles, social media, or blogs were given to numerous worthy winners. The Chicago Chapter took two honors—one for its Change Order e-newsletter and the other for its website, Chicago.csinet.org. Similarly, Memphis was cited for its PerSPECtive newsletter and www.csimemphis.org. Nearby Nashville received the nod for its website, www.csinashville.org.
The Allentown Chapter's Jon C. Lattin, CSI, CCPR, and Eric C. Lussier, CSI, CDT, were also individually awarded—the former for his marketing resources and the latter for his blogs and tweets. Richard J. Lueb, FCSI, CCS, CCCA, and the Oklahoma City Chapter newsletter, The ConSpec, also received Communications Awards, as did fellow chapter member Melody Stinson, CSI, for her work on the HYPED2! event. Other winners included the San Francisco Chapter's Specifics, along with the Redwood Empire Chapter's Redwood Bark newsletter and Lynn Ostensenon, CSI, CCS, editor of New Orleans' The Invitation.
The Indianapolis Chapter was recognized for its documentary video of its revitalized trade show, now known as Design Indy. As well, Sheldon Wolfe, RA, FCSI, CCS, CCCA—an editorial advisor to The Construction Specifier—was presented with a Communications Award for his blog, Constructive Thoughts, which was cited for "myriad thought-provoking, real world, and practical observations of the design and construction industries."
The Organizational Certificate of Appreciation—the highest award CSI can bestow on a firm, organization, or association—went to ATAS International, for promoting and assisting its employees' institute-related educational efforts and for corporate sponsorship.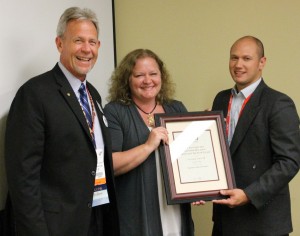 The Hans William Meier Award for Advancement of Certification Programs went to two individuals:
? George A. Everding, CSI, CCS, CCCA, for his work with the Greater St. Louis Chapter's certification program and webinar series; and
? William A. "Chip" Hayward Jr., CSI, CCCA, also for his work supporting CSI's certification programs.
Finally, the Moll/Betts Student Excellence Award traditionally goes to the student with the highest score on the (CDT) exam. Comprising a cash prize and one year of CSI membership, this year it went to Nichola Conniff, CSI-S, CDT, and Farrah McCullough, CDT. Dunwoody College of Technology (Minneapolis , Minnesota), the institution winner, receives a suite of CSI member-written publications from publisher John Wiley & Sons.
Over the course of CONSTRUCT, The Construction Specifier was present throughout the proceedings, even co-sponsoring the CSI Night Out social evening. As the magazine's editor, I hosted the lunch-box panel discussion, "Aspirations vs. Reality: Conflicts in Sustainable Construction," in front of a packed house. Panel members Paul Bertram (director of environment and sustainability/government affairs for Kingspan Insulated Panels and CSI past-president), Brendan Owens (U.S. Green Building Council's [USGBC's] vice president of LEED Technical Development), Stephen Hess (attorney at Sherman & Howard LLC), and Doug Pierce (senior associate at Perkins+Will) discussed everything from environmental product declarations (EPDs) and the evolution of green design to USGBC's recent announcement of cooperation with the American Chemistry Council (ACC).
I was also pleased to present Lori Greene, CSI, AHC/CDC, CCPR, FDAI, with The Construction Specifier Magazine Article of the Year Award for her October 2013 piece, "Questions About Fire Doors: Everything You Always Wanted to Know (But Were Afraid to Ask)."
Next year's CONSTRUCT will be taking place in St. Louis, Missouri. Visit www.constructshow.com for details.