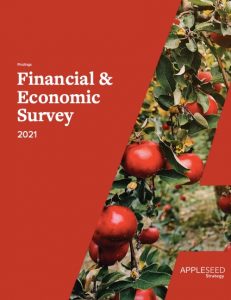 National consulting group Appleseed Strategy unveiled the results of a U.S. business survey of AEC firms to understand the ongoing impact of the COVID-19 pandemic.
Querying a sample of 39 companies in architecture, engineering, landscape architecture and other consulting services—ranging in size from five people to 1000-plus—Appleseed Strategy paints a vivid picture of the impact that the global pandemic has had on AEC companies.
For example:
Nearly 77 percent of respondents were back to pre-pandemic staffing levels
About nine percent were even larger than they had been in March 2020
Nearly 53 percent of respondents had implemented salary cuts in at least one staff category because of the pandemic.
Of the firms that received paycheck protection program (PPP) loans or other pandemic relief funding, about 88 percent had their loans fully or partially forgiven.
Based on the survey, Appleseed Strategy's Kacey Clagett offered the following advice: "As we reach equilibrium with the 'pandemic new normal,' we have a few recommendations that apply to design construction companies of all sizes, disciplines and ages.
One, keep focus on higher return, lower risk ventures. Build from your core strengths. Create efficiencies. Establish performance metrics that matter. Build effectiveness. Inculcate a company-wide business development culture. Develop your future leaders through mentoring and increasing their accountability for company performance.
Two, invest in technologies that advance the disciplines you practice. Think about what will be automated ten years from now. This applies to both what will happen with clientele and the work processes.
Three, if a service or market sector you have relied on will not come back to previous levels, scale back or eliminate it. As hard as it can be, don't let sunk costs influence your decisions.
Four,  get ahead of other industry trends like building repurposing, net-zero energy and water, design/build, modularization and ESG/CSR policies. Set the standard, and you may be rewarded with better fees and less competition. Remember that creativity never gets replaced."