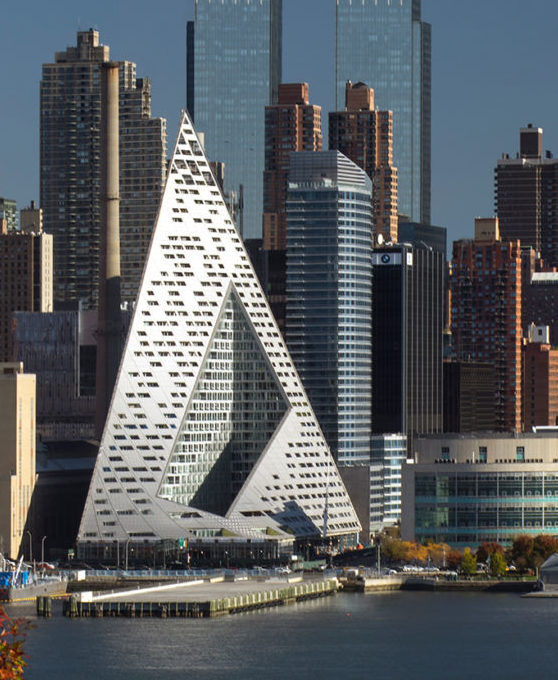 The Council on Tall Buildings and Urban Habitat (CTBUH) announced the winners and finalists of its 2016 Tall Building Awards.
A panel of industry experts sorted through 132 submissions to select those who have set a new bar by employing inventive solutions that respond to site constraints related to sustainability, seismicity, wind forces, mixed functionality, and urban habitat. The buildings honored also achieve iconicity and introduce groundbreaking structural solutions and spatial arrangements at height.
There are five award categories, including best tall building (by region), urban habitat, innovation, performance, and 10-year. Two lifetime achievement awards will also be announced later this year. Winners will be recognized in November during the 15th annual award symposium in Chicago.
Winning the best tall building award for the Americas is VIA 57 West in New York City. A hybrid between the European perimeter block and the traditional Manhattan high-rise, it combines the advantages of both in a pyramidesque form. The building, designed by Bjarke Ingels Group (BIG), will be highlighted briefly in an article about stainless steel appearing in the August 2016 issue of The Construction Specifier.
The Asia/Australasia award is going to Shanghai Tower in China. The curved façade and spiraling form symbolizes the dynamic emergence of modern China. The Europe award is going to the White Walls in Nicosia, Cyprus, which draws upon its context to deliver a residential-office tower that is described as unmistakably Mediterranean, yet has global influence with its highly successful environmental considerations. The Middle East/Africa award is going to the Cube in Beirut, Lebanon. It has a simple residential design concept, yet extraordinarily effective, rotating and displacing volumes on each floor to offer residents unique outdoor areas and panoramic views of the city.
Wuhan Tiandi Site A in Wuhan, China won the urban habitat award, Hearst Tower in New York City, won 10-year, and Taipei 101 in Taipei, China, won performance. The innovation award will be presented to Pin-Fuse, a dual-element structural solution composed of Pin-Fuse joints and frames, which slip at pre-set loads to dissipate energy and achieve ductility during seismic events.
To learn more about the winning projects, or to view finalists, click here.