Cylindrical tower to create distinct landmark in South Florida
by arslan_ahmed | January 9, 2023 5:25 pm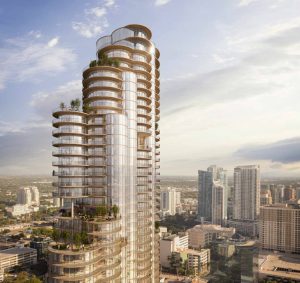 New York-based architecture and design studio ODA's design of a mixed-use tower in South Florida's Rio Vista neighborhood in Fort Lauderdale, reveals a sequence of stepped rounded volumes, to create a distinct masterpiece in the city's skyline.
Located south of New River, to span over an area of 102,176 m2 (1,099,811 sf), the 47-story tower, 633 SE 3rd Ave's massing will be dominated by tubular volumes, alternating between a sleek curved glazed facade and wrap-around balconies. This is aimed to generate a dynamic play seeking to visually break up the massing. Through setbacks and carved double height voids, the building offers a series of extensive roof deck amenities for its residents at different levels with wide open views to the city.
Being developed by Dependable Equities, the building is focused on bringing a heightened sense of sophistication to this part of the city. With a large corner plaza and activated walkways, the design will add dynamic and ground floor programming to the neighborhood.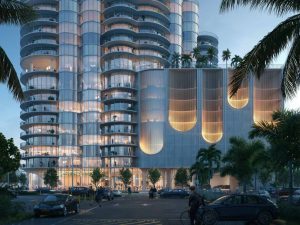 The program comprises 830 rental units and 1207 m2 (13,000 sf) of commercial use. The podium will be lined with residential units continuing the tower expression and a dynamic 3D parking screen facade, aligned to the theme of the cylindrical tower design. At night, the concave recesses of the parking facade create a decorative wall of light and textures, lending to the overall ambiance of the neighborhood.
"Buildings at this scale house a community of people who live, work, and play from what they consider home," says Eran Chen, founder and executive director, ODA. "This new lifestyle is formed by a building that is shaped to be flexible, create strong connections, and allows for diverse activities."
Endnotes:
[Image]: https://www.constructionspecifier.com/wp-content/uploads/2023/01/AA_633se3rdAve_1_Web.jpg
[Image]: https://www.constructionspecifier.com/wp-content/uploads/2023/01/AA_633SE3rdAve_2_Web.jpg
Source URL: https://www.constructionspecifier.com/cylindrical-tower-to-create-distinct-landmark-in-south-florida/
---