David Adjaye designs memorial to honor victim of police violence
by sadia_badhon | July 10, 2020 9:29 am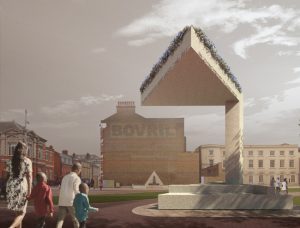 Ghanian-British architect Sir David Adjaye[2] has designed a memorial in Brixton, south London, U.K., to honor Cherry Groce, an innocent mother who was shot in her home by the Metropolitan Police.
The incident, which took place on September 28, 1985, was witnessed by her children. The shooting sparked the Brixton uprising, in which a community rose up in protest to the ongoing, systemic injustice faced by Britain's black community, the Cherry Groce Foundation[3] wrote on its website. Having been paralyzed by the shooting, Groce passed away as a direct result of her injuries in 2011.
Sir David Adjaye has designed the memorial to be a pavilion that will be used by the community, in which the canopy speaks to protection and shelter, the pillar to strength and support, the triangles to the mountains of West Africa and Jamaica in Cherry's roots. Together, these elements combine to create a memorial that is outward-looking and optimistic.
As per the foundation, the memorial aims to:
create awareness and understanding of the life and experience of Groce and her family, as well as the broader community;
create a permanent place of reflection and inspiration for the public to connect with the concept of justice and reconciliation;
highlight the importance of this event to modern British society and place it in its historical context; and
be the centerpiece and catalyst to a broader programme of learning, including a digital platform that is intrinsically linked to the experience of the memorial.
The memorial is scheduled to be launched in Autumn 2020 marking 35 years since the shooting.
Endnotes:
[Image]: https://www.constructionspecifier.com/wp-content/uploads/2020/07/Opener-6.jpg
Sir David Adjaye: http://adjaye.com/
Cherry Groce Foundation: https://www.cherrygroce.org/
Source URL: https://www.constructionspecifier.com/david-adjaye-designs-memorial-to-honor-victim-of-police-violence/
---