Design and specification considerations: Stand-alone canopy structure systems
April 22, 2022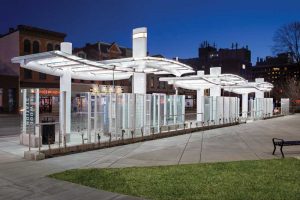 By Kevin Smith
Freestanding canopy systems can be specified for numerous project applications, fabricated with a choice of materials, and engineered to meet a range of performance requirements.
Unlike attached canopy systems that typically designate a building's entrances, these stand-alone structures are multifunctional.
They are commonly seen in transit applications, such as bus and train stations, valet and parking kiosks, and shuttle stops for airports, convention centers, hotels, shopping centers, and health care, educational, and corporate campuses.
Integrated into landscape and wayfinding designs, canopy structures cover walkways, designate points of interest, and indicate communal gathering spots. Parks and recreation areas also make abundant use of these systems for team benches, dugouts, practice zones, playgrounds, picnic shelters, comfort stations, boat launches, community pavilions, information centers, and more.
While similar applications for schools and childcare centers may seem obvious, remember hospitals, museums and cultural institutions, government centers and public buildings, retailers, restaurants, and office complexes all are expanding their outdoor spaces. Even in geographies with cold climates, pandemic protocols encouraged building owners to gain the benefits of natural ventilation and social distancing by moving beyond their walls to the outside.
Whether or not to include walls is one of many options on freestanding canopy systems. The core elements of construction include a column structure supporting a canopy framework. A wide selection of wall and roof design choices are available from opaque metal to transparent glass to translucent cellular polycarbonate glazing (CPG) panels.
Structural support
For a stand-alone canopy's structural columns, steel is the material of choice for its variety of reliable performance characteristics.
These steel columns support the canopy's framing members and panels. Extruded aluminum is the standard material for the canopy's framing members, specified as 6063-T5, 6005-T5, or 6105-T5 alloy and temper. This material can be manufactured from recycled sources, can be fabricated into any size or geometric shape, or can be formed into curves and barrel-vaulted designs.
Aluminum is lightweight, which makes it convenient for shipping, handling, and installing. It can be painted in an unlimited palette of colors and specialty finishes to match a building owner's or tenant's branding.
Finished aluminum framing generally requires little maintenance and has a long lifespan. Specify a finish that meets the current Fenestration and Glazing Industry Alliance (FGIA) documents:
∞  AAMA 2603-21, Voluntary Specification, Performance Requirements and Test Procedures for Pigmented Organic Coatings on Aluminum Extrusions and Panels.
∞  AAMA 2604-21, Voluntary Specification, Performance Requirements and Test Procedures for High Performance Organic Coatings on Aluminum Extrusions and Panels.
∞  AAMA 2605-20, Voluntary Specification, Performance Requirements and Test Procedures for Superior Performing Organic Coatings on Aluminum Extrusions and Panels.
∞  AAMA 611-20, Voluntary Specification for Anodized Architectural Aluminum.
Panel selection
The canopy panels' material selection depends on the freestanding system's intended function and appearance.
Metal roof panels
Aluminum is most often specified if metal panels are selected. This is for the same reasons it is used in the framing system—ease of fabrication, lightweight, design flexibility, durability, longevity, and recyclability.
While metal panels provide shading, most are designed with the added intention of daylighting. Rather than an end-to-end opaque canopy or enclosure, metal panels may be sparingly used or strategically placed.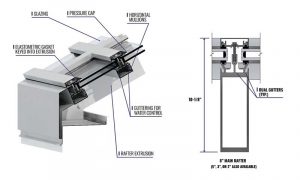 Glazing
If daylighting with full transparency is the intention, then glass is the material of choice. When the goal is to balance shading and daylighting, while reducing overheating of occupants below, specify either glass or polycarbonate glazing panels with a low light transmission. This presents a translucent appearance and diffuses the light to reduce glare during the day. For freestanding canopy structures that are illuminated at night, it also minimizes light pollution.
Glass can be printed and screened with patterns or tinted. Polycarbonate also can be specified in a range of colors and with a light transmittance range of 45 to 70 percent. Opal-colored cellular polycarbonate glazing provides high diffusion, evenly distributed light, and an appearance often preferred by architects.
Solar performance
Beyond enhancing glazing panels' appearance, coatings can be specified to improve performance, such as anti-reflecting, low-emissivity, and infrared (IR) blocking for solar reduction. Further, polycarbonate panels co-extruded with an ultraviolet (UV)-resistant layer prevent the material from yellowing and deteriorating from the sun.
Impact resistance and resilience
With glass, shattering remains a top concern. Polycarbonate is 250 times more impact resistant than an equivalent thickness of annealed glass.[3] Monolithic polycarbonate canopy systems can be used to mimic the appearance of glass.
Impact- and vandal-resistance are priority performance criteria for stand-alone canopy structures in high-traffic areas. For high-traffic, high-touch surfaces with a durable, low-maintenance finish, optional metal column covers and cladding also can be incorporated into the freestanding structure.
Specifying canopy end caps in metal presents a neat appearance and minimizes maintenance. Compared with open ends or plastic caps, metal caps secure the battens, and help keep out dirt, debris, insects, and wildlife.
At the end of their life in the canopy system, metal and glazing components can be recycled and repurposed.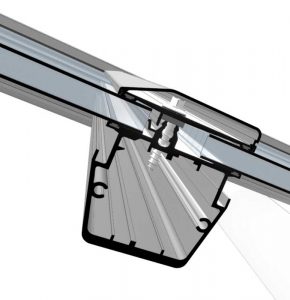 Rain management
Along with providing daylighting and shading, most canopy designs also serve to provide temporary shelter from the rain. Helping keep people dry, some canopies feature rafters engineered with an internal gutter system to capture and divert water run-off.
Further, for long-spanning canopy systems, larger panel sizes mean fewer joints, which results in fewer opportunities for leaks. While glass lite sizes are increasing, polycarbonate glazing panels are available up to 16.5 m (54 ft) long for continuous runs without intermediate horizontal mullions.
Wind and weather
While the canopy system's roof panels cover overhead, wind screens can be specified to help block the sides.
Most stand-alone canopy systems are not fully enclosed. If they have walls, they are usually open on at least one side. In addition, partial-height panels or widely spaced panels may be used to create the structure's sides. Since they are not enclosed, a negative pressure test will not be beneficial and will unnecessarily add to the cost.
Standing-seam canopy roofs typically provide the most economical and effective option for long-span, high-load conditions. The panels are fabricated with legs and sealed together to form the seam with a batten and clamping mechanism.
Canopies also can be specified with snow and ice guards. These guards can be especially important in preventing heavy snow and ice sheets from falling.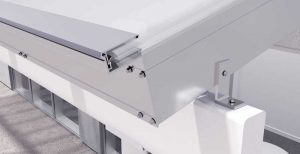 Installation and coordination
Consult with the canopy system's engineering and manufacturing team early in the project's design to ensure the freestanding structure will meet the quality standards and specification requirements. For the best value, select an experienced manufacturer with a full range of capabilities to provide structural calculations, shop drawings, factory fabrication, and installation instructions.
A manufacturer offering an all-in-one solution also can recommend installation methodologies and coordinate with experienced contractors to match a project's schedule, budget, and jobsite conditions. Some stand-alone canopy structures will require coordination across multiple trades, such as working with electrical contractors to integrate lighting displays or photovoltaic arrays. A collaborative approach led by the canopy system manufacturer will allow for a seamless chain of custody and a successful result supported by a comprehensive warranty.
Project examples
Delaware Technical Community College's Stanton Campus courtyard—Newark, Delaware
Delaware Technical Community College's Stanton Campus includes a freestanding canopy system above the pedestrian walkway in its renovated courtyard. Guiding the project's direction, a survey of students, faculty, and staff identified the need for additional seating, brighter colors, and more shade in the 1208 m2 (13,000 sf) courtyard.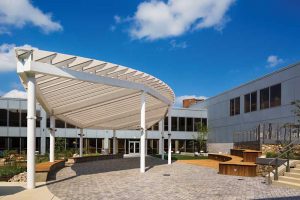 In response to Delaware Tech's clear goals, project architect Tevebaugh Associates worked closely with the canopy system's engineering and manufacturing team to create a sweeping, translucent canopy using polycarbonate glazing panels. Tevebaugh principal, Shawn Crowley, AIA noted, "A design challenge was to provide a canopy that provided maximum shade to the courtyard, while not overpowering the space, which is enclosed on all four sides."
The freestanding, marquise-shaped canopy not only provides shade and shelter, but also serves as a sculptural design element that incorporates colorful up-lighting, while maintaining the open, inviting, and airy atmosphere.
"The canopy covers 160 m2 (1718 sf) and consists of continuous curves on each edge that come to a point," says Crowley. The manufacturer "was able to implement a monolithic polycarbonate panel in lieu of a cellular system that provided a consistent surface color and minimized the profile of the canopy's roof structure. This thin profile was a critical component to allow the overall structure to feel light and sleek, while still providing a great deal of shade and comfort for students."
The size of the canopy, at 24 m (80 ft) long by 9.8 m (32 ft) wide, posed a significant challenge to accomplishing the architect's vision. Typically, glazing panels are subdivided by cross-mullions, but these would interfere with the canopy's aesthetic.
"A critical component of the canopy's design was to ensure the finished product maintained a sleek appearance by not having any intermediate framing members," says Crowley.
The monolithic polycarbonate sheets were installed in lengths exceeding 9 m (30 ft). Achieving the architect's vision for its client, the canopy provides a comfortable space connected to the surrounding buildings, to the outdoors, and to the campus community.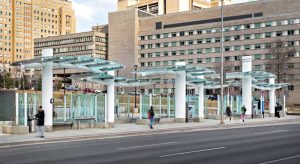 Atwood Station—Pittsburgh, Pennsylvania
The transit station at 5th Ave. and Atwood St. in Pittsburgh's Oakland neighborhood features a custom-designed, stand-alone, glass canopy system sheltering commuters from rain and snow, while allowing in natural light and a view of the surrounding area.
Atwood station is one of the busiest outside downtown Pittsburgh. The station connects to more than a dozen different routes operated by the Port Authority of Allegheny County. The Port Authority's 2600 employees operate, maintain, and support a fleet of more than 700 buses, 80 light-rail vehicles, and two inclined planes. These vehicles provided more than 62 million rides in 2018, an average of 220,000 rides on weekdays, and 50,000 rides on weekends.
Architect Greg Maynes worked closely with the canopy system's engineering and manufacturing team from concept to completion. The 137 m2 (1473 sf), low-rise, segmented, glass canopy features three taller sections overlapping three shorter sections.
"These two types of canopies could be scaled to form different station sizes," says Maynes. "The station's asymmetrical columns resemble a tree structure supporting the cantilevered glass canopies."
The canopy's modular, angled design also conveniently avoided utility lines and more effectively shed water into the gutter system, says Maynes. The custom gutter and downspout were engineered as integral to the canopy system's extruded aluminum framing.
According to the system's manufacturer, the custom gutter extrusion combined glass support, an indirect light-emitting diode (LED) light shelf, electrical wire management, and drainage within a single element, which reduced the overall canopy profile and cost. Its unique cross-section was developed to accommodate the wide variety of mounting angles dictated by the undulating design of the canopy.
"The canopy system was complicated," says Maynes. "We needed to know it would be properly engineered. That's the reason we did the work with [the approved manufacturer]. We were able to go back and forth throughout the project's design. They engineered the entire system and proposed a slicker solution that required less maintenance."
The gutter design enhancement also made the canopy system more economical to install and more effective at managing precipitation.
The freestanding canopy structure underwent rigorous testing to ensure it withstood constant exposure to both Pittsburgh's high volume of bus riders and its seasonal changes including spring rain, summer heat, autumn winds, and winter snow, ice, and road salt.
To verify the intended performance and appearance, the canopy system manufacturer provided a mock-up for the architect's and owner's review. The mock-up process allowed the manufacturer to verify the unique geometry of the spider fittings and curved gutters worked as planned, allowing the architect to confirm the lighting would meet the design intent. Once approved, the system was fully fabricated at the manufacturer's facility then shipped to the jobsite for a quick installation.
Each section of the canopy spans approximately 6.7 m (20 ft) wide by 4 m (12 ft) long and is comprised of 14-mm (0.6-in.) thick, clear, laminated glass.
"There is an 80 percent frit pattern on the underside of the glass to let the light through without the unwanted solar heat," says Maynes. "It seems like it rains 365 days per year here, so it's dark a lot. We wanted to make it feel as bright as possible during the daytime."
Adding more brightness to the station, LEDs were incorporated along the glass edge.
Supporting the glass, the custom aluminum framing was finished in a Class I clear anodize. The asymmetrical steel support columns were finished in white. The neutral color palette was intentional.
"The transit station's design is architecturally unique, but not in conflict with any of the other types of architecture surrounding it," says Maynes. "It's meant to be light on the landscape and should not interfere with the visual nature of the neighboring buildings."
The Atwood station supports the Port Authority's mission to deliver outstanding transportation services that connect people to life.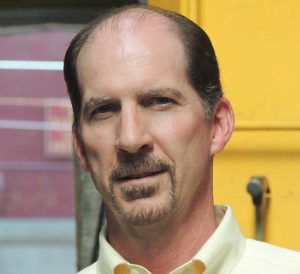 Kevin Smith is an architect, leading EXTECH's team of architects and engineers as director of product application and development. He brings more than three decades of experience in designing commercial, civil, industrial, and transportation projects, as well as daylighting, façade, shading and canopy systems. He earned his bachelor of architecture from Carnegie Mellon University. He can be reached at ksmith@extechinc.com.
Endnotes:
[Image]: https://www.constructionspecifier.com/wp-content/uploads/2022/04/EXTECH_PA-AtwoodStation_DBryce10.jpg
[Image]: https://www.constructionspecifier.com/wp-content/uploads/2022/04/EXTECH_SKYSHADE2500Canopy_detail.jpg
annealed glass.: http://constructionspecifier.com/daylighting-and-performance-considerations-for-polycarbonate-glazing-systems/3/.
[Image]: https://www.constructionspecifier.com/wp-content/uploads/2022/04/EXTECH_SKYSHADE3700Canopy_detail.jpg
[Image]: https://www.constructionspecifier.com/wp-content/uploads/2022/04/EXTECH_SKYSHADE8000Canopy_rendering.jpg
[Image]: https://www.constructionspecifier.com/wp-content/uploads/2022/04/EXTECH_DTCC_CharlesUniatowski6546.jpg
[Image]: https://www.constructionspecifier.com/wp-content/uploads/2022/04/EXTECH_PA-AtwoodStation_DBryce3.jpg
Source URL: https://www.constructionspecifier.com/design-and-specification-considerations-stand-alone-canopy-structure-systems/
---