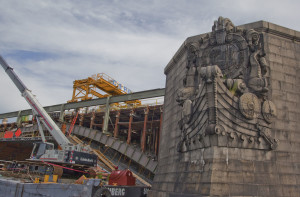 Cost
Project cost is the critical owner and proposer concern. Bridging documents are used by the owner to develop a construction cost estimate. An accurate bridging cost estimate is essential for the owner's budgeting, risk analysis, value analysis, and financial models. Bridging documents are used by proposers to develop their cost/bids. The overall level of design in bridging documents, and the level of design in specific project elements, is driven by what information is necessary to get an accurate bid and cost estimate.
Schedule
Bridging documents provide proof of feasibility within the project constraints. On longer, more complex projects, and those with long lead items and schedule constraints, it is important to develop an accurate schedule with the bridging documents. The design-build approach results in accelerated project completion—the bridging documents must capture this value for the owner through setting accelerated—but still feasible—milestone and completion dates for the project in the bridging documents.
Transparency
The bridging documents should disclose all relevant information to teams bidding on the project. Design-build transfers a lot of the risk from the owner to the D-B team, but it does not eliminate claims. Providing all relevant information reduces claims and results in better bids.
Quality control in the D-B project
Quality control (QC) is the sole responsibility of the design-build team. The owner may perform quality assurance (QA) testing or hire an independent QA consultant for acceptance. The bridging documents identify the overall quality planning, controlling, reporting, and auditing requirements. The D-B team is required to prepare a quality plan consistent with these requirements, often prior to selection.
The quality plan must include both construction and design QC components aligned with the owner's standard requirements. The owner should trust the design-build team's quality control system, but needs to be smart by requiring independent verification and auditing.
Along with project D-B quality requirements, bridging documents should identify applicable quality requirements of funding agencies, such as:
Federal Transit Administration (FTA) IT-90-5001-02.1, Quality Assurance and. Quality Control Guidelines;
Federal Highway Administration (FHWA) 23 CFR 637, Quality Assurance; or
Conclusion
In the next installment of this three-part series on D-B bridging documents, this author explores issues related to risk allocation and the procurement process. The final article examines a range of best practices.
Robert Connors, PE, CCS, has more than 25 years of experience in engineering and management. He has a varied project portfolio that includes buildings, bridges, rail, wind turbines, and maintenance facilities. Connors specializes in procurement documents, project management, construction cost estimating, cost accounting, scheduling, claims analysis, finance, and contract administration. A certified construction specifier, he is also past treasurer of the Design-Build Institute of America's (DBIA's) New England Region. He can be reached at robert.connors@stvinc.com.