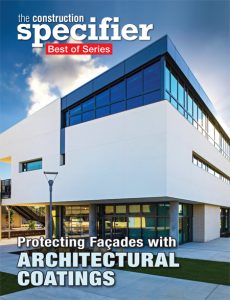 The magazine's series of sponsored e-books continues with a look at the role of field-applied exterior coatings in eliminating the expense and business disruptions associated with removing and replacing structures or façade materials.
The Construction Specifier has announced the newest volume in its series of free, downloadable e-books—a technical exploration of the various factors to consider when using architectural coatings with topics ranging from basic composition and appropriate applications to the value of choosing the right coating because it can serve as a permeable, durable, attractive layer of protection that extends the life of a structure by preserving it from the weather. The curated collection of magazine articles also includes a case study on how a single-component, water-based coating system was employed to extend the service life of the façade of the Westin Tampa Waterfront hotel in Florida.
Download the "Protecting Façades with Architectural Coatings" e-book in two different formats—pdf or digital edition—by visiting www.constructionspecifier.com/ebook/apv-engineered-coatings-protecting-facades-with-architectural-coatings-e-book.