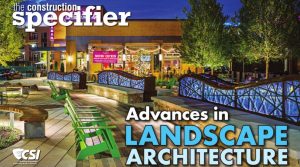 The magazine's latest supplement focuses on the technological innovations and material improvements impacting urban streetscapes and public spaces.
The Construction Specifier has announced the newest volume in its series of free, downloadable digital supplements—a technical exploration of the various installation methods of natural stone, and the best applications for each of them.
The curated collection of articles also analyzes digital placemaking, and how landscape architects are leveraging it to create more attractive parks, plazas, communities, and recreation trails.
It also makes a case for New Urbanism principles through a case study of the Pratt Street revitalization project in Hartford, Connecticut.
Click here to download the "Advances in Landscape Architecture" digital supplement.