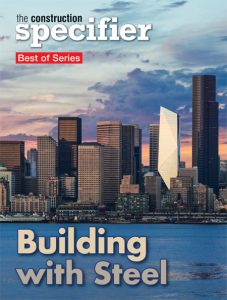 The magazine's series of sponsored e-books continues with a look at the design capabilities of steel for structural support, roofs, and façades.
The Construction Specifier has announced the newest volume in its series of free, downloadable e-books—a technical exploration of the common areas of concern for steel decks and joists, such as uplift value, rollover forces, fatigue design, diaphragm capacity, cantilevers, and welds.
The curated collection of magazine articles also includes a case study on how diagonal steel braces enabled the design team to maximize the usable floor space of the Mark, a 48-story commercial office and hotel tower in downtown Seattle.
Download the "Building with Steel" e-book in two different formats—pdf or digital edition—by visiting www.constructionspecifier.com/ebook/new-millennium-building-with-steel-e-book.