Firm unveils design for China's new landmark healthcare facility
by brittney_cutler | November 6, 2021 12:00 am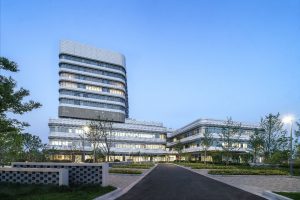 Global design and consulting firm B+H Architects unveiled their design for the new Jiaxing Kaiyi hospital in China's Zhejiang province.
Columbia China developed the 500-bed, 110,000 m2 (1,184,030 sf) multi-specialty hospital, which opened its doors to the public in October of 2021. The facility will serve as a new benchmark for healthcare in the Jiaxing economic and technological development zone.
The building's lobby welcomes the public in through an air and daylit atrium, with living room-like lounge areas and indoor green spaces, creating a calming place of respite for patients, staff, and visitors.
The building's design is composed of basic patterns to consolidate key program blocks around the light-filled glass atrium. This optimizes and reduces travel distance between parts of the hospital while simplifying wayfinding for patients and visitors alike.
Half of the patient rooms in the Integrated Procedures Unit (IPU) face south to maximize access to natural light, while other features that amplify patient comfort include wider hallways, optimized exterior views, temperature and lighting controls, and calming colors.
The design also prioritises family involvement in care by providing comfortable visitor seating in the wards and increased space around inpatient beds and family waiting areas.
Shared public amenity spaces, such as the family hub on the third floor where the operating theatres rooms, ICU and delivery rooms are located, provide families a place to rest, pray, and support each other while waiting for their loved ones.
The use of natural stone materials and wood form the base of the design, while tailored fabrics with warm tones and the ginkgo leaf graphic wall in the lobby present a welcoming feel.
The ginkgo leaf wall covering is inspired by the city itself. Jiaxing is a popular tourist destination for people seeking to enjoy the golden ginkgo trees, which represent strength, hope, and resilience.
Endnotes:
[Image]: https://www.constructionspecifier.com/wp-content/uploads/2021/11/BC_Jiaxing.jpg
Source URL: https://www.constructionspecifier.com/firm-unveils-design-for-chinas-new-landmark-healthcare-facility/
---